Feature Articles

June Issue 2002
Hilton Head Art League Gallery in Hilton Head, SC, Features Works by Evelyn Byatt-Ballantine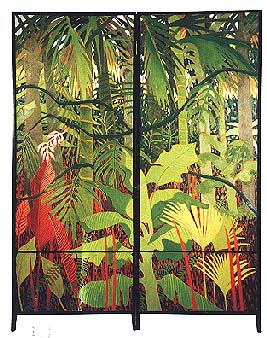 The Hilton Head Art League in Hilton Head, SC, presents Recent Works, an exhibition of oil paintings by Evelyn Byatt-Ballantine on view June 4 through July 13, 2002. Her paintings were inspired by family, friends and travel. Recent Works is a potpourri of art work of familiar places that include people, landscapes, interiors and still life. Byatt-Ballantine believes that painting is one approach to the development of seeing, assimilating and interpreting.

Byatt-Ballantine was drawing at five years of age and began classes in sculpting and drawing at the Mint Museum in Charlotte, NC. Both of her parents were artists and encouraged Byatt-Ballantine with her art. Byatt-Ballantine's early studies continued at the Ringling Art School in Sarasota, Florida. She received a BFA from the University of Alabama and a MA degree from the University of New Mexico. Byatt-Ballantine taught high school art in the Albuquerque Public School System and later drawing and art education at the University of Albuquerque. She was also a freelance textile designer. Byatt-Ballantine is an accomplished artist in sculpting, painting and fabric design.

Byatt-Ballantine feels that the benefits that come with years of looking, in a more than casual way, at the beauty and force of colors, shapes, lines and patterns, have enhanced her life. "My paintings make no attempt at social messages. I paint that with which I feel an intimacy or an enthusiasm for the beauty or the humor of nature or the human condition".

After moving to Hilton Head in 1978, Byatt-Ballantine worked in the resort industry. She retired in 1989 to resume painting and has exhibited in numerous shows and events. She received awards for the Hilton Head Art League's Juried Show that includes honorable mention in 1993 and 1997 and a merit award in 1994. Byatt-Ballantine was also a featured artist for the Hilton Head Art League in 1997 and has regularly participated in both the Art League's Member Show and the Art & Flowers annual show. In 1999, Byatt-Ballantine received second place in oil for the Hilton Head Juried Library Show and in 2000 received an invitation to exhibit at the "Prince of Tides" house Designer's Showcase.

Byatt-Ballantine has three sons and resides on Hilton Head Island with her husband Ralph. She believes that art is a life-style heightened by sensual perception. Byatt-Ballantine commented, "As I evolve in my journey through the years, my work also evolves. All honest work is a portrait of the painter".

For more information check our SC Institutional Gallery listings, call the gallery at 843/681-5060, or on the web at (www.hiltonheadartleague.org).
[ | June02 | Feature Articles | Home | ]

Mailing Address: Carolina Arts, P.O. Drawer 427, Bonneau, SC 29431
Telephone, Answering Machine and FAX: 843/825-3408
E-Mail: carolinart@aol.com
Subscriptions are available for $18 a year.
Carolina Arts is published monthly by Shoestring Publishing Company, a subsidiary of PSMG, Inc.
Copyright© 2002 by PSMG, Inc., which published Charleston Arts from July 1987 - Dec. 1994 and South Carolina Arts from Jan. 1995 - Dec. 1996. It also publishes Carolina Arts Online, Copyright© 2002 by PSMG, Inc. All rights reserved by PSMG, Inc. or by the authors of articles. Reproduction or use without written permission is strictly prohibited. Carolina Arts is available throughout North & South Carolina.