Feature Articles


For more information about this article or gallery, please call the gallery phone number listed in the last line of the article, "For more info..."

June Issue 2005
Studio Open in Folly Beach, SC, Features Works by Iraqi Artists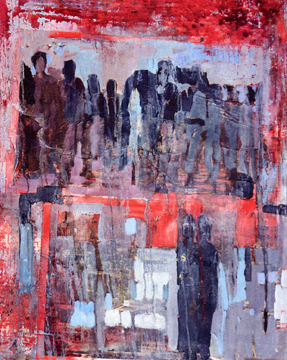 Studio Open, the premiere art gallery located on Folly Beach, SC, is presenting a private collection of contemporary paintings by Iraqi artists, on view through June 30, 2005. The exhibition, titled, War Artists: Modern Iraqi Art, features works by Jaafer Mohammed Khader, Falah Al Anee, Sat'ar Darwich, Mohammed Jassim al Zubaidi, Ahmed Noussaief, Hadi Mahood, Mohammed al Qassim, and Asaad Y. Al-saghir. All of the artwork was produced after the US ground invasion of Iraq and many of the paintings are as recent as 2004, a turbulent time in the lives of these Iraqi artists.
The collection found its way to the United States through two photographers, Myles Cullen and Jacob Bailey, who were assigned to Baghdad during the summer months of 2004. There, they befriended full time artist, Asaad Y. Al-saghir, who brought artworks piecemeal into the Green Zone and braved insurgent reprisal on a daily basis. Al-saghir, who earned his MFA from Baghdad University in 2000, belongs to a unique group of Iraqi artists who live and work together out of economic, as well as intellectual, necessity. Although stylistically different, the artists express a collective conscience. War has affected all of them; themes of hope, anguish, joy, and despair figure predominantly throughout their works.
Bailey elaborates: "These eight artists face extraordinary hardships on a daily basis, and yet they continue to thrive creatively. Fueled by new freedoms, they have deviated from traditional Arabic art and are experimenting with more personal forms of expression. They have something relevant to say and they deserve our attention."
"The canvases vibrate with color and texture. Perhaps because Islam has historically shunned pictorial representation, these artists synthesize Western influences with a unique Iraqi vision, pulling the viewer into desert places that are at once poignant and life-affirming," observes Sherry Brown, Studio Open owner.
A majority of the featured artists graduated from the College of Fine Arts in Baghdad and are members of professional organizations such as the Iraqi Plastic Artists Association and Iraqi Artists Society. Six of the eight artists were featured in a Paris exhibition in 2003 and are published in a book entitled, Baghdad Renaissance.
For further information check our SC Commercial Gallery listings or call the gallery at 843/588-2225.

[ | June05 | Feature Articles | Gallery Listings | Home | ]


Carolina Arts is published monthly by Shoestring Publishing Company, a subsidiary of PSMG, Inc. Copyright© 2004 by PSMG, Inc., which published Charleston Arts from July 1987 - Dec. 1994 and South Carolina Arts from Jan. 1995 - Dec. 1996. It also publishes Carolina Arts Online, Copyright© 2004 by PSMG, Inc. All rights reserved by PSMG, Inc. or by the authors of articles. Reproduction or use without written permission is strictly prohibited. Carolina Arts is available throughout North & South Carolina.