Feature Articles


For more information about this article or gallery, please call the gallery phone number listed in the last line of the article, "For more info..."
June Issue 2009

Ackland Art Museum in Chapel Hill, NC, Features Works by Aldwyth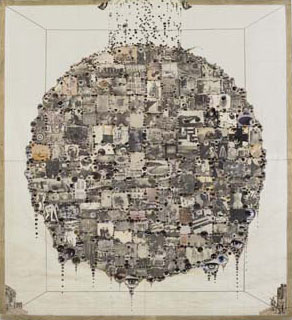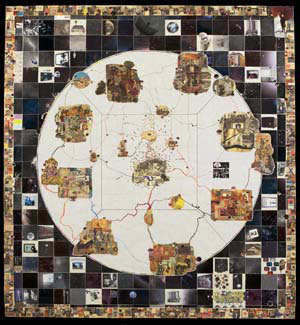 The Ackland Art Museum at The University of North Carolina at Chapel Hill, NC, presents the first major retrospective of collage and assemblage artist Aldwyth. Organized by The Halsey Institute of Contemporary Art at the College of Charleston, (SC) Aldwyth: Work v. / Work n. - Collage and Assemblage 1991- 2009, will be on view through Sept. 13, 2009. The exhibition is make its premiere at the Ackland before traveling to several other museums throughout the country.

"The Ackland is privileged to be the first museum to present an Aldwyth exhibition of this scale," says Ackland Director Emily Kass. "Her remarkable work demands to be seen. It is hard to think of an audience who will not be mesmerized by these extraordinary pieces of art."

For more than two decades, Aldwyth has produced her art in relative seclusion from the larger art world. Now seventy-three, she lives and works in an octagonal house on the edge of a salt marsh on one of South Carolina's sea islands, where she creates astonishingly intricate collages and assemblages that recall the fantastical intricacies of Hieronymus Bosch.
Exhibition Curator Mark Sloan, Director of the Halsey Institute of Contemporary Art, describes Aldwyth's complex, often epic-scaled collages as resembling "medieval manuscript pages writ large." Each piece can take years to make. Scores of minute images painstaking hand-pasted to Japanese paper combine in ambitious works such as Casablanca (classic version), measuring close to six feet square and made up of hundreds of eyeballs lifted from classic works of art, accompanied by a detailed index cataloging the origin of each eyeball. To create The World According to Zell, another large collage, Aldwyth cut every image from an 1871 Zell's Encyclopedia and reworked them into a reflection of her own unique perspective on nature, life, and technology. A collection of twenty-six cigar boxes, decorated inside and out, illustrate the entire alphabet, while another assemblage - Evolution of a Species - records in the minutest detail the history of the creation of a series of visual "experiments" that resemble three-legged creatures.

The exhibition subtitle, Work v. / Work n., is to be read "work verb, work noun" in reference to the appearance of the word's alternate definitions in the pieces About Work and Corpus. This focus is indicative of the artist's desire for her art to be appreciated both as an object and a representation of the effort required to create such things. "Work is what all art has in common," Aldwyth says.

Though an outsider to the art world, Aldwyth is by no means an outsider artist. Trained at the University of South Carolina and recipient of more than a dozen artistic residencies and fellowships, her work has been shown at the South Carolina State Museum (Columbia, SC), the Allen Stone Gallery (New York, NY), the Huntsville Museum (Huntsville, AL), and The Halsey Institute of Contemporary Art (Charleston, SC), among many others. She uses the history of art, ideas, and technology as both catalyst and source material. Despite her geographic isolation, Aldwyth devours information and images available to her from libraries, bookstores, the internet, and art magazines. "She is a voracious reader and inveterate collector of detritus," says Sloan. "All of the objects and images that enter her purview become fair game as the raw material from which her works are made."

The exhibition is accompanied by a catalogue including essays by Sloan and author and artist Rosamond Purcell. In her essay, Purcell observes, "In Aldwyth's collages much is hidden in plain sight simply because there is so much to see. If she has included autobiographical details, they appear in disguise, as generically published pictures. Mixed in and spread thickly with well-known art works, they embellish the Japanese paper that is her current canvas." Further, Purcell says of the artist, "For every flat assertion about Aldwyth's work, there will be an alternate. She slips away."

Aldwyth: Work v. / Work n. features fifty-one pieces, including ten large collages, seven small collages, and thirty-four assemblages. Video footage documents the artist's interaction with many works .After its Ackland premiere, the exhibition will travel to the Halsey Institute of Contemporary Art at the College of Charleston (Oct. 23, 2009 - Jan. 9, 2010) and the Telfair Museum of Art in Savannah, GA. (Feb. 10 - May 17, 2010).
This exhibition is made possible at the Ackland Art Museum with support from Jaynie Spector.
The Ackland Art Museum is located on the historic campus of The University of North Carolina at Chapel Hill. As an academic unit of the university, the Ackland serves broad local, state, and national constituencies. The Ackland Collection consists of more than 15,000 works of art, featuring significant collections of European masterworks, twentieth-century and contemporary art, North Carolina's premier collections of Asian art and works of art on paper (drawings, prints, and photographs), as well as African art and North Carolina pottery and folk art.

For further information check our NC Institutional Gallery listings, call the Museum at 919/966-5736 or visit (www.ackland.org).



[ | June'09 | Feature Articles | Carolina Arts Unleashed | Gallery Listings | Home | ]
Carolina Arts is published monthly by Shoestring Publishing Company, a subsidiary of PSMG, Inc. Copyright© 2009 by PSMG, Inc., which published Charleston Arts from July 1987 - Dec. 1994 and South Carolina Arts from Jan. 1995 - Dec. 1996. It also publishes Carolina Arts Online, Copyright© 2009 by PSMG, Inc. All rights reserved by PSMG, Inc. or by the authors of articles. Reproduction or use without written permission is strictly prohibited. Carolina Arts is available throughout North & South Carolina.