Feature Articles


For more information about this article or gallery, please call the gallery phone number listed in the last line of the article, "For more info..."
June Issue 2009

Newry Folk Festival Takes Place on June 13, 2009, in Newry, SC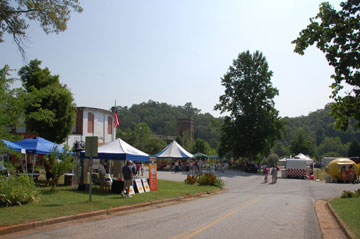 Everyone is invited to join in celebrating Newry's anniversary! The 7th Annual Newry Folk Festival will again be held this year on June 13, 2009, from 10am until 4pm. The festival is presented by the Oconee Heritage Center and the Newry Village Community.
Festivities include craft vendors, musical entertainment, food and much more. The day's events will again include a banjo, fiddle and guitar competition from 2 - 3pm on the main stage. The competition will include a youth (ages 14 and under) and adult category for each instrument. Contestants may register the day of the festival or pre-register at the Oconee Heritage Center.
Newry was the first textile village established in Oconee County. Beginning in 1893, the founder, William Ashmead Courtenay of Charleston, named this community after his ancestral home in Ireland.
The festival will mark the 115th anniversary of the Newry Mill in that on June 14, 1894, water first turned one of the mill power wheels. The mill was in full operation by the end of that year. At about the same time as the mill, the company office and store were built. Mr. Courtenay soon built a two-story mansion, which he called "Innisfallen" after the family estate in Ireland. The plant was originally operated by hydro power, but c.1905, steam engines and boilers increased production.

The workers of Courtenay Manufacturing Company had access to housing, a church, school, store, boarding house, doctor, cotton gin, jail and a piped sewage system. When construction was complete, there were about 115 houses, most of which were "saltbox" style, with two-stories and a slanting rear roof. Most were designed to house two families.
By 1903, the mill was running 635 looms. Workers filled many different jobs including picker, opener and slasher in the carding room; spooler and doffer in the spinning room; battery filler, drawing-in, fixer and warp tender in the weaving room and stitcher, inspector and folder in the finishing room.
Newry is located approximately one mile from Rochester Highway near Seneca, SC.
For further information contact the Oconee Heritage Center at 864/638-2224 or visit (www.oconeeheritagecenter.org).


[ | June'09 | Feature Articles | Carolina Arts Unleashed | Gallery Listings | Home | ]
Carolina Arts is published monthly by Shoestring Publishing Company, a subsidiary of PSMG, Inc. Copyright© 2009 by PSMG, Inc., which published Charleston Arts from July 1987 - Dec. 1994 and South Carolina Arts from Jan. 1995 - Dec. 1996. It also publishes Carolina Arts Online, Copyright© 2009 by PSMG, Inc. All rights reserved by PSMG, Inc. or by the authors of articles. Reproduction or use without written permission is strictly prohibited. Carolina Arts is available throughout North & South Carolina.