Feature Articles


For more information about this article or gallery, please call the gallery phone number listed in the last line of the article, "For more info..."
June Issue 2009

Plum Elements in Charleston, SC, Offers Works by Jocelyn Châteauvert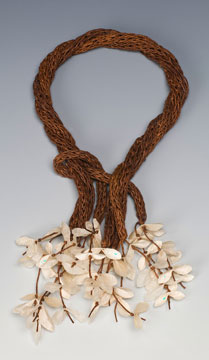 Plum Elements in Charleston, SC, is presenting the exhibit, Materials, featuring new works in paper and mixed media by Jocelyn Châteauvert, on view through June 28, 2009.
"An enchanted garden", "A mystic's marsh", or "Mother nature acting on an impish whim?", are just some of the thoughts one might have viewing the lotus and philodendron leaves, sticks and vines, tableaus and baubles created by exceptional papermaker and artist Jocelyn Châteauvert.
Unlike most artists, Châteauvert begins truly at the beginning - with flax or abaca and water. Then, with the help of her stalwart Hollander beater and customized mahogany moulds she makes paper. While it's wet or dry, she creases, twists, scores, folds, scrunches, cuts, layers and even hand-sews it into sumptuous forms that often raise a grin in the viewer, reflecting the impish smile the artist often shows as she works. At first sight, many think her objects require dainty handling, like Grand Mama's fine china. From her (intentional) over-beating of the fibers, Châteauvert knows its toughness. (Ironically, over-beating creates a translucent quality suggesting fragility, but actually increasing strength.) She longs to crumple and discard peoples' erroneous assumptions that her paper is fragile.

In this show, she ambitiously finds the many forms of the paper - so much so it fools the eye. Recently visiting Châteauvert's studio, an arts professional, long familiar with her work, asked the artist how she planned to use the collected bundle of sticks. She grinning, explaining that she had MADE the "sticks" and that they were in fact rolled pieces of paper. A large philodendron-like leaf splays shadows as it twists in the light entering through a window.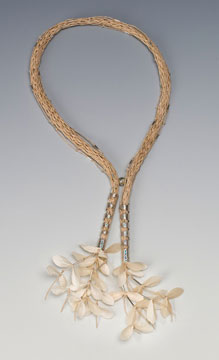 A wall-mounted sculpture, suggesting the outline of vines and leaves, looks like skin around an armature, yet its paper. Along with the floor sculpture of a marsh, or the lily pads accenting a table top, one finds a fabulous rustling boa and other adornments. Châteauvert alchemizes paper so it lusters like pearls, but without a gem's need to attract attention. Her necklaces and other wearable art, fairly float, lifting the wearer. The shapes and natural tones of the paper, enhance the honest beauty of the wearer, rather than adding a shiny overlay of artifice.
Châteauvert started with paper while working on her masters in metalwork. Someone suggested she take the paper class and she immediately took to it, falling completely in love with the medium. "Choosing to work with fire or water, who wouldn't want to work with water?" asked the artist. And, it was the pull of water that coaxed Châteauvert to the southeastern coast, where the region's natural beauty finds its way into her work.

In early 2005, at the Smithsonian Craft Show in Washington, DC, Châteauvert's ocean inspired works stopped Andrea Schenck. Deciding to move to Charleston later that same year, and opening Plum Elements in 2006, Schenck recalls her wonder at first seeing Châteauvert's work. "I have always loved paper. In Japanese, the word for "paper" and "spirit" are homonyms, so paper is always treated with reverence. Talking to Jocelyn and seeing her work that first time spirited was exactly the thought I had."
Châteauvert's artistry is critically renowned, as evidenced by her long list of publications, the many awards, the significant collectors her work (such as the: Museum of Fine Art, Boston and the Mint Museum of Craft + Design and the Smithsonian American Art Museum's Renwick Gallery) and the national and international invitations she receives to exhibit her work. In 2007, the Smithsonian of American Art's Renwick Gallery invited her to exhibit in the Renwick Craft Invitational 2007 entitled, From the Ground Up. Jane Milosch, curator for the show, writing on Châteauvert's work explained, "Her works are playful interludes with light and drama, treated with a twist of humor, that come together and yield a fresh vision in hand-made paper."
Raised and educated in Iowa, Châteauvert earned her MFA in metalworking and jewelry, with a minor in sculpture from the University of Iowa, Iowa City. There, she also earned her MA in jewelry and metalwork and her BA in design. Her work has been exhibited in Russia, Austria and throughout the US. After teaching in London and establishing herself as a professional artist in San Francisco, she moved to Charleston in 1999. In 2005, the South Carolina Arts Commission presented her with its highest award - a Craft Fellowship.
For further info check our SC Commercial Gallery listings, call the gallery at 843/727-3747 or e-mail to (info@plumelements.com).


[ | June'09 | Feature Articles | Carolina Arts Unleashed | Gallery Listings | Home | ]
Carolina Arts is published monthly by Shoestring Publishing Company, a subsidiary of PSMG, Inc. Copyright© 2009 by PSMG, Inc., which published Charleston Arts from July 1987 - Dec. 1994 and South Carolina Arts from Jan. 1995 - Dec. 1996. It also publishes Carolina Arts Online, Copyright© 2009 by PSMG, Inc. All rights reserved by PSMG, Inc. or by the authors of articles. Reproduction or use without written permission is strictly prohibited. Carolina Arts is available throughout North & South Carolina.