Feature Articles


For more information about this article or gallery, please call the gallery phone number listed in the last line of the article, "For more info..."
June Issue 2010

Artspace in Raleigh, NC, Offers Several New Exhibits
Artspace in Raleigh, NC, will present several new exhibits including: Yuxtapongo, on view in the Education Room from June 4 - 26, 2010; Undercurrents, featuring works by Julie Niskanen, on view in the Upfront Gallery from June 4 - 26, 2010; and New Directions, featuring works by Vidabeth Bensen, on view in the Lobby, from June 4 - 26, 2010.
Yuxtapongo is a collaborative, juxtaposition-based television show created by a diverse cast of local, national, and international artists and musicians. It was created by Neill Prewitt in 2009. A new episode airs monthly on Public Access TV channels in Raleigh, Durham, Chapel Hill, Hillsborough, and Pittsboro, NC. Prewitt and local artist Lincoln Hancock will present an exclusive Yuxtapongo experience in the Artspace Education Room. Their installation is inspired by the energy and rhythms of modern African dance-pop, and the interactive exchange of American dance-line television programs. It will incorporate music, experimental video, and performance elements remixed in Yuxtapongo's signature aesthetic style.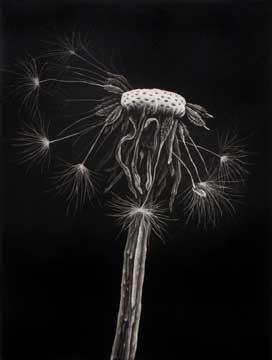 Julie Niskanen
Julie Niskanen notes that the natural forms that permeate our world too often become background patterns in our hectic lives. "For the most part, people no longer feel the wonder of the complexities and intricacies seen in forms such as a single seedpod. I work to bring attention and give power to the often-unnoticed subtle changes and cycles in nature." Niskanen examines these organic forms as a method of reflecting on, and bringing forth, the rhythms of nature. Through using mezzotint and various etching techniques, the artist is able to achieve a wide range of tones and textures to complement her selected imagery and ideas.
Niskanen was born in Greenville, SC, but moved with her family to Newark, DE, and Chicago, IL. She received a BFA from Iowa State University in 2005. In 2003 she lived and studied in Rome, Italy and traveled through Europe. Niskanen received a MFA in printmaking from the University of South Dakota, where she also managed the fine art gallery and taught drawing classes. She currently lives in Raleigh where she works as a professional artist and teacher at Sandhills Community College, Pinehurst, NC; Central Carolina Community College, Sanford and Lillington, NC; and Fayetteville Technical Community College, Fayetteville, NC. Niskanen's work has been exhibited extensively in national and international exhibitions, and is part of many private and public collections.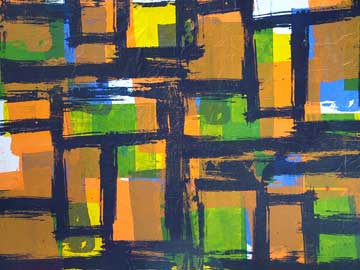 Vidabeth Bensen
New Directions features original screen prints by Vidabeth Bensen. Each work is a hand- pulled print, using stencils created from hand cut film, paper, or painted directly onto a silkscreen using drawing fluid and screen filler. Some of the pieces in this exhibition are printed on handmade Japanese paper and then collaged onto stretched canvas. Bensen's most recent works have moved toward abstraction, as Abstract Expressionism has always been a fascination for the artist due to the influence of some of her art professors from the late 50's. Bensen's work is always influenced by the years she spent living abroad, especially in Asia and the Middle East.
Bensen is a printmaker who calls NC home after living and working overseas for 27 years. Her screen prints have been exhibited extensively abroad and in the US. She holds a BA in Art Education and an MA in Gifted Education, and has taught both children and adults. Bensen teaches at several locations in the Triangle, as well as at the University of Connecticut and the John C. Campbell Folk School. She has conducted workshops for the National Art Education Association, the North Carolina Art Education Association, and was an Artist-in- Residence in the Durham County Schools from 1993 to 2001. In recent years she has traveled to Turkey, Germany, and England to teach screen printing in several Department of Defense Overseas Dependents Schools. Bensen's most recent works were exhibited locally at the Horace Williams House in Chapel Hill during the month of February, 2010. Her book, A Simple Guide To Screenprinting, was published by Royal Fireworks Press, Spring 2010.
For further information check our NC Institutional Gallery listings, call the center at 919/821-2787 or visit (www.artspacenc.org).


[ | June 2010 | Feature Articles | Carolina Arts Unleashed | Gallery Listings | Home | ]
Carolina Arts is published monthly by Shoestring Publishing Company, a subsidiary of PSMG, Inc. Copyright© 2010 by PSMG, Inc., which published Charleston Arts from July 1987 - Dec. 1994 and South Carolina Arts from Jan. 1995 - Dec. 1996. It also publishes Carolina Arts Online, Copyright© 2010 by PSMG, Inc. All rights reserved by PSMG, Inc. or by the authors of articles. Reproduction or use without written permission is strictly prohibited. Carolina Arts is available throughout North & South Carolina.