Feature Articles


For more information about this article or gallery, please call the gallery phone number listed in the last line of the article, "For more info..."
June Issue 2010

Elder Gallery in Charlotte, NC, Features Works by Stephanie Neely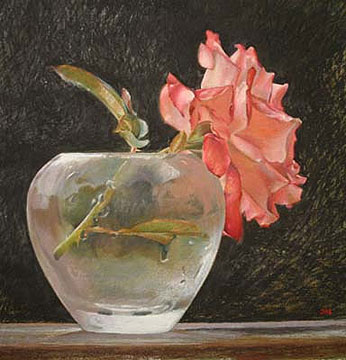 Elder Gallery in Charlotte, NC, will present the exhibit, Mysteries of Light, featuring works by Stephanie Neely, on view June 4 - 29, 2010.
Leaving a successful career as a practicing attorney might be a difficult decision for most people but for Charlotte artist, Stephanie Neely, the move was one of necessity. For several years her true passion was in creating art but her practical side told her that life would be easier in the role of an attorney. As time passed her skill set for painting grew and her confidence increased.
As her work continued to develop Neely found it impossible to resist any longer. She reached a positive compromise when she accepted a teaching position for Business Law. Teaching and painting became a natural fit for the emerging artist.
"I paint images of flowers because they represent a sense of calm and quiet that is elusive in the business (or 'busyness') of modern life. I studied horticulture as an undergraduate at NC State, and flowers remain in my consciousness as a reminder of a less complicated existence" says Neely.
Neely's large scale oil pastel paintings are strikingly beautiful and contain an element of spirituality. "Ironically, flowers embody tranquility and beauty as well as fragility and decay. Bursting to life with memorable color and scent, patiently awaiting and welcoming the pollinating bees, and fading disappointingly in a matter of weeks or days, flowers symbolize the beauty and brevity of life."
The images that Neely has created over the last several years are an expression of her interest in the strong contrast of light and darkness, specifically an interest in chiaroscuro. The mysterious light found in the dark paintings of Vermeer, Rembrandt and Caravaggio have long fascinated her and hold a strong influence on her work.
Mysteries of Light is a collection of still life and floral compositions that explore the beauty of light, both direct and indirect, on common subjects.
Neely's recent work reflects a personal impression of the mysterious qualities of light and life through the vehicle of floral still life. The paintings in her series contain large images of flowers backlit by the sun or subtly illuminated by an indiscernible light source. The light itself is intended to serve as the ultimate mystery.
For further information check our NC Commercial Gallery listings, call the gallery at 704/370-6337 or visit (www.elderart.com).


[ | June 2010 | Feature Articles | Carolina Arts Unleashed | Gallery Listings | Home | ]
Carolina Arts is published monthly by Shoestring Publishing Company, a subsidiary of PSMG, Inc. Copyright© 2010 by PSMG, Inc., which published Charleston Arts from July 1987 - Dec. 1994 and South Carolina Arts from Jan. 1995 - Dec. 1996. It also publishes Carolina Arts Online, Copyright© 2010 by PSMG, Inc. All rights reserved by PSMG, Inc. or by the authors of articles. Reproduction or use without written permission is strictly prohibited. Carolina Arts is available throughout North & South Carolina.