Feature Articles


For more information about this article or gallery, please call the gallery phone number listed in the last line of the article, "For more info..."
June Issue 2010

Maye River Gallery in Bluffton, SC, Features Works by Martha Worthy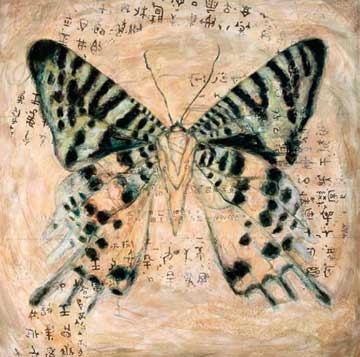 The Maye River Gallery in Bluffton, SC, is presenting an exhibit of works by Martha Worthy, on view through July 19, 2010.

An award winning artist, Worthy holds a BFA from the University of Georgia and has attended the Arrowmont School of Arts & Crafts and the Penland School of Crafts. Her work has appeared in national media including Coastal Living Magazine and Southern Living Magazine.
Worthy feels a strong connection to the daily rhythms of the natural world. Having lived and worked on Hilton Head Island, SC, since 1981 and surrounded by so much natural beauty, she has a bounty of inspiration. For Worthy, painting ideas germinate and evolve in an intuitive process, usually beginning with a random spark of interest, maybe a certain color combination, a particular artist's work, or a piece of shell found on the beach. Once curiosity takes hold, she adds more layers of images, gleaned from different cultures or influenced by recent travels, like the ornately carved architectural masterpieces of Morocco or the incredible red rock colors and formations of the American Southwest.
For Worthy, the search for creativity is an active pursuit. Working in her studio on a daily basis, one painting usually leads her to another. She doesn't wait around for inspiration to find her. Each painting reflects an ongoing journey of discovery that includes many surprises along the way. For Worthy, painting is a little like getting lost in the woods and following the bread crumbs home.
For further information check our SC Commercial Gallery listings or call the gallery at 843/757-2633.



[ | June 2010 | Feature Articles | Carolina Arts Unleashed | Gallery Listings | Home | ]
Carolina Arts is published monthly by Shoestring Publishing Company, a subsidiary of PSMG, Inc. Copyright© 2010 by PSMG, Inc., which published Charleston Arts from July 1987 - Dec. 1994 and South Carolina Arts from Jan. 1995 - Dec. 1996. It also publishes Carolina Arts Online, Copyright© 2010 by PSMG, Inc. All rights reserved by PSMG, Inc. or by the authors of articles. Reproduction or use without written permission is strictly prohibited. Carolina Arts is available throughout North & South Carolina.