Feature Articles


For more information about this article or gallery, please call the gallery phone number listed in the last line of the article, "For more info..."
June Issue 2010

Spencer Art Gallery in Charleston, SC, Features Works by Robert M. LeFevre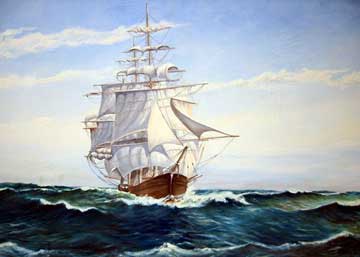 Spencer Art Gallery in Charleston, SC, will present the exhibit, Seaside Journeys, featuring a new collection of maritime oil paintings by Robert M. LeFevre, on view from June 4 - 12, 2010.
The exhibition includes works that depict the beautiful scenery in and around the Charleston area and other coastal and lake areas he has lived in and traveled to.
LeFevre retired from a successful career in business at the age of 55 to pursue his passionoil painting. At the urging of his fifth grade teacher, he started taking art lessons at the age of nine establishing an early foundation in drawing and painting skills. He continued with drawing, painting and sculpture lessons throughout his elementary and high school days. He joined every art club and organization he could, gaining recognition and winning awards for his talents. A turning point came when, at the age of eighteen, he took lessons from a retired sea captain in Cape Cod, MA, where he painted his first clipper ship. It was at this moment that his passion for painting scenes of the sea was born.
LeFevre attended Colgate University majoring in business and taking art as a second major. After graduation he elected to pursue a business career knowing that he would eventually return to art sometime in his life. After 33 years as an executive with Procter and Gamble, PepsiCo and owner of The United States Playing Card Co., he retired to pursue his dream.
LeFevre continues to develop his drawing and painting skills through life drawing classes, including nine years at the Art Academy of Cincinnati, plein air workshops and teaching both drawing and painting classes to teenagers and adults.
LeFevre describes his approach to painting as follows: "I start a painting based on an idea that has come to me in my 'mind's eye' usually stimulated by something I see in nature or something I've read or seen elsewhere. Before I even put paint to canvas I have painted it many times in my mind resolving how I can make this painting different, unusual and spectacular. This 'mind process' at times takes several weeks of creative dreaming, always making changes, adding and subtracting ideas and feelings. Regardless, my paintings always end up infused with a lot of atmosphere, color and light and, I hope, with an invitation to the viewer to step into the scene and, hopefully, experience my original vision! "
LeFevre lives on Seabrook Island, SC, and maintains studios at his homes in Seabrook Island and Salem, SC. He is represented by the Spencer and Dobbin Galleries in the Charleston area. He is an active member of the Seabrook Island Art Guild and the Charleston Art Guild.
For further information check our SC Commercial Gallery listings or call the gallery at 843/722-6854.



[ | June 2010 | Feature Articles | Carolina Arts Unleashed | Gallery Listings | Home | ]
Carolina Arts is published monthly by Shoestring Publishing Company, a subsidiary of PSMG, Inc. Copyright© 2010 by PSMG, Inc., which published Charleston Arts from July 1987 - Dec. 1994 and South Carolina Arts from Jan. 1995 - Dec. 1996. It also publishes Carolina Arts Online, Copyright© 2010 by PSMG, Inc. All rights reserved by PSMG, Inc. or by the authors of articles. Reproduction or use without written permission is strictly prohibited. Carolina Arts is available throughout North & South Carolina.