Feature Articles


For more information about this article or gallery, please call the gallery phone number listed in the last line of the article, "For more info..."
June Issue 2010

Sunset River Marketplace in Calabash, NC, Features Exhibit by Trio
Sunset River Marketplace art gallery in Calabash, NC, will feature Kimberly Dawn & Friends, a group show of works on canvas, wood, glass and metal by folk artists Kimberly Dawn Clayton, Shauna McGoldrick and Daniel MacCosbe, on view from June 1 - July 10, 2010. The exhibition will present three distinct styles, with the common thread being that all are considered outsider art.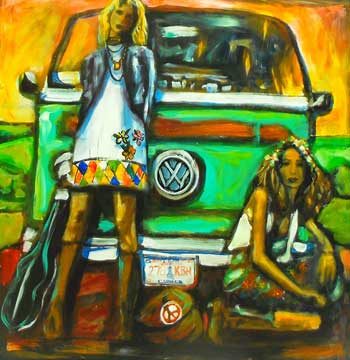 Kimberly Dawn Clayton
Kimberly Dawn Clayton is self-taught, but no longer considers herself untrained. The Tennessee native says, "I've been at this a while now. I can see maturity in my work. Everything is tighter. My colors aren't muddy. My brush strokes are more confident. I'm still a folk artist, just not untrained anymore."
Clayton is well known on the folk art circuit, exhibiting at Folk Fest in Atlanta, GA; Abby Road On the River in Louisville, KY; National Moofest in Athens, TN, and other outsider art festivals. She works in acrylic and oil and sometimes uses rattle cans. Often the prolific artist creates sculptures out of cast-off materials and incorporates items such as bottle caps, broken mirror pieces and compact discs into her pieces. Clayton's painting "canvases" include everything from discarded lumber and windows to guitars, drums and buildings.
Clayton was one of the organizers for last year's Folk Art Show and Battle of the Blues Bands at the Myrtle Beach House of Blues. She has also been involved with both Extreme Home Makeover projects in the area. Other nonprofits have included Give Five (Chattanooga, TN), Brunswick Family Assistance (Shallotte, NC) and Brunswick Arts Council (Ocean Isle Beach, NC) Born in Morristown, TN, near Knoxville, she grew up in Chattanooga and now lives in Myrtle Beach, SC.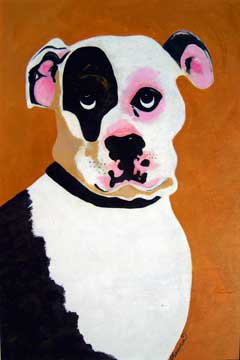 Shauna McGoldrick
Shauna McGoldrick, originally from San Diego, CA, has been painting for some 36 years. She studied at the Mesa Arts Center in Arizona and Miracosta College in San Diego. After moving to North Myrtle Beach, SC, with husband, Jack, in 2003, she won the Arts for the Animals poster contest sponsored by the North Myrtle Beach Chamber of Commerce.
About her work, McGoldrick says, "My paintings and found object art take the viewer to a creative place where the possibilities are endless and are reminiscent of a fearless childhood." Included in the Sunset River Show will be her popular rescue dog images and mermaid paintings. The artist is a member of Studio 12, a painters' group at Sunset River Marketplace.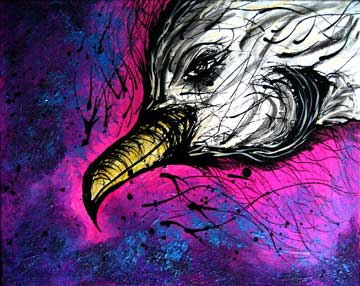 Daniel MacCosbe
Dan MacCosbe uses acrylic, ink and collage on a variety of surfaces, creating images that range from the comical to the tragic. His work is a surreal representation of the experiences and struggles we all face. Ironically, he began painting after losing his architectural draftsman job ­ the result of a floundering economy. After painting for about a year, MacCosbe is already painting full time. His work hangs at Art Wireless 99 on Market Street in Charleston, SC. The Durham, NC, native also volunteers for Global Awareness Project (GAP), a nonprofit group seeking to promote other nonprofits through the arts.
MacCosbe says, "I got my start doing shows through the Art Walks at The Market Common in the summer of 2009, which were put on by GAP. I helped Kim with the HOB Battle of the Blues Festival and showed 36 pieces of my work that weekend. I began attending workshops put on by the Roundtable [a local artist organization], and participated in their December show, debuting my first series of paintings on doors, which have become my primary medium."
For further information check our NC Commercial Gallery listings, call the gallery at 910/575-5999 or visit (www.sunsetrivermarketplace.com).



[ | June 2010 | Feature Articles | Carolina Arts Unleashed | Gallery Listings | Home | ]
Carolina Arts is published monthly by Shoestring Publishing Company, a subsidiary of PSMG, Inc. Copyright© 2010 by PSMG, Inc., which published Charleston Arts from July 1987 - Dec. 1994 and South Carolina Arts from Jan. 1995 - Dec. 1996. It also publishes Carolina Arts Online, Copyright© 2010 by PSMG, Inc. All rights reserved by PSMG, Inc. or by the authors of articles. Reproduction or use without written permission is strictly prohibited. Carolina Arts is available throughout North & South Carolina.