Feature Articles

July Issue 2001
Columbia Museum of Art in Columbia, SC, Sizzles While Artists Play with Fire
An exhibition of contemporary art, Burn: Artists Play with Fire examines a cross section of artists who create works containing such elements of fire as smoke, ash and flame. The exhibition opens at the Columbia Museum of Art in Columbia, SC, on July 7 and continues through Sept. 23, 2001.
Burn brings together both strongly emerging and established contemporary artists working with traditional and non-traditional materials and processes. It explores the mystical magnetic attraction that fire holds. Artists incorporate fire, smoke, and/or ash in their art and work in many media - conceptual art, video, painting, sculpture, photography and photo-documentation of site-specific performance art.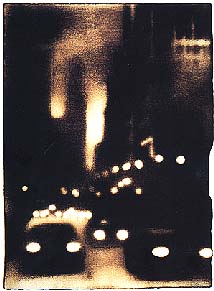 Paul Chojnowski
Technique and theme merge in these dramatic works as artists explore such issues as cultural identity, environmental fragility and personal loss. Some of the featured artists include L.C. Armstrong, Chris Burden, John Cage, Willie Cole, Kathleen Kucka, Leslie Lerner, Ana Mendieta, David Nash, Conrad Marca-Relli, Dennis Oppenheim and George Stoll. These artists utilize a breadth of techniques and mediums, from Ana Mendieta's haunting photographs that silhouette her body in ash and flame to the ominous charred wood sculptures of David Nash to Willie Cole's resonant scorched images on canvas using a common household iron.
This exhibition is organized by the Norton Museum of Art, West Palm Beach, FL, and is generously funded, in part, through the Neuberger Berman, LLC Fund at the New York Community Trust with additional support from the Norton Museum's Michael Rea Endowment for Special Exhibitions. "Free Times" is the local media sponsor in Columbia.
In appreciation for the Firefighters of South Carolina, the Columbia Museum of Art offers a weekend of free admission for Firefighters and their families on July 14 &15.
For further information check our SC Institutional Gallery listings or call the Museum at 803/799-2810 or on the web at (http://www.columbiamuseum.org).

[ | July'01 | Feature Articles | Home | ]

Mailing Address: Carolina Arts, P.O. Drawer 427, Bonneau, SC 29431
Telephone, Answering Machine and FAX: 843/825-3408
E-Mail: carolinart@aol.com
Subscriptions are available for $18 a year.
Carolina Arts is published monthly by Shoestring Publishing Company, a subsidiary of PSMG, Inc.
Copyright© 2001 by PSMG, Inc., which published Charleston Arts from July 1987 - Dec. 1994 and South Carolina Arts from Jan. 1995 - Dec. 1996. It also publishes Carolina Arts Online, Copyright© 2001 by PSMG, Inc. All rights reserved by PSMG, Inc. or by the authors of articles. Reproduction or use without written permission is strictly prohibited. Carolina Arts is available throughout North & South Carolina.