Feature Articles

July Issue 2001
Somerhill Gallery in Chapel Hill, NC, Presents Exhibition of Glass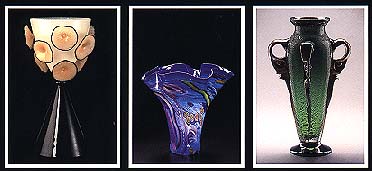 Frank Cavaz -------- Jim Nowak -------Tom Philabaum

Somerhill Gallery in Chapel Hill, NC, announces Glass Masters III, an invitational survey of contemporary American studio glass artists. The South Gallery feature exhibition will be on display July 1 - Aug. 17.
Each glass artist selected to participate in Glass Masters III brings his/her own distinctive style and innovative techniques to this exhibit. The artists all are nationally recognized for their unique, groundbreaking contributions to contemporary American studio glass.
The artists included in the exhibit are: Mary Ellen Buxton, Pier Glass, Brooklyn, NY; Jim Nadal, Nadal Glass, Canandaiqua, NY; Frank Cavaz, Bacchus Glass, Sonoma, CA; Jim Nowak, Nowak Glass Studio, Seattle, WA; Daniel Gaumer, Daniel Gaumer Designs, Birdsboro, PA; Tom Philabaum, Philabaum Glass Studio, Tucson, AZ; David Leppla, DKL Glass, Waitesfield, VT; Robert Scavuzzo, New Day Glass, Barto, PA; Neal Drobnis, Caste Glass, North Scituate, Rhode Island; Will Dexter, Boyertown, PA; and Stephen Rich Nelson, Shillington, PA.
Previous to Glass Masters III, Somerhill Gallery featured a selection of contemporary studio art glass in the Glass Masters '98 exhibit as well as a 1994 Glass Masters exhibit.
For further information check our NC Commercial Gallery listings or call the gallery at 919/968-8868.
[ | July'01 | Feature Articles | Home | ]

Mailing Address: Carolina Arts, P.O. Drawer 427, Bonneau, SC 29431
Telephone, Answering Machine and FAX: 843/825-3408
E-Mail: carolinart@aol.com
Subscriptions are available for $18 a year.
Carolina Arts is published monthly by Shoestring Publishing Company, a subsidiary of PSMG, Inc.
Copyright© 2001 by PSMG, Inc., which published Charleston Arts from July 1987 - Dec. 1994 and South Carolina Arts from Jan. 1995 - Dec. 1996. It also publishes Carolina Arts Online, Copyright© 2001 by PSMG, Inc. All rights reserved by PSMG, Inc. or by the authors of articles. Reproduction or use without written permission is strictly prohibited. Carolina Arts is available throughout North & South Carolina.