Feature Articles


For more information about this article or gallery, please call the gallery phone number listed in the last line of the article, "For more info..."

July Issue 2004
Joie Lassiter Gallery in Charlotte, NC, Features Works by Amy Lixl-Purcell and John Nickerson
The Joie Lassiter Gallery in Charlotte, NC, will be presenting two exhibitions on the ground level of the Odell Building, including: Bounce, an intermedia installation by Amy Lixl-Purcell, on view through July 14, 2004, and works by nationally and internationally acclaimed glass artist and former Blenko designer, John Nickerson, on view from July 16 through Aug. 31, 2004.
Amy Lixl-Purcell, a well-respected artist in North Carolina whose works investigate personal and cultural memory as it is related to sensory experience, will be showing an intermedia installation that expresses a presentation of polarities.

Lixl-Purcell received her MFA at Rutgers University and currently teaches at the University of North Carolina at Greensboro. As a nationally and internationally exhibiting artist, Lixl-Purcell's work traverses the traditional boundaries between practices and disciplines as she incorporates a range of media and methods in pursuit of content-based works. Digital processes and media are central to her work, which includes sound, video, photography and sculptural elements.
Bounce juxtaposes and bounces between elemental opposites through moving images and sound, a sculptural rear projection screen, and a sequence of printed images. Metaphorical elemental images of figures and simple human gestures are presented as visual equivalents for the polarities of up and down, above and below, work and play, and the struggles of life. The looping video and sculptural installation asks the viewer to locate themselves on a scale of extremes where black and white reveal the beauty of the grayscale in between.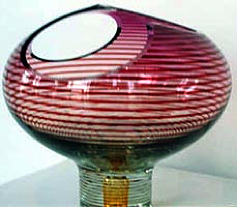 John Nickerson
John Nickerson will be showing new works that combine metal with his blown and cut glass forms. His career has taken him through positions as an industrial design sculptor at General Motors, a professor at several universities to Designer in Residence at Blenko Glass Company.

During the last two decades, Nickerson has been working from his studio exhibiting his work internationally. His works are in prestigious museum collections ­ Corning Museum of Glass, Delaware Art Museum, Denver Art Museum, Muskegon Museum of Art and Musee des Arts Decoratifs, Lausanne, Switzerland to name a few. Nickerson was one of the earlier American glass blowers to be influenced by the Scandinavian art form. Unlike many recent glass blowers, he still strictly adheres to their methodology of high quality workmanship created by the artist's hand alone.

Blowing, cutting, faceting, grinding and polishing without technical or technological shortcuts, Nickerson continues classic and time-honored glass-making traditions which are almost lost due to the time it takes to see a piece through to completion. Combining practical utility with sheer beauty, Nickerson's work is known for its pure color, clean modern lines and his alteration of the blown form. For many years Nickerson worked using strong transparent colors which play with or against each other. Now utilizing materials from Australia he experiments with translucent and opaque colors.
Light is a strong presence in Nickerson's work as are color and a refined design language that combines patterns and spaces. He brings a passion to his glass forms whether sculptural or blown, forging a tangible connection to the earth and its elements.

For further information check our NC Commercial Gallery listings, call the gallery at 704/373-1464, e-mail at (info@lassitergallery.com) or (www.lassitergallery.com).

[ | July'04 | Feature Articles | Gallery Listings | Home | ]


Carolina Arts is published monthly by Shoestring Publishing Company, a subsidiary of PSMG, Inc. Copyright© 2004 by PSMG, Inc., which published Charleston Arts from July 1987 - Dec. 1994 and South Carolina Arts from Jan. 1995 - Dec. 1996. It also publishes Carolina Arts Online, Copyright© 2004 by PSMG, Inc. All rights reserved by PSMG, Inc. or by the authors of articles. Reproduction or use without written permission is strictly prohibited. Carolina Arts is available throughout North & South Carolina.