Feature Articles


For more information about this article or gallery, please call the gallery phone number listed in the last line of the article, "For more info..."
July Issue 2010

City Art Gallery in Columbia, SC, Features Works by Kathy Casey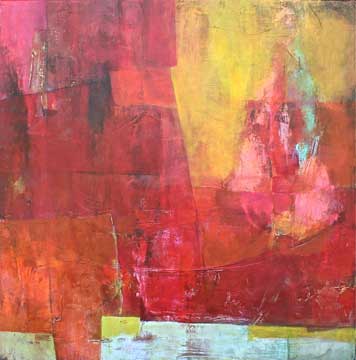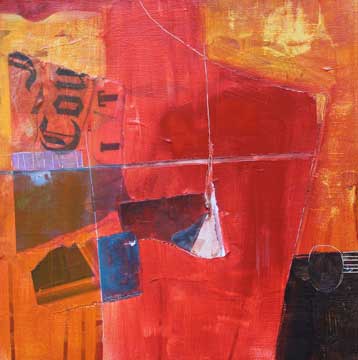 City Art Gallery in Columbia, SC, presents Santee, SC, artist Kathy Casey in a solo exhibit entitled, Hot . . . a passion for painting, on view through Aug. 14, 2010.
Casey developed her unique painting style through a process of exploration and study. The active lines and engrossing colors that fill Casey's canvases show a strong influence of abstract expressionism. In the newest paintings there is a recurring theme of warmth. Reds, oranges, pinks and yellows mingle to create a sense of a heated urban or earthy landscape. Casey's work tends to be completely non-objective rather than tell a story. This forces the viewer to be a participant and decide what something means. Casey likes to leave enough mystery so the viewer can decide his or her own connection to the works.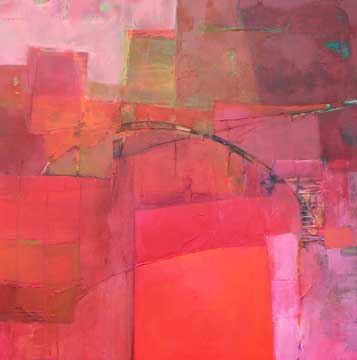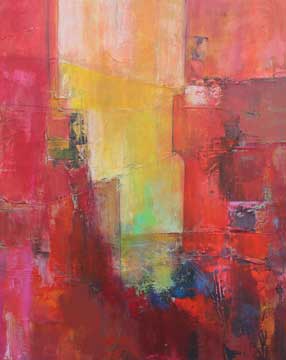 "The paintings that I love have a life of their own," said Casey, "I have a quote by Jackson Pollock hanging on my studio wall: 'Every good painter paints what he is'."

Casey's nonobjective paintings evoke the spirit of a natural evolution that results from the passage of time. Each is about flux - the ever-changing nature of life. There is no literary narrative in the work. Instead, each piece serves as a metaphor for life: birth and death, creation and decay, growth as a transformation. Partially hidden words, either written in the artist's hand or in the found collaged papers, often appear in the paintings and add personal meaning to the works.
The paintings in this exhibition of Casey's work are done in mixed media including: acrylics, charcoal, crayon and /or collage on hand-textured canvas or paper. "I love to try new things," she said, "It is just not in my nature to be still. My palette goes from calming neutrals to crazy loud colors, and everything in between. It always depends on the day. My painting style is a mirror of my life. Some days are peaceful and some days are all out wild. I don't really have a favorite style. I always like what I painted today better than what I painted yesterday and I hope it's always like that."
The exhibition is dedicated to Harry Greenberg.
For further information check our SC Commercial Gallery listings, call the gallery at 803/252-3613 or visit (www.cityartonline.com).


[ | July2010 | Feature Articles | Carolina Arts Unleashed | Gallery Listings | Home | ]
Carolina Arts is published monthly by Shoestring Publishing Company, a subsidiary of PSMG, Inc. Copyright© 2010 by PSMG, Inc., which published Charleston Arts from July 1987 - Dec. 1994 and South Carolina Arts from Jan. 1995 - Dec. 1996. It also publishes Carolina Arts Online, Copyright© 2010 by PSMG, Inc. All rights reserved by PSMG, Inc. or by the authors of articles. Reproduction or use without written permission is strictly prohibited. Carolina Arts is available throughout North & South Carolina.