Feature Articles


For more information about this article or gallery, please call the gallery phone number listed in the last line of the article, "For more info..."
July Issue 2010

Pickens County Museum in Pickens, SC, Features Works by Kent Ambler, Cecile Martin and Carole Knudson Tinsley
The Pickens County Museum of Art & History in Pickens, SC, is presenting the following exhibits including: Kent Ambler: Woodcuts, Cecile L. K. Martin: Prologue and Carole Knudson Tinsley: Layers in Time, on view through Aug. 9, 2010.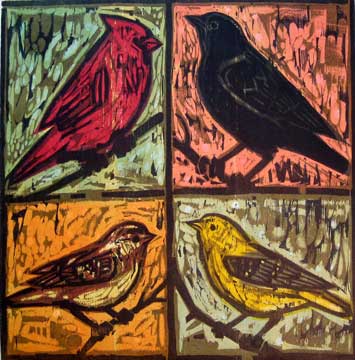 Kent Ambler
A native of Indiana, Kent Ambler moved from New Mexico to the Upcountry of South Carolina in 2000. With a studio at his home on Paris Mountain, Ambler's surroundings offer endless subject matter for his work; his three dogs, two cats, wife Peggy, the mountain and woods, birds, flowering trees, the moon the list goes on and on.
Ambler's earliest memories are of drawing. He believes he was born an artist and that there was never any question as to what he would do with his life; making art has always been a necessity. In 1992, he received his BFA in Painting from Ball State University in Muncie, IN. Upon his move to South Carolina he continued his studies with graduate work at Clemson University.
About his work, Ambler says, "My work is autobiographical. It is derived from my life and surroundings, my observations. Subjects, themes, and even concepts do materialize in my work through the passage of time. I generally can't tell you what it is that I am working on until viewing a series of work in retrospect. With the help of hindsight it becomes very obvious what was going on in my life at that given time." He continues, "I work from an aesthetic and intuitive approach rather than a conceptual one. I try not to over think or over plan my work. I generally do my best work when my brain is "turned off" so to speak. I am inspired by the simplicity of idea and image addressed by genuine folk artists."
Ambler has exhibited his work continuously since graduating from Ball State and has exhibited in many venues over the years, placing work in numerous public and private collections. He has been working as a full time artist since 1997.
One of Cecile L. K. Martin's earliest memories is of hiding behind a big chair "fixing" wallpaper with crayons. Born in New York, she grew up "basically in Pennsylvania" and moved to South Carolina in 1973. She received a Bachelor of Science Degree in Art Education from Kutztown State College in 1969, and her Master of Fine Arts from Clemson University in 1989.
Artist and teacher, Martin is currently an assistant professor at The University of Georgia teaching design and graphics in the College of Environmental Design. Previously, she was at Clemson University in South Carolina, teaching courses for the departments of Architecture, Landscape Architecture and Visual Arts. Martin also lectures, juries art competitions, and conducts workshops on subjects such as: drawing, painting, design and composition, creativity and self-expression.
When asked about her art, Martin said, "I work in series, often using the human condition as a source of imagery. I like to make use of a wide range of media, both 2D and 3D, and I'm especially fond of the interaction of graphic media and paper. My newest series uses mono-prints as the basis for developing abstract images, which may suggest mythological subjects, still life, or landscape."
Among her many honors, Martin has been awarded Signature Membership in the National Watercolor Society, Member With Excellence in the SC Watercolor Society, is listed in Who's Who in the World, was included in Views of the Twentieth Century in SC; 100 Years-100 Artists, and In Response, a national 9/11 memorial exhibition held in Savannah, GA. Her Stations of the Cross for St. Paul the Apostle Church in Seneca, SC, won the 1995 Modern Liturgy BENE Award and received national recognition in the Jesus 2000 Project. Her cut paper images illustrate the children's book The Shark's Tooth, written by novelist and poet Ron Rash. Her work is included in the SC State Collection, Oconee County, Spartanburg County, Pickens County, Anderson County Arts Center, Tri County Technical College, Clemson University, and the State of Pennsylvania Department of Education Collections, as well as in many corporate and private collections through out the United States and Europe.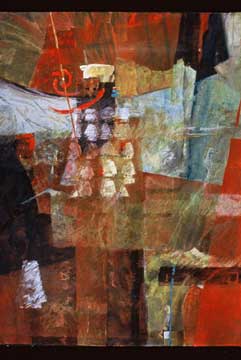 Carole Knudson Tinsley
Living in Greenville, SC, Carole Knudson Tinsley received her BS with a major in elementary education and a minor in art from Millikin University in Decatur, IL. She has done post-graduate studies in art in Michigan, Virginia and in South Carolina. In addition she has attended many workshops with nationally known artists and jurors.
Tinsley taught art at Seneca Junior High School for 6 years and also taught privately for 15 years. She was also involved in teaching at the Greenville County Museum School of Art. Many of her students went on to attend the SC Governor's School for the Arts & Humanities.
Working in water-media, Tinsley often integrates collage into her paintings. When asked about her recent paintings she replied, "I have been working in a series that relates to ancient cultures as well as earth forms. While I do paint in an impressionistic and abstract manner, I strive to be a good shape maker of whatever subject I am interpreting. I am often inspired by the mysteries and spirits of Native American sites and the lives of those who occupied and continue to occupy some of those ancient places and structures. My creative journey, while painting shapes and values of color, involves many layers and paths before the painting finally emerges." She continued saying, "My wish is that viewers will feel the spirit of Native people. Though my images offer only fragments from these experiences, I hope to draw viewers closer to an inspiring history and a continuing spiritual experience."
These three Exhibitions are part of the museum's 2010 exhibition season sponsored by Pickens Savings & Loan and Upstate Oral & Maxillofacial Surgery & Dental Implant Center.
The Pickens County Museum of Art & History is funded in part by Pickens County, members and friends of the museum and a grant from the South Carolina Arts Commission, which receives support from the National Endowment for the Arts.
For further information check our SC Institutional Gallery listings or call the Museum at 864/898-5963.



[ | July2010 | Feature Articles | Carolina Arts Unleashed | Gallery Listings | Home | ]
Carolina Arts is published monthly by Shoestring Publishing Company, a subsidiary of PSMG, Inc. Copyright© 2010 by PSMG, Inc., which published Charleston Arts from July 1987 - Dec. 1994 and South Carolina Arts from Jan. 1995 - Dec. 1996. It also publishes Carolina Arts Online, Copyright© 2010 by PSMG, Inc. All rights reserved by PSMG, Inc. or by the authors of articles. Reproduction or use without written permission is strictly prohibited. Carolina Arts is available throughout North & South Carolina.