Feature Articles


For more information about this article or gallery, please call the gallery phone number listed in the last line of the article, "For more info..."
July Issue 2010

Riverworks Gallery in Greenville, SC, Features Works by Artists Pairs
Riverworks Gallery, on the Riverwalk along the Reedy River in downtown Greenville, SC, is presenting the exhibit, Pairs, featuring works by six artists through Aug. 8, 2010.
Pairs features works by six artists, three married pairs. Do shared lives and in some cases shared studios influence these artists' art? Is there common ground, method, materials, attitude or concept? Is there a common media within the pairs? What's love got to do with it? These are all questions addressed by this exhibit.
Pairs includes Enid Williams (monotypes) and Paul Yanko (monotype and paintings); Denise Woodward-Detrich (functional ceramics) and David Detrich (sculpture); and Katy Bergman Cassell (enamels) and Tim Cassell (functional sculpture).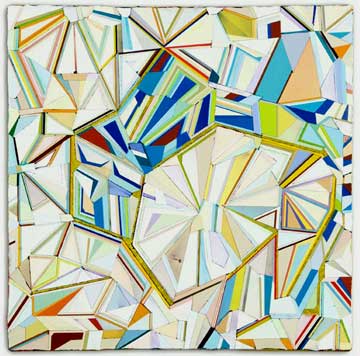 Paul Yanko
Williams and Yanko both begin their work in the shared studio of their Greenville home without a lot of preliminary sketches and planning. Both utilize painstaking but different processes to allow their work to evolve slowly over time. They are both exhibiting recent monotypes. Yanko also has two paintings on view.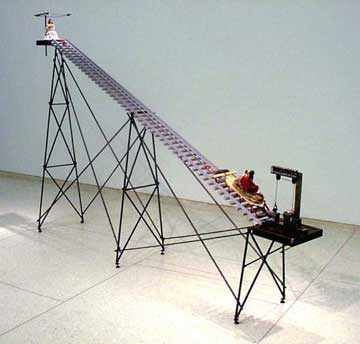 David Detrich
David Detrich calls the artist a trickster and the humor and playfulness of his sculpture eases the sting of his commentary. Playfulness and fun are a large part of Denise Woodward-Detrich's vases and covered jars. Her covered jars, especially, are visually in motion and seem to dance off the pedestals. Both of David and Denise address our material world, David utilizes consumer material and found objects. Denise creates functional ceramics, the antithesis of our consumer driven, throw-away materiality. They have contiguous studios in a shared building behind their home in Walhalla, SC.

Katy Cassell and Tim Cassell both work with copper. Katy's enamels use copper as the canvas or support for her enamels but Tim showcases the copper in his hammered basins emphasizing its natural luster and patina. Katy co ops the forms and pallet of nature and Tim creates forms intended to be a part of and compliment to the natural landscape. Katy references geometry in her work because she is making parts of a whole but Tim's concrete bases are geometric in contrast to his organically basins. Katy works out of her teaching studio at the Fine Arts Center and Tim has a studio at Artbomb in Greenville.

Riverworks Gallery will be closed July 3 -12, 2010. Riverworks Gallery is Greenville Technical College's downtown gallery.
For further information check our SC Institutional Gallery listings, call Fleming Markel at 864/271-0679 or e-mail to (fleming.markel@gvltec.edu).


[ | July2010 | Feature Articles | Carolina Arts Unleashed | Gallery Listings | Home | ]
Carolina Arts is published monthly by Shoestring Publishing Company, a subsidiary of PSMG, Inc. Copyright© 2010 by PSMG, Inc., which published Charleston Arts from July 1987 - Dec. 1994 and South Carolina Arts from Jan. 1995 - Dec. 1996. It also publishes Carolina Arts Online, Copyright© 2010 by PSMG, Inc. All rights reserved by PSMG, Inc. or by the authors of articles. Reproduction or use without written permission is strictly prohibited. Carolina Arts is available throughout North & South Carolina.