Feature Articles


For more information about this article or gallery, please call the gallery phone number listed in the last line of the article, "For more info..."
July Issue 2010

Spartanburg County Museum of Art in Spartanburg, SC, Offers Retrospective by Kent Ullberg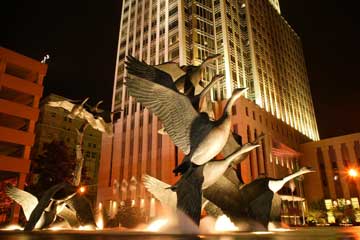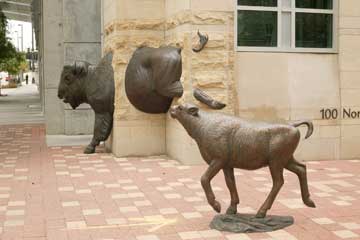 The Spartanburg County Museum of Art in Spartanburg, SC, will present Kent Ullberg Retrospective Sculpture Exhibition, a national touring exhibition featuring 48 bronze and stainless-steel castings and models of proud animals, plus photo enlargements of grand outdoor installations. The exhibit features one of the world's leading wildlife sculptors, on view from July 10 through Sept. 5, 2010.
Ullberg is a visionary of the wildlife monument with 80 installations on four continents that rank among the largest and most respected sculptures in the world. Ullberg's works are held by leading museums, governments, corporations and private collectors and he holds outstanding art awards, gold medals and memberships in renowned global societies.
The Kent Ullberg Retrospective premiered at the Joslyn Art Museum in Omaha, NE, in response to his monumental public sculpture composition there. Ullberg's Spirit of Nebraska's Wilderness is an epic installation with nine oversized bison and 58 geese with eight-foot wingspans fleeing the pioneer migration.
According to Retrospective Curator/Tour Director David J. Wagner, "No matter where Kent Ullberg's work is judged, it succeeds because of the breadth, depth and sophistication of his knowledge and talent. In the world of the National Academy of Design or National Sculpture Society, Ullberg stands out because he deeply understands nature and his treatment goes beyond urbane aesthetics. In the world of the National Museum of Wildlife Art, the Society of Animal Artists or The Wildlife Experience, Ullberg's work rises above the rest because he applies his broad knowledge of art history to create his sculptures. He aspires to be true to art and nature."
Ullberg has the foremost sculpture credentials. The National Academy of Design elected him a full academician (NA), the first wildlife artist since John James Audubon to receive one of the greatest tributes in American art. Other important memberships include Allied Artists of America, National Arts Club, National Sculpture Society, Society of Animal Artists, American Society of Marine Artists, Society of Wildlife Art of the Nations (SWAN) in England and National Academy of Western Art in Oklahoma which awarded him the Prix de West, the highest recognition in western art.
A native of Sweden, Ullberg studied at the Konstfack University College of Arts in Stockholm and museums in Germany, the Netherlands and France. He lived for seven years in Botswana, Africa, and was curator at the Botswana National Museum and Gallery. In the 1970s, he came to Colorado as a museum curator and now maintains studios in Loveland, CO, and Padre Island, Corpus Christi, TX. A lifelong interest in birds, fish and animals, leadership of safaris in Africa and extensive taxidermy experience bolstered his wildlife sculpture talents.
For further information check our SC Institutional Gallery listings, call the Museum at 843/582-7616 or visit (www.spartanburgartmuseum.org).


[ | July2010 | Feature Articles | Carolina Arts Unleashed | Gallery Listings | Home | ]
Carolina Arts is published monthly by Shoestring Publishing Company, a subsidiary of PSMG, Inc. Copyright© 2010 by PSMG, Inc., which published Charleston Arts from July 1987 - Dec. 1994 and South Carolina Arts from Jan. 1995 - Dec. 1996. It also publishes Carolina Arts Online, Copyright© 2010 by PSMG, Inc. All rights reserved by PSMG, Inc. or by the authors of articles. Reproduction or use without written permission is strictly prohibited. Carolina Arts is available throughout North & South Carolina.