Feature Articles


For more information about this article or gallery, please call the gallery phone number listed in the last line of the article, "For more info..."
July Issue 2010

Winthrop University in Rock Hill, SC, Features Works by Dustin Shores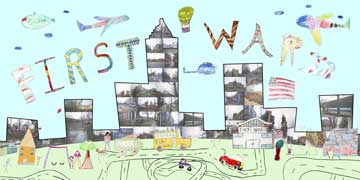 Winthrop University in Rock Hill, SC, is presenting the exhibit, Reflect, Educate, Inspire, a mixed-media mural created by Dustin Shores and the children of First Ward in Charlotte, NC. The exhibit will be on view in the Edmund D. Lewandowski Student Gallery through Aug. 19, 2010.

Photographer Dustin Shores '09 discovered a unique, fulfilling way to combine his love of photography with community service, and Winthrop University Galleries will celebrate his artistic collaborations with a special exhibition this summer.
Shores' special exhibition highlights three major collaborations between Shores and the First Ward community. Children of the First Ward Community is a mixed-media mural created by the photographer and the children of First Ward. For this piece, First Ward children used disposable digital cameras to photograph their neighborhood, later creating drawings over the course of several workshops at their local recreation center. The second piece, We Are First Ward, consists of 192 collected photographs ­ images depicting community members who have made a difference in First Ward over the last 25 years ­ printed on a 4-foot by 8-foot panel. This work will be displayed at the Charlotte Housing Authority.
Images in First Ward Elementary School Reconstruction mural originate from an 8-foot by 64-foot mural created in the 1990s by the First Ward Elementary School Art Program. As the mural, composed of collected images printed directly onto the wall, exists on a portion of First Ward School slated for demolition, the work has been photo documented in 112 images to create a complete digital reconstruction. A new mural of the images taken from the original will be installed in the new First Ward Elementary School.
Shores, who majored in Fine Arts with an emphasis on photography at Winthrop, now works as a fine arts photographer, a commercial photographer and a graphic designer. During his time at Winthrop, he also worked on art projects with children from the Blackmon Road area near Rock Hill and incorporated their work into a mural titled Voices of Homelessness, part of the 2009 21st Annual Undergraduate Juried Exhibition.
For further information check our SC Institutional Gallery listings, call the University at 803/323-2493 or visit (www.winthrop.edu/arts).



[ | July2010 | Feature Articles | Carolina Arts Unleashed | Gallery Listings | Home | ]
Carolina Arts is published monthly by Shoestring Publishing Company, a subsidiary of PSMG, Inc. Copyright© 2010 by PSMG, Inc., which published Charleston Arts from July 1987 - Dec. 1994 and South Carolina Arts from Jan. 1995 - Dec. 1996. It also publishes Carolina Arts Online, Copyright© 2010 by PSMG, Inc. All rights reserved by PSMG, Inc. or by the authors of articles. Reproduction or use without written permission is strictly prohibited. Carolina Arts is available throughout North & South Carolina.