Feature Articles


For more information about this article or gallery, please call the gallery phone number listed in the last line of the article, "For more info..."

August Issue 2004
Artspace in Raleigh, NC, Offers a Host of Exhibitions by Various Artists for August 2004
Artspace in Raleigh, NC, is offering several exhibitions on view during the month of August. They include: Camera Obscura, an installation by Clare Britt will be on view in the Artspace Lobby through Aug. 28, 2004; ASAP Youth Exhibition, featuring masterpieces from the Artspace Summer Arts Program will be in view in Gallery 2, from Aug. 3 - 7, 2004; in the Upfront Gallery will be the exhibit, Interactions, featuring works by Pablo Uriz from Aug. 6 - 28, 2004; in Artspace's Education Room, will be the exhibit, Sensor, featuring works by Tommy Hilding, from Aug. 6 through Sept. 11, 2004; Rootless Algas, featuring works by Grimanesa Amorós will be on view from Aug. 6 through Sept. 25, 2004, in Gallery 1; and finally starting on Aug. 21 and continuing through Oct. 8, 2004, will be the exhibit, Shush!!!!, featuring works by Erika Kymia Nawabi in Artspace's Gallery 2.
Clare Britt, will be installing a Camera Obscura to document downtown Raleigh from the lobby of Artspace. Lauren Adams, past Artspace Regional Emerging Artist-in-Residence will create a mural about the history of photography on the actual camera obscura. Come and step inside this real life size camera and view images created during the installation.
For one week, Gallery 2 at Artspace will be brimming with colorful, vibrant paintings, drawings, photographs, sculptures, masks, decorative chairs, and mixed media assemblage pieces by the 300+ young artists who attended this year's Summer Arts Program. The Artspace Summer Arts Program provides intensive-yet-fun, project oriented classes for youth (rising 3rd -10th grades). The week-long sessions met for 3 hours a day for a total of 15 hours of class time. Students worked diligently throughout the 8 weeks of classes - some attending only one class, some coming for almost the entire summer!
Interactions, an exhibition of mixed media works by Pablo Uriz will be on view in Artspace's Upfront Gallery.
Uriz notes that in much of his work he is inspired by the simple things, free from the complexities of life. He focuses on the human figure, often groups of figures, to show relationships and the interactions between people and their environment. The figures are depicted in a simplistic way. Human figures are repeated throughout his work and in the whole of the exhibition. The observer is presented with a series of work where s/he has to participate in the interpretation, and imagine the relationship of the human figures. Uriz's current work introduces new materials and reflects his recent incorporation of three-dimensional aspects.
Uriz was born in Buenos Aires, Argentina and grew up in the environment of an artistic family. Although essentially self-taught, he studied with a well-known Argentine artist, and participated in ceramics seminars at the Art Institute of Chicago. His work has been exhibited throughout North Carolina and has been included in a number of juried exhibitions. He is a member of the Artspace Artists Association and is affiliated with Raleigh's Bickett Gallery. Uriz most recently was juried into the Best of the Triangle 2004 exhibition at Lee Hansley Gallery in Raleigh and received an award of distinction.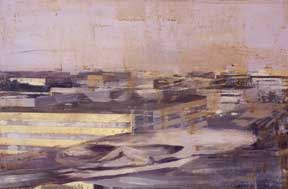 Tommy Hilding
Sensor, an exhibition of paintings by Swedish artist Tommy Hilding will be on view in Artspace's Education Room.
Through Sensor, a suite of 24 paintings, Hilding, one of the finest emerging artists in Sweden, portrays his perception of place - somewhere between the tangible world or reality and the perceived, often inaccurate memory of it. The exhibition is in collaboration with the Embassy of Sweden, Washington, DC, and the Consulate of Sweden, Atlanta, GA.
Hilding was born in Skagersvik, Sweden. He studied the visual arts in Stockholm from 1974 - 1979. Hilding has been exhibiting his work throughout Sweden since 1980. He currently lives in Stockholm.
Artspace is a non-profit visual art center dedicated to presenting quality exhibitions and education programs in an open-studio environment. Guided tours of exhibitions and artist studios are available for groups of 10 or more. Artspace is fully handicap accessible to persons with disabilities. Needs will be accommodated upon request.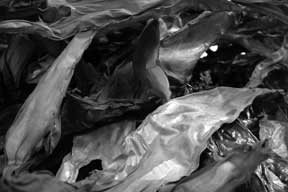 Grimanesa Amorós
Grimanesa Amorós, Artspace's Summer-Artist-In-Residence, will close her residency with an exhibition entitled Rootless Algas. The Summer Artist Residency program provides an established artist with a month-long studio opportunity to work on a specific project in an open-studio environment. The residency culminates with an exhibition in Gallery 1. Recipients are selected through a call to artists held once a year.
While at Artspace, Amorós has explored her experience in Flatey, an island in Breidafjördur Bay off the coast of Iceland. She had intended to observe and make sketches of the area's abundant birds, such as Arctic Terns, Red-throated Divers and Black Guillemots, but learned upon her arrival that two days earlier the birds had migrated to a warmer climate. There were only about six other people on the entire island. Amorós spent her time making direct observations with what little could be found around her. A key part of this process involved learning to overcome her feelings of isolation and foreignness by interacting with the island's natural inhabitants.
The rocks on the shorelines of Flatey were covered with thick and textured accumulations of algae. The colors and the immensity of these piles were overwhelming. They were aesthetically beautiful, yet Amorós found herself constantly having to step in and around the vegetation. Her fascination with the algae also increased as Amorós began to identify with their lack of roots.
Amorós is an interdisciplinary artist with diverse interests in the field of social history, scientific research, and critical theory. Born in Peru, Amorós currently lives and works in New York City. She has exhibited her work throughout the country as well as internationally, including at prestigious institutions such as the Museum of Modern Art, Santo Domingo, Dominican Republic, Sante Fe Art Institute, Sante Fe, NM, and the Sculpture Center, NYC. Amorós has been the recipient of numerous awards including a Visual Art Fellowship from the National Endowment for the Arts.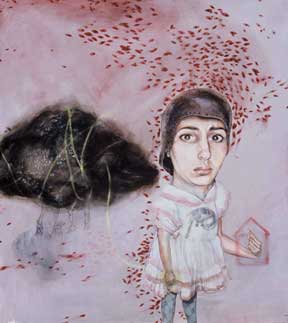 Erika Kymia Nawabi
Shush!!!!, an exhibition of paintings by Erika Kymia Nawabi will be on view in Artspace's Gallery 2.

Through personal metaphors, painter, sculptor and collage artist Nawabi gives us a glimpse into her visual diary. Using her own visual vocabulary, Nawabi orchestrates past, present and anticipated events connected to her misplaced sense of self. Utilizing paint, ink drawings, found objects and collage, Nawabi's work references her own feelings of inferiority, abnormality, social anxiety, nervousness, and misplacement.
Nawabi was born in San Diego, CA, in 1980. She grew up in Durham, NC, and received her BFA in Painting and Drawing from East Carolina University. She is currently an MFA candidate at the University of Florida.
Artspace is supported by the North Carolina Arts Council, an agency funded by the State of North Carolina and the National Endowment for the Arts; by the United Arts Council of Raleigh and Wake County, with funds from the United Arts campaign and the Grassroots Arts Program of the North Carolina Arts Council; by the City of Raleigh based on recommendations of the Raleigh Arts Commission; and by individuals; businesses; corporations; and private foundations.
For further information check our NC Institutional Gallery listings, call Artspace at 919/821-2787 or at (www.artspacenc.org).

[ | Aug'04 | Feature Articles | Gallery Listings | Home | ]


Carolina Arts is published monthly by Shoestring Publishing Company, a subsidiary of PSMG, Inc. Copyright© 2004 by PSMG, Inc., which published Charleston Arts from July 1987 - Dec. 1994 and South Carolina Arts from Jan. 1995 - Dec. 1996. It also publishes Carolina Arts Online, Copyright© 2004 by PSMG, Inc. All rights reserved by PSMG, Inc. or by the authors of articles. Reproduction or use without written permission is strictly prohibited. Carolina Arts is available throughout North & South Carolina.