Feature Articles


For more information about this article or gallery, please call the gallery phone number listed in the last line of the article, "For more info..."

August Issue 2004
Fish or Cut Bait Gallery on Edisto Island, SC, Features Jo Dean Bauknight & E.J. Ham
A new coastal-oriented exhibit expressed through two entirely different, yet complementary, mediums will open on Aug. 7, 2004, at Fish or Cut Bait Gallery on Edisto Island, SC. The exhibit will remain at the gallery for two months, closing on Oct. 2, 2004.

The two artists being featured in this exhibition are the very accomplished oil and pastel artist, Jo Dean Bauknight, and shore-bird wood carver, E.J. Ham. "Both of these artists live in South Carolina and through their art, they convey so much of the natural beauty of the coast," said Brailsford Sutton, owner of the gallery. "I think it's a rare treat for us to be able to enjoy in one exhibit these two types of artistic expressions of the treasures we are so blessed with."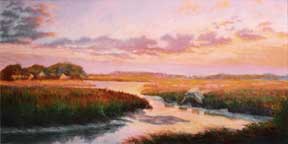 Jo Dean Bauknight
Bauknight was born and raised in Conway, SC, and developed a love for the beach at a young age. According to her, that love has only grown with time. "My affinity for the coast served as the springboard for my work from the very earliest stages," said Bauknight. "I believe God puts us on earth to serve as a conduit to pass on to others what comes to us. If someone looks at my work and can feel the love and joy I try to express ­ well, that's my definition of success."

Bauknight graduated from Columbia College and then attended the Atlanta Art Institute. An extremely versatile artist, her style ranges from the full impressionistic to the very finely detailed painting, stressing form, color and mood. She has worked in all mediums, but has chosen oils and pastels to express her love of the landscapes, seascapes, flowers and people of South Carolina.

E.J. Ham developed his love for shorebirds during his childhood, which was spent along the Chesapeake Bay in Maryland. Having artistic parents who shared his love of nature helped shape his passion and creativity as a young child. In college he planned on getting a degree in business, but soon realized that what he really wanted to do was pursue his artistic interests. "I have never regretted switching from business to art education. When I began teaching in Maryland, I knew it was the right thing for me to do," said Ham.
"Teaching lets me pass on my love of art to others and also gives me time to be creative. I initially worked in pottery, painting and jewelry making, but now concentrate on wood carving," Ham added. "I just feel more at home working with wood."

Ham moved to Camden, SC, in 1973 where he continues to be inspired by the beautiful waterfowl that abound in the state. He has participated in several national carving competitions and won first place in the World Waterfowl Competition.

Fish or Cut Bait Gallery features original paintings, photography, pottery, sculpture, jewelry and more created by over 100 regional artists.

For further information check our SC Commercial Gallery listings, call the gallery at 843/869-2511 or at (www.fishorcutbaitgallery.com).

[ | Aug'04 | Feature Articles | Gallery Listings | Home | ]


Carolina Arts is published monthly by Shoestring Publishing Company, a subsidiary of PSMG, Inc. Copyright© 2004 by PSMG, Inc., which published Charleston Arts from July 1987 - Dec. 1994 and South Carolina Arts from Jan. 1995 - Dec. 1996. It also publishes Carolina Arts Online, Copyright© 2004 by PSMG, Inc. All rights reserved by PSMG, Inc. or by the authors of articles. Reproduction or use without written permission is strictly prohibited. Carolina Arts is available throughout North & South Carolina.