Feature Articles


For more information about this article or gallery, please call the gallery phone number listed in the last line of the article, "For more info..."
August Issue 2006
Artspace in Raleigh, NC, Offers New Exhibitions
Artspace in Raleigh, NC, is offering several exhibitions including: Dream Repeater - Summer Artist-in-Residence, featuring works by IlaSahai Prouty, in Gallery 1, from Aug. 4 through Sept. 9, 2006; Una Linea, featuring works by Margarita León, in the Lobby gallery, from Aug, 4 - 26, 2006; Nasuh, featuring works by Anya Belkina, in the Upfront Gallery, from Aug. 4 - 26, 2006; Artspace Summer Arts Program Youth Exhibition on view in Gallery 2, from Aug. 15 - 19, 2006;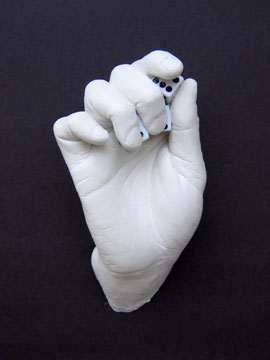 IlaSahai Prouty
Artspace is pleased to announce our Summer 2006 Artist-In-Residence, IlaSahai Prouty. Prouty began working in Gallery 1 in early July and continued her residency through Aug. 3, 2006. Prouty is a sculptor and printmaker, often utilizing castings of her own body to create her work. For this residency she has explored imagery from dreams, including one of her own recurring dreams about falling toys. She has utilized printmaking, casting, and drawing to explore the theme.
Prouty earned her BFA in Painting from Brown University and her MFA in Printmaking from the California College of Arts. She was a resident artist at the Penland School of Crafts, and has taught in schools for 14 years. Prouty's work has been exhibited throughout the country including at the Danforth Museum, Framingham, MA; Worcester Center for Crafts, Worcester, MA; GreenHill Center for North Carolina Art, Greensboro, NC; Penland Gallery, Penland, NC; Rebus Works, Raleigh, NC; Duke University, Durham, NC; and the Southeastern Center for Contemporary Art, Winston-Salem, NC. Prouty has also completed numerous public art projects, and is currently working on a large-scale glass sculpture for Yellowstone National Park.
Margarita León
Margarita León's exhibition, Una Linea (a line), is a conceptual exploration of "us" and "them." For León "us" represents humans and "them" references the environment and all of the other creatures. Una Linea is a personal attempt at conveying the importance and the necessity of understanding the correlation between "us" and "them."
León is a Venezuelan-born artist currently living in NC. In the tradition of Latin American writers, León utilizes Surrealism to create sculptures that are approachable but conceal a much deeper meaning. León has shown her sculptures in Oregon, North Carolina, New York, Washington, Wisconsin, California, Florida, Arizona, Venezuela, Chile, Argentina, and Italy.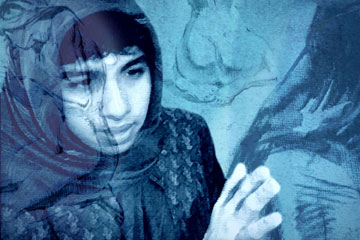 Anya Belkina
Based on the poem by the Sufi poet Rumi, Nasuh is a new media piece created collaboratively by Artspace artist Anya Belkina and composer Scott Lindroth. The piece tells the story of a lecherous bathhouse worker, Nasuh, who overcomes his carnal desires when hit by a spiritual revelation. The piece weaves together drawing, video, and animation to the sound of a concerto for soprano and strings.

Born in Russia, Belkina studied the disciplines of drawing, painting, and design at the Moscow Art Institute In Memory of 1905. She received her BFA in Painting from the Rhode Island School of Design and her MFA in Visual Arts from the University of California at San Diego. She presently teaches drawing and design at Duke University. Belkina's paintings are held in private and corporate collections throughout the United States. Her recent new media projects include Nostalgia for the Present and Nasuh.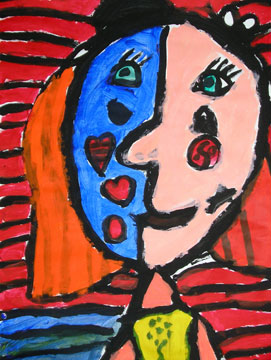 Emma B. 8 years old
For one week Artspace's Gallery 2 will be brimming with vibrant paintings, drawings, photographs, decorative chairs, mixed media assemblage, and handbuilt clay works created by more than 300 youths from the Artspace Summer Arts Program. This program provides intensive-yet-fun, project-oriented classes for youths (rising 3rd-10th grades) along with College Prep classes (ages 15-17).
For further information check our NC Institutional Gallery listings, call the center at 919/821-2787 or at (www.artspacenc.org).
[ | Aug'06 | Feature Articles | Gallery Listings | Home | ]
Carolina Arts is published monthly by Shoestring Publishing Company, a subsidiary of PSMG, Inc.
Copyright© 2006 by PSMG, Inc., which published Charleston Arts from July 1987 - Dec. 1994 and South Carolina Arts from Jan. 1995 - Dec. 1996. It also publishes Carolina Arts Online, Copyright© 2006 by PSMG, Inc. All rights reserved by PSMG, Inc. or by the authors of articles. Reproduction or use without written permission is strictly prohibited. Carolina Arts is available throughout North & South Carolina.