Feature Articles


For more information about this article or gallery, please call the gallery phone number listed in the last line of the article, "For more info..."
August Issue 2006
Blowing Rock Frameworks & Gallery in Blowing Rock, NC, Offers Works by Warren Dennis & Raymond Chorneau
Blowing Rock Frameworks & Gallery, Ltd. is proud to host, Crossing Paths, the first joint exhibition of work by local artists Warren Dennis and Raymond Chorneau. The show will run from August 1-16, 2006, at the gallery location in Blowing Rock, NC.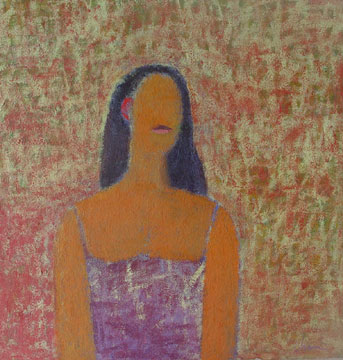 Raymond Chorneau
With a shared sense of appreciation for both process and product, and a focus on figurative paintings, Chorneau and Dennis are like two sides of the same unique coin. Dennis is, like his paintings, honest and deliberate; each word and each brushstroke is concentrated and revealing. Chorneau, candid and energetic, is as vibrant and colorful as his work.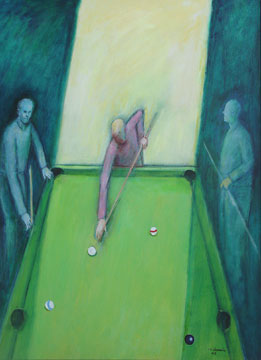 Warren Dennis
Having both started as writers, each will comment freely on seeing "the poetry" in each other's work, and have admired one another for years. The subtle similarities of their shared focus on figurative paintings and conscious use of the space around their figures is powerful when combined with the striking differences in their approach to their subject matter.
Tim Miller, owner of Blowing Rock Frameworks and Gallery, says, "Working with many talented professional artists for 11 years, last summer I thought it would be an incredible display of color, imagery, texture and figures to bring Raymond Chorneau and Warren Dennis together for a two-man show, and it works beautifully."
Chorneau's work is pregnant with possibility. Using beeswax and oil on canvas or paper, he layers warm and cool hues to create an unmatched depth. The open space surrounding his intriguing figures does not overwhelm them, but shares in their thoughtful significance. Chorneau's moving and powerful work reflects his status as one of North Carolina's 20th Century Masters.
The figures in Dennis' paintings exude a kind of powerful generality that is at once elusive and comprehensible. His work speaks of a definite and irresistible reality, sometimes laughable and sometimes severe, but always approachable. With a sensitive grasp of background and perspective, Dennis paints a world of figures that is a succinct tribute to the beauty and heroism of the human condition.
Warren Dennis was born in Mississippi in 1927 and raised in the South. He received a formal art education at the University of Mississippi-Hattiesburg (BA in Art, 1953) and the University of Mississippi-Oxford (MFA in Art, 1955). It was a special study at the University of Minnesota under Yasuo Kuniyoshi that made perhaps the biggest impact on Dennis. "Most of my ideas about art came from him," says Dennis.

Dennis began teaching at a small college in Alabama in 1955, and came to Appalachian State University in 1965, where he spent the next twenty-eight years teaching in the Art Department. His time as a professor did not keep him from producing his own work, however, and Dennis has shown in over a hundred and thirty shows since 1953. Collections in universities, businesses and individual homes across the United States include his paintings. He is currently represented by Carlton Galleries in Banner Elk, NC.

Raymond Chorneau spent the early part of his life in California, where he was born in 1952. His father was an artist, but Chorneau maintains that the artistic ability was not passed down to him. "I didn't have any talent," he says, but he knew he needed to paint, and devoted his life to mastering the materials he was so drawn to. Influenced by the Bay Area figure painters of the 1960s, Chorneau began painting in 1970.

Chorneau's work is widely collected, and he has been showing professionally in the East since 1980. He has been represented by the Hodges Taylor Gallery in Charlotte, NC, for more than a decade, and by Blowing Rock Frameworks & Gallery, Ltd. for eight years.

For further information check our NC Commercial Gallery listings, call the gallery at 828/295-0041 or at (www.BRFrameGallery.com).
[ | Aug'06 | Feature Articles | Gallery Listings | Home | ]
Carolina Arts is published monthly by Shoestring Publishing Company, a subsidiary of PSMG, Inc.
Copyright© 2006 by PSMG, Inc., which published Charleston Arts from July 1987 - Dec. 1994 and South Carolina Arts from Jan. 1995 - Dec. 1996. It also publishes Carolina Arts Online, Copyright© 2006 by PSMG, Inc. All rights reserved by PSMG, Inc. or by the authors of articles. Reproduction or use without written permission is strictly prohibited. Carolina Arts is available throughout North & South Carolina.