Feature Articles


For more information about this article or gallery, please call the gallery phone number listed in the last line of the article, "For more info..."
August Issue 2006
Franklin G. Burroughs-Simeon B. Chapin Art Museum in Myrtle Beach, SC, Features Works by John W. Jones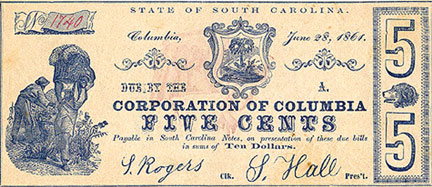 The Franklin G. Burroughs-Simeon B. Chapin Art Museum in Myrtle Beach, SC, will present the exhibit, The Color of Money: Acrylics by John W. Jones, on view from Aug. 17 through Oct. 29, 2006.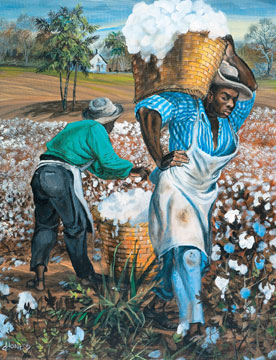 While working in a Charleston, SC, blueprint shop in 1996, graphic artist John W. Jones saw something that changed his life and launched a career: the image of slaves picking cotton, printed on the face of a Confederate banknote. On further investigation, he found dozens of similar images on the currency of antebellum Southern states - a detail never mentioned in any historical account of the Confederacy Jones had seen.
The discovery inspired Jones to interpret those small, obscure images as a series of boldly colored acrylic paintings that expanded on the scenes and restored the essential humanity of their subjects.
In his artist's statement, Jones notes that his research on slave images - or "vignettes', as he calls them - convinced him that such images were in fact propaganda by pro-slavery advocates in an era of increasing controversy on the subject. These images, depicting healthy and happy-looking slaves at work in various occupations, belied the harshness of the slaves' real existence while making a subliminal connection between slavery and prosperity in America.
"Symbols of legitimacy on the currencies and within the slave vignettes themselves connected slavery with America's national story, associating it with the American flag and George Washington, the Father of our Country - himself a slave owner," Jones notes.
In The Color of Money exhibit, Jones' colorful paintings are displayed side by side with the currencies that inspired them. Aside from his use of vibrant colors, Jones' paintings depict the images in the same way they were shown on the money, bringing the tiny scenes irrefutably to life.
Jones has said he believes the currency images demonstrate the enormous economic importance of slave labor to the Southern economy, and that they prove that the Civil War was not about states rights or other pseudo-issues. Rather, it was about preserving the basis of slaveowners - wealth and privilege: their slaves.
In conjunction with the exhibit, the Museum will host a symposium on Sept. 15-16, 2006, entitled, Finding the Stories of Slavery: On the Money, In the Fields and From the Songs. It will feature a panel of speakers who will explore the issues raised by the exhibit about race, economics and the continuing legacy of slavery. Admission is free but space is limited. Call the Museum at 843/238-2510 for reservations. The symposium is sponsored by TimeWarner Cable.
For more info check our SC Institutional Gallery listings, call 843/238-2510 or at (www.MyrtleBeachArtMuseum.org).
[ | Aug'06 | Feature Articles | Gallery Listings | Home | ]
Carolina Arts is published monthly by Shoestring Publishing Company, a subsidiary of PSMG, Inc.
Copyright© 2006 by PSMG, Inc., which published Charleston Arts from July 1987 - Dec. 1994 and South Carolina Arts from Jan. 1995 - Dec. 1996. It also publishes Carolina Arts Online, Copyright© 2006 by PSMG, Inc. All rights reserved by PSMG, Inc. or by the authors of articles. Reproduction or use without written permission is strictly prohibited. Carolina Arts is available throughout North & South Carolina.