Feature Articles


For more information about this article or gallery, please call the gallery phone number listed in the last line of the article, "For more info..."
August Issue 2006
Charleston County Library in Charleston, SC, Features Works by Julie Klaper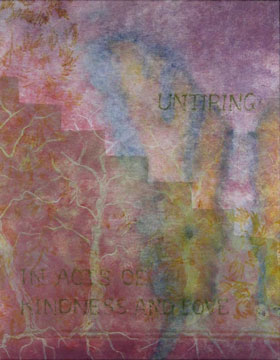 The Charleston County Public Library in Charleston, SC, will present the exhibit, It's All About the Hyphen, featuring monoprints with hand embroidery by Julie Klaper in the Library's Saul Alexander Gallery from Aug. 1-31, 2006.
Klaper offered the following about her work. "As an artist, I was seeking a way, something a bit different from the more traditional images of Rainbow Row and palm trees, to create images of Charleston and its unique heritage. On a stroll one day with my camera, I visited a local cemetery. In light of some personal losses, I found the atmosphere calming, an opportunity for reflection about my mom and my best friend, one gone, one close to it. I was entranced with the tombstones, especially the early ones. The intricate carving of symbols was like a mystery, containing clues to the person buried beneath. The sometimes lengthy inscription completed their story."
"The text contained no references to how much money these people made, few lists of accomplishments, very infrequently an indication as to what their jobs were," adds Klaper. "The words mentioned 'a tender parent,' 'lovely and pleasant,' 'greatly esteemed,' or 'a devoted citizen.' Most accomplishments were in reference to others 'ever ready to assist the needy,' or 'ardor for public improvement.' There were the testimonies of affection 'mourn his decease,' 'she lives in our memory,' or 'dearly beloved.' The inscriptions were mostly about the departed's relationship with family, friends and community and were written to comfort and to immortalize."
"While we do not know those who lie buried, there is a universality in terms of how they were memorialized. I hope to honor those that came before us, to reincarnate them, to remember them and what was important to them. We can learn from the dead. The attributes on those stones are ones that are still needed by society today. Certain standards have not changed with time."
"When viewing tombstones, especially contemporary ones with very little text, there is a tendency to look at the dates and note an unusually short or long life. I hope this work reminds us that it is what happened during that time that is important, not how long we had to do it in. We need to think our legacies, and that even a small gesture or contribution can have an impact, on one person or many. Behavior is not about a ticket to heaven. This is what we should do as human beings, leaving the world a better place than we found it."
"Last, just as the text from these stones provided comfort for the grieving then, it can do the same thing for us today and help keep the departed alive in our hearts."
Klaper earned a BA in General Fine Arts from the John Herron Art School, Indianapolis, IN, and a BS in Marketing and Advertising from Indiana University, Bloomington, IN. She has exhibit works in SC, FL, KY, NJ, IL and IN. Klaper was recently selected for the Under the Radar, selected by Charleston Magazine as one of ten emerging artists in the area.
For more info check our SC Institutional Gallery listings, call Frances Richardson at 843/805-6803 or at (www.ccpl.org).
[ | Aug'06 | Feature Articles | Gallery Listings | Home | ]
Carolina Arts is published monthly by Shoestring Publishing Company, a subsidiary of PSMG, Inc.
Copyright© 2006 by PSMG, Inc., which published Charleston Arts from July 1987 - Dec. 1994 and South Carolina Arts from Jan. 1995 - Dec. 1996. It also publishes Carolina Arts Online, Copyright© 2006 by PSMG, Inc. All rights reserved by PSMG, Inc. or by the authors of articles. Reproduction or use without written permission is strictly prohibited. Carolina Arts is available throughout North & South Carolina.