Feature Articles


For more information about this article or gallery, please call the gallery phone number listed in the last line of the article, "For more info..."
August Issue 2006
Gibbes Museum of Art in Charleston, SC, Offers Works by Laurent de Brunhoff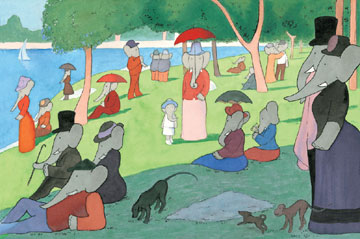 The exhibition Babar's Museum of Art at the Gibbes Museum of Art in Charleston, SC, will present a great opportunity to experience the fun of museum going as a family. Original watercolors and studies by Laurent de Brunhoff created for the book Babar's Museum of Art will be on view from Sept. 1 - Dec. 31, 2006.

The book Babar's Museum of Art explains how Babar and Celeste turn an abandoned Celesteville train station into an art museum. For the story, de Brunhoff selected 35 of his favorite artists and reinterpreted their works using elephants instead of people. In the book de Brunhoff pays tribute to such artists as Jackson Pollock, Paul Cezanne, Mary Cassat, Leonardo da Vinci, Pablo Picasso and John Singer Sargent.
The series of Babar books began as the story of Baby Elephant as told to Laurent de Brunhoff's brother Mathieu by their mother Cecile. The boys repeated the story to their artist father Jean and asked him to make pictures of Baby Elephant for them. Jean de Brunhoff gave Baby Elephant the name of Babar and illustrated his adventures. The resulting works of art were published as the first Babar book, The Story of Babar, printed in 1931. Jean de Brunhoff wrote five more Babar books before he died in 1937. Although his son Laurent was only 12 at the time, it was already apparent that he had inherited his father's talent. He started writing and illustrating Babar books in 1946 and has continued his father's legacy ever since.
In keeping with its commitment to education that is accessible to all, the Gibbes is partnering with Title I schools in Charleston County Districts 20 and 23 this fall to offer opportunities for third and fourth grade students to visit the museum free of charge. The partnership provides teachers and students with educational materials related to Babar's Museum of Art and a guided tour of the museum with a focus on this exhibition. This is exciting experience for local students to enrich their academic program through art.
Established as the Carolina Art Association in 1858, the Gibbes Museum of Art opened its doors to the public in 1905. Located in Charleston's historic district, the Gibbes houses a premier collection of over 10,000 works of fine art, principally American works with a Charleston or Southern connection. In 2005, the Gibbes Museum of Art celebrated the centennial anniversary of its beaux arts building at 135 Meeting Street; enriching the lives of Charleston's residents and visitors through the visual arts for one hundred years.
For further information check our SC Institutional Gallery listings, call the Museum at 843/722-2706 or at (www.gibbesmuesum.org).
[ | Aug'06 | Feature Articles | Gallery Listings | Home | ]
Carolina Arts is published monthly by Shoestring Publishing Company, a subsidiary of PSMG, Inc.
Copyright© 2006 by PSMG, Inc., which published Charleston Arts from July 1987 - Dec. 1994 and South Carolina Arts from Jan. 1995 - Dec. 1996. It also publishes Carolina Arts Online, Copyright© 2006 by PSMG, Inc. All rights reserved by PSMG, Inc. or by the authors of articles. Reproduction or use without written permission is strictly prohibited. Carolina Arts is available throughout North & South Carolina.