Feature Articles


For more information about this article or gallery, please call the gallery phone number listed in the last line of the article, "For more info..."
August Issue 2006
Haywood County Arts Council in Waynesville, NC, Features MFA Exhibit by Western Carolina University Students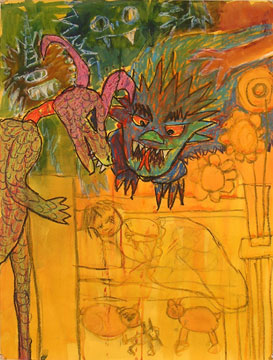 Jennifer Lipsey
The Haywood County Arts Council in Waynesville, NC, will present the, MFA in Fine Arts Exhibition, at the Council's Gallery 86. The exhibit features works by 19 artists with diverse styles representing the comprehensive Master of Fine Arts degree program at Western Carolina University at Cullowhee, NC. The exhibit features works by Heidi Leitzke, Sarah Noble, Tai Lipan, Kristen Sullivan, William Clements, Greg McPherson, Kelledy Francis, Jennifer Lipsey, Jasmine Sadki, Andy Cline, Karen Dunn, Sally Jacobs, Susan Lucier, Kathryn Temple, Travis Weller, Skip Ward, Megan Rice, Linda Larsen, and Tara O'Loughlin


Jasmine Sadki
In continuation with the MFA thesis exhibition at the Fine Art Museum in the Fine & Performing Arts Center at Western Carolina University, Gallery 86 will host nineteen artists of the MFA graduate program in a collaborative exhibit.
At the core of Master of Fine Arts study at Western Carolina University is the relationship between motivated emerging artists accepted into the MFA program and the experience of professional faculty. Graduate students benefit from internationally acclaimed artists and critics who challenge their ideas and stimulate their individual visions. The focus of the MFA is a ten-week Summer Intensive program dedicated to establishing a full artistic environment. During three intense periods of study, between June and August, students and faculty engage in discourse on various issues including the function of contemporary criticism and theory, the nature of current national and international exhibitions, and the critique of studio work that is being created.
For further information check our NC Institutional Gallery listings, call the gallery at 828/452-0593 or at (www.haywoodarts.org).
[ | Aug'06 | Feature Articles | Gallery Listings | Home | ]
Carolina Arts is published monthly by Shoestring Publishing Company, a subsidiary of PSMG, Inc.
Copyright© 2006 by PSMG, Inc., which published Charleston Arts from July 1987 - Dec. 1994 and South Carolina Arts from Jan. 1995 - Dec. 1996. It also publishes Carolina Arts Online, Copyright© 2006 by PSMG, Inc. All rights reserved by PSMG, Inc. or by the authors of articles. Reproduction or use without written permission is strictly prohibited. Carolina Arts is available throughout North & South Carolina.