Feature Articles


For more information about this article or gallery, please call the gallery phone number listed in the last line of the article, "For more info..."
August Issue 2006
modern eye gallery in Charlotte, NC, Offers Works by Joel Hunnicutt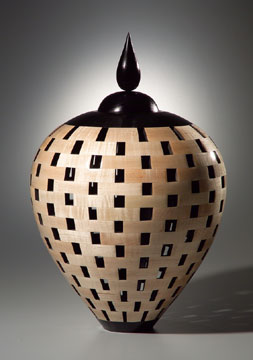 modern eye gallery in Charlotte, NC, proudly introduces North Carolina artist, Joel Hunnicutt, to its stable of artists in his debut show, The Art of Wood. The show is comprised of original wood/lacquer vessels and forms and will run through Aug. 31, 2006.
A native North Carolinian and current resident of Siler City, NC, Hunnicutt discovered his talent while taking a furniture-making course at a local community college. He states, "When I turned that first piece of wood, it felt like second nature. I intuitively knew what I needed to do to make that shape. I immediately bought an ancient lathe and started experimenting". So began the artistic career of this artist whose technique is called "segmented turning".
Hunnicutt cuts and glues small chunks of wood- anywhere from 100 to 300 per piece- and uses a wood lathe to turn and shape them into the desired finished forms. According to Hunnicutt, "this technique affords him greater flexibility in creating shapes impossible to form from a single block of wood."

Hunnicutt's perspective comes from artists past and present. "I look a lot at really old stuff - Greek and Egyptian forms, classical shapes I can re-create in wood," the artist states. He continually bounces new ideas off fellow artists who are potters and glassblowers. Hunnicutt appreciates their honest appraisal of his work and draws on their view even if from different media. He is constantly exploring size and scale of his work as well; however, he admits that 'the bigger pieces are more technically demanding."

Brilliant jewel-tone color has become the hallmark of Hunnicutt's work. He further states, "People respond to the color of a piece as much as they respond to the shape." His technique for color application is unique: he adds the color dye directly into the clear lacquer, which allows the color to sit on top of the wood instead of being absorbed into the grain. His colors are bold; his finishes, high gloss.
In The Art of Wood, small and medium format vessels and forms are showcased. Hunnicutt brings wood to life through color and form. Although relatively young in his craft, he captures the viewer's heart through the beauty of each individual form, imbued with a hint of antiquity.

modern eye gallery is thrilled to have Hunnicutt join our stable of artists and looks forward to sharing this amazing body of work with Charlotte.
For further information check our NC Commercial Gallery listings or call the gallery at 704/333-3190.
[ | Aug'06 | Feature Articles | Gallery Listings | Home | ]
Carolina Arts is published monthly by Shoestring Publishing Company, a subsidiary of PSMG, Inc.
Copyright© 2006 by PSMG, Inc., which published Charleston Arts from July 1987 - Dec. 1994 and South Carolina Arts from Jan. 1995 - Dec. 1996. It also publishes Carolina Arts Online, Copyright© 2006 by PSMG, Inc. All rights reserved by PSMG, Inc. or by the authors of articles. Reproduction or use without written permission is strictly prohibited. Carolina Arts is available throughout North & South Carolina.