Feature Articles


For more information about this article or gallery, please call the gallery phone number listed in the last line of the article, "For more info..."
August Issue 2006
modern eye gallery in Charlotte, NC, Features Works by Robert Langford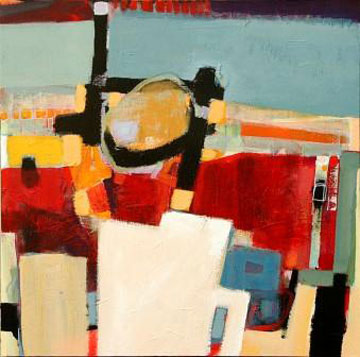 modern eye gallery proudly introduces Texas artist, Robert Langford, to its stable of artists in his debut show, New Abstractions 2006, on view from Aug. 4 - 31, 2006, in Charlotte, NC. The show is comprised of original acrylic works on canvas and panel.
A native Texan and current resident of Charlotte, Langford is a completely self-taught artist. He states, "I have faith in the intuitive nature of the creative process," and considers this innate inspiration the driving force in his work. And, what a force it is. Langford's canvases are thick with paint; as he further states, "I will put down color after color, shape after shape, and relationship on top of relationship". It is with this intense approach to the canvas or panel, which he so often uses, that one sees the strength of Langford's brush.
Langford's perspective is like an abstract narrative. "Some of the actions are extremely thought out," he continues, while 'others are casual thoughts that are intended to be covered up later, but they stay and increase in meaning with subsequent actions". Langford really works the surface of his pieces: "the surface gets scarred and built up colors show through, and resonate differently". Although self-taught, there is a decided maturity to this body of work, owing to the Abstract Expressionists of the 1950's. His heavy use of the black line draws a powerful parallel to early Diebenkorn works, yet Langford often cuts this with lots of white as in the piece in the show, entitled "Young and Daring".
Bold color, strong yet balanced, defines this body of work by Robert Langford. Color and line synergies exist within and between canvases. He sees the process in which he works as "a metaphor for the way most lives are constructed, through a casual collection of meaningful and not-so-meaningful actions and reactions".

In the exhibit a variety of the painter's formats, from small to large scale, are showcased. Langford brings life to the canvas through color and form. Although his painting career spans only several years, Langford inspires us through the hypnotic quality of each work, bringing color and form together in a way that holds us captive.
modern eye gallery is thrilled to have Robert join our stable of artists and looks forward to sharing this amazing body of work with Charlotte.
For further information check our NC Commercial Gallery listings or call the gallery at 704/333-3190.
[ | Aug'06 | Feature Articles | Gallery Listings | Home | ]
Carolina Arts is published monthly by Shoestring Publishing Company, a subsidiary of PSMG, Inc.
Copyright© 2006 by PSMG, Inc., which published Charleston Arts from July 1987 - Dec. 1994 and South Carolina Arts from Jan. 1995 - Dec. 1996. It also publishes Carolina Arts Online, Copyright© 2006 by PSMG, Inc. All rights reserved by PSMG, Inc. or by the authors of articles. Reproduction or use without written permission is strictly prohibited. Carolina Arts is available throughout North & South Carolina.