Feature Articles


For more information about this article or gallery, please call the gallery phone number listed in the last line of the article, "For more info..."
August Issue 2006
Robert Lange Studios in Charleston, SC, Features Works by John Duckworth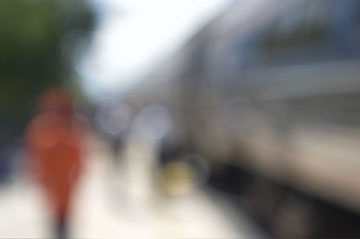 The action and beat of city life slow to a serene, dream-like state with John Duckworth's latest work, a series of abstract photographs taken from urban areas. On Aug. 11, 2006, Robert Lange Studios in Charleston, SC, will unveil Urban Journey: Silent Observations, a collection of over 20 new works that will be spread out over 2500 square feet of gallery space until Sept. 3, 2006.

Duckworth's new Urban Journey series, partially inspired by the paintings of Edward Hopper, is composed of abstractions that provide glimpses of everyday chance encounters and entice the viewer to 'step into' the scene and create their own narrative. The photographs are quiet, meditative and serene. Composed of fragmentary elements of memory, observation and dreams, the images capture an intermediary threshold - somewhere between reality and fantasy.

"John's work draws people in with its familiarity," says gallery director Megan Lange. "Viewers often try to discern where the image was taken and create their own narratives."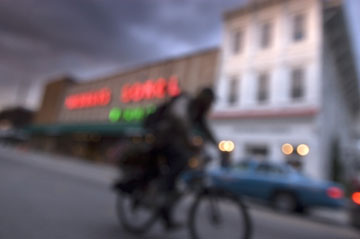 Duckworth, a painter and photographer, blurs the lines between these two mediums with his large-scale photographs printed on canvas. In describing his work, Duckworth states, "I make intuitive, investigative artworks, fixed in a state of becoming. Life is a journey, it's important to be aware of your environment as you pass through."
The show opens one year after Duckworth's Landscape Abstracts were introduced to Charleston. Duckworth's new work relates to the Landscape Abstract series in its serene, meditative tone, its balance of realism and abstraction and its ability to blur the lines between painting and photography. Images from the Urban Journey series are sold as large-scale single edition works of art (with 1-3 smaller Artists Proofs available as well).
For further information check our SC Commercial Gallery listings, call the gallery at 843/805-8052 or e-mail at (www.robertlangestudios.com).

[ | Aug'06 | Feature Articles | Gallery Listings | Home | ]
Carolina Arts is published monthly by Shoestring Publishing Company, a subsidiary of PSMG, Inc.
Copyright© 2006 by PSMG, Inc., which published Charleston Arts from July 1987 - Dec. 1994 and South Carolina Arts from Jan. 1995 - Dec. 1996. It also publishes Carolina Arts Online, Copyright© 2006 by PSMG, Inc. All rights reserved by PSMG, Inc. or by the authors of articles. Reproduction or use without written permission is strictly prohibited. Carolina Arts is available throughout North & South Carolina.