Feature Articles


For more information about this article or gallery, please call the gallery phone number listed in the last line of the article, "For more info..."
August Issue 2006
USC Upstate in Spartanburg, SC, Offers Sculptures by Adam Walls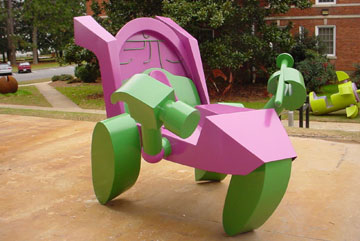 The University of South Carolina Upstate in Spartanburg, SC, is pleased to announce a special outdoor sculpture exhibition for the 2006-2007 gallery season. Adam Walls, a sculptor and former student at USC Upstate, will install several monumental steel sculptures on the university campus for exhibit from Aug. 15 to May 15, 2007.
"USC Upstate is setting the pace in Spartanburg for contemporary sculpture and I am pleased to be able to present this work in conjunction with the permanent works already on campus," said Jane Nodine, professor of art and director of the Art Gallery. "There are numerous instructors and professors from across the region that brings classes to our campus to view our monumental sculpture because of the style, design quality, and construction of the pieces. Our permanent works are all by artists living and working in the South."
Walls' work is steel constructed and typically painted in bold opaque colors. The concept of the works is playful and humorous and reflects his interest in games children play, and the toys that interest them. Several of his works are "interactive" in the sense that the viewer is "invited" to touch and interact with the works, unlike most works in galleries and museums.
According to Walls, children often find ways to deal with real world problems through fantasy play. They often imbue toys and other objects with their own thoughts and emotions. They are capable of simplifying sometimes very serious issues which are out of their control and through this toy play find ways to empower themselves.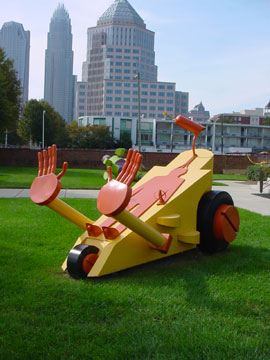 Through his work, Wall expresses themes such as memory of childhood, response to violence, personal therapy, and fantasy play. Fantasy heroes and toys have served as a creative outlet for many of his painful experiences. In many cases, this work is as much a response to self as it is to the toy image. This work is typically brightly painted fabricated steel objects which are almost always viewer interactive and in many ways very figurative.
Walls attended USC Upstate in the mid-1990's and later transferred to Limestone College where he earned a degree in art. He also earned a master's of fine arts in sculpture from Winthrop University. Walls, an art teacher at Cowpens Junior High School, has a studio in Cowpens, SC, where he produces his work. He has recently exhibited his sculpture in Chapel Hill, NC, and Charlotte, NC.
For more info check our SC Institutional Gallery listings, call Jane Nodine at 864/503-5838 or e-mail at (jnodine@uscupstate.edu).
[ | Aug'06 | Feature Articles | Gallery Listings | Home | ]
Carolina Arts is published monthly by Shoestring Publishing Company, a subsidiary of PSMG, Inc.
Copyright© 2006 by PSMG, Inc., which published Charleston Arts from July 1987 - Dec. 1994 and South Carolina Arts from Jan. 1995 - Dec. 1996. It also publishes Carolina Arts Online, Copyright© 2006 by PSMG, Inc. All rights reserved by PSMG, Inc. or by the authors of articles. Reproduction or use without written permission is strictly prohibited. Carolina Arts is available throughout North & South Carolina.