Feature Articles


For more information about this article or gallery, please call the gallery phone number listed in the last line of the article, "For more info..."
August Issue 2006
Vadim Bora Gallery in Asheville, NC, Features Works by Georgi Bora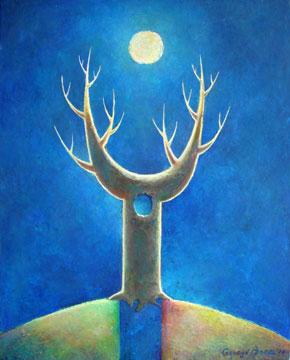 Vadim Bora Gallery in Asheville, NC, debuts the art of Georgi Bora, the 25-year old son of painter and sculptor Vadim Bora, for the first time in public in an exhibition entitled Prologue..., on view from Aug. 4 through Sept. 30, 2006.
The exhibition consists of mixed media art. In three series of works ­ surrealistic landscapes, portraits and independent narratives ­ Georgi Bora demonstrates an undeniable link between talent, skill, and DNA.
Influenced by his artist father and having spent much of his childhood in his father's studio in Vladikavkaz, Russia, it was only fitting that Georgi would attend art school at the North Ossetian Republic Lycee of Art for the duration of his secondary schooling. There he received his training in technique within the rigorous Russian system.
In a turn of events; however, Georgi chose to attend North Ossetia Medical College after high school.
"I liked the human body and how it works," recalls Georgi of his decision. "I am very interested in understanding human physiology, but also fascinated by the human brain and where talent comes from."
Art was never far away though, even in medical college ­ training to work in emergency medicine ­ he would go out and paint with a friend plein-aire on the weekends and always had a notebook handy for sketching.
"Studying medicine was also a way for me to explore other experiences to make sure that I was serious about many things," says Georgi, "Doing so truly helped me understand that I was as passionate about art as I originally thought."
Soon after Georgi completed his degree at the medical institute, he joined his father in the United States. In Asheville, Georgi is a medical interpreter, using his knowledge of Russian and English medical terminology.
He has consistently been motivated by how art "should be something that heals your soul the same way medicine heals tissues and bones in the body"
Of his debut exhibition he says, "The works that I've done here are very close to me. They are expressions of emotional experiences of interactions and the intersecting of other people's lives with my own."
"I had a desire to show past experiences that I've been carrying as baggage in my head," Georgi Bora states, "and I slowly found a language for it."
Says father Vadim Bora, owner of the international gallery that overlooks Battery Park Avenue, "This is Georgi's very first show, but he's already speaking with his own voiceas if after a long silence."
"It's not really a surprise," says Vadim Bora, "he's the fifth generation of artists in the family, as far as I can trace back."
For further information check our NC Commercial Gallery listings, call the gallery at 828/254-7959 or at (www.vadimborastudio.com).

[ | Aug'06 | Feature Articles | Gallery Listings | Home | ]
Carolina Arts is published monthly by Shoestring Publishing Company, a subsidiary of PSMG, Inc.
Copyright© 2006 by PSMG, Inc., which published Charleston Arts from July 1987 - Dec. 1994 and South Carolina Arts from Jan. 1995 - Dec. 1996. It also publishes Carolina Arts Online, Copyright© 2006 by PSMG, Inc. All rights reserved by PSMG, Inc. or by the authors of articles. Reproduction or use without written permission is strictly prohibited. Carolina Arts is available throughout North & South Carolina.