Feature Articles


For more information about this article or gallery, please call the gallery phone number listed in the last line of the article, "For more info..."
August Issue 2006
WICKWIRE fine art/folk art in Hendersonville, NC, Features Works by Jennifer Hastings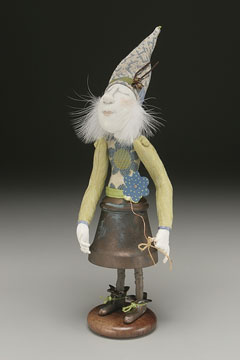 WICKWIRE fine art/folk art in Hendersonville, NC, will present the exhibit, Figurative Characters, featuring works by Jennifer Hastings, on view from Aug. 4 - 31, 2006. The exhibit offers art with names, meanings, and nature implemented in each piece... purses resembling bee skeps, hats with carved horns, pinecones for hair, and blossoms for buttons.

Hastings has studied at the John C. Campbell Folk Art School in Brasstown, NC, and at the Arrowmont School of Arts and Crafts in Gatlinburg, TN, with doll makers Akira Blount and Dee Dee Triplett, as well as, Renee Harris wool fiber artist and Donna Kassab silk painter. Hastings credits Akira Blount for giving her the fundamental tools of doll making (what she calls figurative characters) and the love of this artwork. "After one week of Akira's instruction," says Hastings, "I felt called to quit my full time job and devote myself to this craft."
Names and meanings are the springboard for defining each figurative character. "For example," explains Hastings, "Edith means tall and stately. As I developed Edith, she reminded me of an aunt - an aunt who takes her knitting bag wherever she goes. I often have two or three pieces to ponder over at one time which helps me from getting stuck. I start with the lower body which has been surface designed, then pull fabrics that complement the hard surface. Once I have attached the upper body onto the lower body, I sew on the head and neck then just try to get out of the way and let the piece speak to me. Divine creativity is a vital component of my process. I think that is why I like to implement nature and its colors - feathers for hair, cotton blossoms for buttons. The hand-felting of hats and more is in most of my work. The pieces de resistance are the embellishments - purses resembling bee skeps, hats with carved horns, hand-felted tendrils for hair, or embroidered hearts all help to play on the name and meaning of each piece."
Hastings' figurative characters are shown in North and South Carolina. She is a member of the Southern Highland Craft Guild and Piedmont Craftsmen and, is an American Craft Council exhibitor. She is represented by WICKWIRE fine art/folk art.
On Aug. 5, 2006, from noon to 5pm at our 329 N. Main Street location, come see how Hastings creates her figurative character art and enjoy a demonstration by master woodworker Jack Hastings, who makes Windsor chairs and fashions the wood skirts worn by Jennifer's characters.

John D. "Jack" Hastings has been whittling, shaping, and sculpting wood for over 40 years. He has a BA from the University of Minnesota, has studied wood sculpture with Jamie Russell (Suskatoon, Saskatchewan), is a certified master chair maker and, is a member of numerous wood turner and furniture societies and associations.
"I have a lifetime of experience in turning, carpentry, and construction," says Jack Hastings. "I have built everything from furniture to canoes and even custom homes. Wood is a living thing! As with all living things, different species of wood have evolved with particular characteristics. Centuries ago man learned to exploit these variables. Some woods were selected for strengths and/or straightness and fashioned into handles, spears, and arrows while others were used for their flexibility for things such as bows. More than 20 years ago I began recreating American Windsor Chairs and my interpretation of these 18th century chairs in several styles is in the same manner as the originals."

For further information check our NC Commercial Gallery listings, call the gallery at 828/692-6222 or at (www.wickwireartgallery.com).
[ | Aug'06 | Feature Articles | Gallery Listings | Home | ]
Carolina Arts is published monthly by Shoestring Publishing Company, a subsidiary of PSMG, Inc.
Copyright© 2006 by PSMG, Inc., which published Charleston Arts from July 1987 - Dec. 1994 and South Carolina Arts from Jan. 1995 - Dec. 1996. It also publishes Carolina Arts Online, Copyright© 2006 by PSMG, Inc. All rights reserved by PSMG, Inc. or by the authors of articles. Reproduction or use without written permission is strictly prohibited. Carolina Arts is available throughout North & South Carolina.