Feature Articles


For more information about this article or gallery, please call the gallery phone number listed in the last line of the article, "For more info..."
August Issue 2009

Hickory Museum of Art in Hickory, NC, Features Works by Henryk Fantazos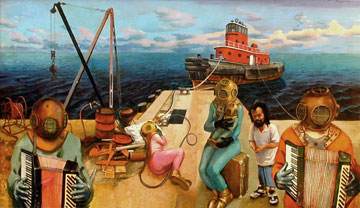 The Hickory Museum of Art in Hickory, NC, is presenting the exhibit, The Imagination of Henryk Fantazos, featuring paintings and etchings by this Polish/American, on view through Aug. 9, 2009.
"Fantazos work is an exciting and colorful collection to view," said the Museum's Registrar, Amanda Forbrick. "Henryk works with egg tempera, a system of creating a color palette by combining pure colored pigment and egg yolk. The outcome is bright and bold colors that fill the Coe gallery with life." Egg tempera was the primary method of painting used until after 1500 when oil painting was introduced.
Fantazos explains why he chose to work with such a difficult medium, "When I was learning how to paint, I couldn't sleep because I was fretting on how to present to the public a painting that fulfills all my expectations about what art should do as a gift to society. When I was looking at old paintings, I noticed that the paintings that had the most vivid color and incisive form were painted in egg tempera. There's something very difficult and illusive about it. Every time you mix up the color it is individually made. It doesn't come from a tube. Every morning I have to break an egg, make an egg tempera emulsion and mix it up with pure pigments. It's a matter of a certain madness of education. I'm capable of it. I decided to use it."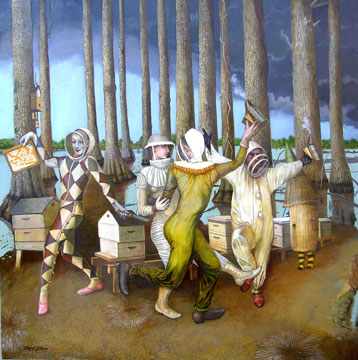 Fantazos was born and raised in Poland but has lived in the United States since 1975. He has called Hillsborough, NC, home for more than 20 years.
In addition to viewing the exhibition, most of the paintings include labels with descriptions written by the artist. Museum visitors can also enjoy watching a short video interview of Fantazos on the first floor, or rent an iPod Gallery Guide to hear clips of Fantazos and more in-depth information about his exhibition.
The Hickory Museum of Art is a United Arts Council of Catawba County Funded Affiliate and is located in the "SALT Block" Arts & Science Center in Hickory.
For further information check our NC Institutional Gallery listings, call the Museum at 828/327-8576 or visit (www.HickoryArt.org).



[ | August'09 | Feature Articles | Carolina Arts Unleashed | Gallery Listings | Home | ]
Carolina Arts is published monthly by Shoestring Publishing Company, a subsidiary of PSMG, Inc. Copyright© 2009 by PSMG, Inc., which published Charleston Arts from July 1987 - Dec. 1994 and South Carolina Arts from Jan. 1995 - Dec. 1996. It also publishes Carolina Arts Online, Copyright© 2009 by PSMG, Inc. All rights reserved by PSMG, Inc. or by the authors of articles. Reproduction or use without written permission is strictly prohibited. Carolina Arts is available throughout North & South Carolina.