Feature Articles


For more information about this article or gallery, please call the gallery phone number listed in the last line of the article, "For more info..."
August Issue 2010

Artspace in Raleigh, NC, Features New Exhibitions
Artspace in Raleigh, NC, is presenting several new exhibits including: Artspace Summer Artist-in-Residence Exhibition, featuring works by Oscar Gillespie, on view in Gallery 1 from Aug. 6 - Sept. 4, 2010; Through the Looking Glass, featuring works by Emily Cash, Susan Parrish, and Lauren Van Hemert, on view in the Lobby from Aug. 6 - 28, 2010; State of the Art/ Memory Dreamscapes - Visions From Raleigh to Asheville, featuring works by Ryan Cummings in the Upfront Gallery from Aug. 6 - 28, 2010; and Regional Emerging Artist-in-Residence - Garrett Scales, working in Studio 108, through Jan. 2011.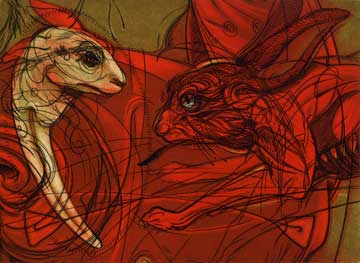 Oscar Gillespie
For his residency Oscar Gillespie will continue work on a series of engravings inspired by a long-standing fascination with marginalia - the odd and often out of character notes and illustrations in the margins of manuscripts, musical scores, drafts of poetry, and works of art. Gillespie notes, "The appeal of odd combinations is such that this has become central to my current imagination and working method as an artist. I work through a process of imposition and resolution, impulse and sensitivity. Starting with a seed such as the sketch of a bird or animal or a peculiar shape, I impose art historical and natural references with fragments of things from life and my working environment until I have found something visually engaging and enigmatic."
Gillespie is a Professor in the Department of Art at Bradley University, Peoria, IL. He is noted for his expertise in monotypes and in intaglio, especially metal-plate engravings. His work has been included in more than 300 solo, invitational, and juried exhibitions. His prints and drawings may be found in more than 2000 private and public collections, including the Fogg Museum, Harvard University, Boston, MA; the Kleven Print Collection, Bemidji, MN; the Kemper Group Collection, Chicago, IL; the Lauren Rogers Museum, Laurel, MI; the Nelson-Atkins Museum, Kansas City, MO; the New York Public Library, NY; Queensland University of Technology Art Museum, Australia; National Museum of Posnan, Poland; and the Bibliotheque Nationale de France, Paris, France.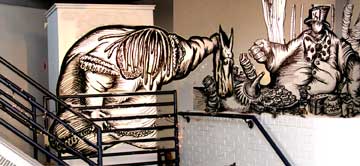 Emily Cash
During the month of August, Emily Cash, Susan Parrish, and Lauren Van Hemert will transform the Artspace lobby into Wonderland! The artists have reinvented Lewis Carroll's classic tale, Alice in Wonderland, through drawings, found objects, and wearable art.
Cash earned her BA in Art from Meredith College, Raleigh, NC. She worked as a graphic designer and illustrator for many years before pursuing her MFA from the University of North Carolina at Chapel Hill. Cash teaches at the Art Institute of Raleigh-Durham, the Living Arts College, Raleigh, and has been a visiting professor at Duke University, Durham, NC, for the past 5 years.
Parrish worked for many years making functional wheel-thrown pottery. After moving to Artspace in 2000, her focus turned to one-of-a-kind handbuilt ceramic vessels. Recently another transformation has taken place, with the addition of found objects and mixed media adding new excitement to her work. Parrish has exhibited throughout the US. Her work has been published in Ceramics Monthly, Clay Times, and The Craft Report, as well as a number of books including 500 Teapots, 500 Bowls, and Ceramics Today.
Van Hemert attended Indiana University, Bloomington, where she studied to be a journalist. Van Hemert makes wearable art using image transfer techniques, polymer clay, and Precious Metal Clay ©. She is a 2005, 2006, and 2007 Niche Award Finalist and was awarded Second Place in Jewelry as one of the Best Artists and Artisans of North Carolina (Kennedy Promotions). Her work has been widely exhibited, including at the North Carolina Craft Gallery, Artspace, Piedmont Craftsmen, and the Kentucky Museum of Art and Craft. Her work has been featured in Ornament, Southern Living, American Style, and Our State magazines and on HGTV.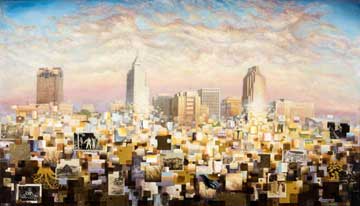 Ryan Cummings
The collection of paintings and drawings by Ryan Cummings are interpretations of two different areas of the state of North Carolina - Raleigh and the mountains near Asheville. Painted on Venetian plaster, Cummings intends for these landscapes to resemble visions of a more romantic, dream-like version of our surroundings populated with vintage black and white photographs of people who have occupied these areas at different points in time over the last one hundred years. The people in these pictures encourage a playful curiosity about their lives and the history of these places where they lived in the past, and where we now live.
A graduate of the NCSU College of Design and a member of the Artspace Artists Association, Cummings is an award-winning painter who has exhibited in several galleries throughout the Southeast, including in Louisiana, Florida, and North Carolina. He has had four solo exhibitions in Raleigh in the last three years. Cummings' paintings and murals can be seen in restaurants and private residences.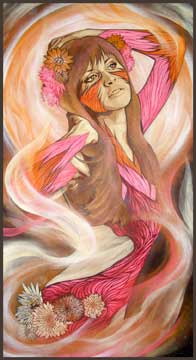 Garrett Scales
The Regional Emerging Artist-in-Residence is sponsored in part by Mary Duke Biddle Foundation. Since 2003, Garrett Scales has been creating works of art using hand cut stencils and spray paint. Initially, an early fascination with icons from the hip hop world to classic stars of the silver screen inspired Scales' work. He has now shifted his focus to the inner workings of the body, incorporating this unique architecture into the faces and bodies of women. While in-residence from July 2010 through January 2011, Scales will continue to pursue these ideas, as well as focus on a series about Lady Gaga for an exhibition at the Block Gallery in Raleigh, exploring society's fascination with celebrities.
Scales is a self-taught artist whose works have been exhibited in Raleigh at Artspace, Visual Art Exchange, Alter Ego Salon, and SparkCON's GraffitiSPARK event, and in Greensboro at the Green Hill Center for NC Art.
For further information check our NC Institutional Gallery listings, call Artspace at 919/821-2787 or visit (www.artspacenc.org).

[ | August 2010 | Feature Articles | Carolina Arts Unleashed | Gallery Listings | Home | ]
Carolina Arts is published monthly by Shoestring Publishing Company, a subsidiary of PSMG, Inc. Copyright© 2010 by PSMG, Inc., which published Charleston Arts from July 1987 - Dec. 1994 and South Carolina Arts from Jan. 1995 - Dec. 1996. It also publishes Carolina Arts Online, Copyright© 2010 by PSMG, Inc. All rights reserved by PSMG, Inc. or by the authors of articles. Reproduction or use without written permission is strictly prohibited. Carolina Arts is available throughout North & South Carolina.