Feature Articles


For more information about this article or gallery, please call the gallery phone number listed in the last line of the article, "For more info..."
August Issue 2010

Gallery 317 in Lincolnton, NC, Features Works by Jennifer Nauck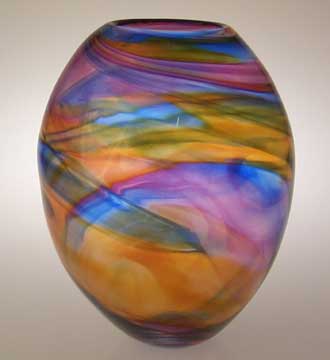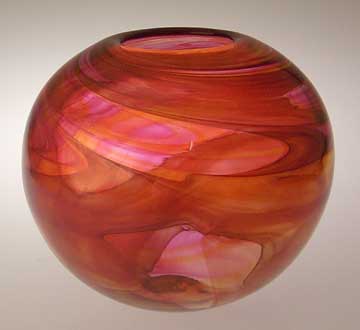 Gallery 317 in Lincolnton, NC, will present an exhibit of works by glass artist, Jennifer Nauck of Estes Park, CO, on view from Aug. 1-31, 2010.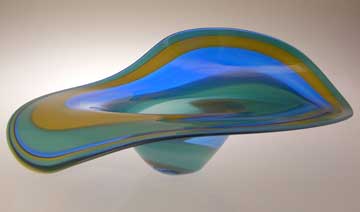 Known for her oversized "askew" bowls, Nauck emerges as an artist with a passion for color and form. Her hand blown glass works are notably large and at first appear slightly off kilter, however, are perfectly balanced. While defying logic one cannot help but want to touch the graceful lines of her work and immerse oneself into the depths of her colors. With color combinations entitled Canyon Lake, Coney Island, and Sedona, her work reverberates with vibrancy and a fluidity making her work appear to breathe life.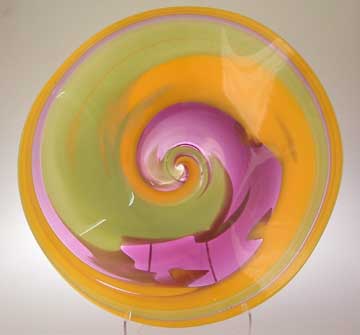 Nauck began experimenting with blown glass in 2003 at Glassworks Studio and Gallery in Estes Park, CO. She became a full-time production artist for Glassworks in 2007, specializing in functional artwork such as vases, bowls, wine glasses and, most recently, garden art. In 2007, she became a full-time glassblower and recently began selling her work in galleries in the West. Nauck's work is represented exclusively on the East Coast by Gallery 317.
"I love the way glass blends effortlessly into natural environments," says Nauck. "Although blown glass is ultimately human artifice," she said, "its evolution is organic. The combination of sand and minerals with fire and human breath - inspiration - forms a fluid work of art that reflects the beauty and simplicity of the natural world."
Nauck works with molten soda-lime glass from a 2100 degree furnace, shaping it with heat from the Glory Hole, gravity, and a few simple tools that have changed little in close to 2000 years.
"Blown glass is truly an ancient art," says Nauck. "While the technology has improved since the Syrians invented the blowpipe, around 50 A.D., glassblowing tools and techniques have changed very little. It gives me the feeling that I'm connected to a tradition that, at first, supplied a very basic human need - the need for containers, for vessels. Glassblowers met that need and then took it further, evolving functional work to the level of art. I'd like to think of myself as a keeper of that tradition."
Born in Colorado and raised mostly in Ohio, Nauck received a BA in English from Wittenberg University and a Master's in English from Rice University.
"When I blow glass, I rely on efficiency and fluidity of movement to create simple, elegant, well-balanced pieces. My designs have evolved as my understanding of the glass has evolved - understanding how the glass holds heat, how it moves at different temperatures, and what it naturally wants to do," says Nauck.
Leaning toward the contemporary, Gallery 317 offers original works and limited editions in a variety of mediums including oil, acrylic, watercolor, mixed media, glass, ceramics, photography, metal, exotic wood, and bronze.
For further information check our NC Commercial Gallery listings, call the gallery at 888/558-2891 or visit (www.gallery317.com).


[ | August 2010 | Feature Articles | Carolina Arts Unleashed | Gallery Listings | Home | ]
Carolina Arts is published monthly by Shoestring Publishing Company, a subsidiary of PSMG, Inc. Copyright© 2010 by PSMG, Inc., which published Charleston Arts from July 1987 - Dec. 1994 and South Carolina Arts from Jan. 1995 - Dec. 1996. It also publishes Carolina Arts Online, Copyright© 2010 by PSMG, Inc. All rights reserved by PSMG, Inc. or by the authors of articles. Reproduction or use without written permission is strictly prohibited. Carolina Arts is available throughout North & South Carolina.