Feature Articles


For more information about this article or gallery, please call the gallery phone number listed in the last line of the article, "For more info..."
August Issue 2010

Haywood County Arts Council in Waynesville, NC, Features Works by Sylvia Everett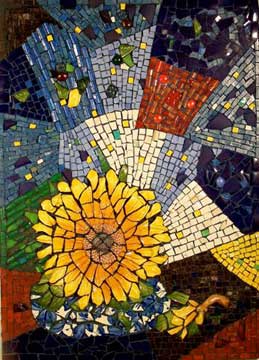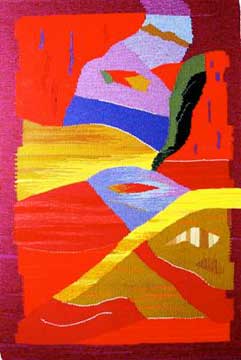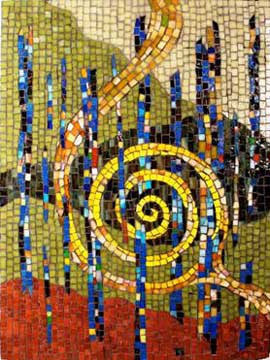 The Haywood County Arts Council in Waynesville, NC, will present the exhibit, For the Love of Color: Mixed-up Media, featuring an exhibition of tapestry, mosaics, mixed-media, embroidery, and painting by Sylvia J. Everett, on view in Gallery 86 from Aug. 4 - 21, 2010.
Everett has lived and worked in Waynesville since 1993. In 1995, she was one of the first artists to exhibit at the Haywood County Arts Council's newly founded Little Gallery on Church Street. From 1995 to 2001, she was resident artist at Andover Newton Theological School in Newton, MA. In that capacity, she maintained a working studio on campus and provided help and guidance to students who chose to use art as a way to explore theological questions.
Since retirement to her home in Waynesville in 2001, Everett has continued to be creative, exhibiting locally and in Asheville, NC. In addition to works of weaving, mosaic, and painting, she has created many large banners using painted silk and cut paper as well as seasonal installations for First United Methodist Church in Waynesville.
Everett has also provided worship settings for Lake Junaluska and was artistic consultant for the Bethea Welcome Center where her large sculptural installation, Song of Justice, is permanently displayed. That sculpture, composed of 27 vintage organ pipes and authentic ethnic fabrics, honors the many cultures of people who come to Lake Junaluska.
Everett works in a variety of media and says of the experience, "I have loved the challenge of different media and the differing impressions inherent in each. People often ask me about why I work in several different media. Of course, there are various reasons, love of the materials themselves, etc. But lately I have thought of it as something more analogous to being a composer, rather than a specialist on one instrument, or in this case medium. There is an idea, vision, concept which I want to express and then choose the medium which I think will best fit that concept."
Found and recycled materials have also played an important role in Everett's work. "Whether it is found creek glass, wood backing boards from my husband's workshop, reclaiming vintage tile or repainting abandoned canvases, I strive to find or create beauty in what has been thrown away or rejected. These are usually mixed with new materials to create a more dynamic effect."
Regarding her motivation Everett explains, "I consider the creative process to be inherently a spiritual expression, and most of my work deals with spiritual themes, either overtly or in a symbolic, more hidden way. Over time, my work has become more abstract as I feel the themes I explore can best be expressed by color, feeling and impression, rather than concrete images."
Music was Everett's original art form before turning to the visual arts in the 1980s. Music continues to be a strong influence and inspiration. Everett holds a Bachelor of Music degree from the University of Oregon and a Master of Science degree from Cardinal Stritch University in Milwaukee, WI. She has studied art privately with outstanding art teachers, including Annette Hirsh, Jyoti Sahi, and Isabella Asratyan.
The mission of the Haywood County Arts Council is to build partnerships that promote art and artists, explore new cultural opportunities, and preserve mountain artistic heritage. This project received support from the North Carolina Arts Council, an agency of the Department of Cultural Resources, and the National Endowment for the Arts, which believes that a great nation deserves great art.
For further information check our NC Institutional Gallery listings, call the Council at 828/452-0593 or visit (www.haywoodarts.org).


[ | August 2010 | Feature Articles | Carolina Arts Unleashed | Gallery Listings | Home | ]
Carolina Arts is published monthly by Shoestring Publishing Company, a subsidiary of PSMG, Inc. Copyright© 2010 by PSMG, Inc., which published Charleston Arts from July 1987 - Dec. 1994 and South Carolina Arts from Jan. 1995 - Dec. 1996. It also publishes Carolina Arts Online, Copyright© 2010 by PSMG, Inc. All rights reserved by PSMG, Inc. or by the authors of articles. Reproduction or use without written permission is strictly prohibited. Carolina Arts is available throughout North & South Carolina.