Feature Articles


For more information about this article or gallery, please call the gallery phone number listed in the last line of the article, "For more info..."
August Issue 2010

Harvey B. Gantt Center in Charlotte, NC, Features Works by Louis Delsarte, Charles Farrar, and Larry Lebby
The Harvey B. Gantt Center for African-American Arts & Culture in Charlotte, NC, is presenting the exhibit, Romancing the Eye: Louis Delsarte, Charles Farrar, and Larry Lebby, on view in the Center's Gallery West through Sept. 3, 2010.
Exhibiting for the first time together, three outstanding visual artists, Louis Delsarte, Larry Lebby, and Charles Farrar will romance your visual perception and artistic emotions. Each artist has his own distinct artistic ability in creating tantalizing artwork. Delsarte is inspired by memories from the past while using texture, color and form to create an abstraction of space which gives his images light; Lebby has perfected the technique of dry-brush watercolor which gives his paintings a lightness and buoyancy; and Farrar uses the properties of wood to summon forth the classical and non-classical forms of finely finished surfaces while invoking the processes once used by master carvers from Sub-Saharan Africa and Egyptians in North Africa.
Described as a figurative painter of dream-like compositions, Louis Delsarte emerged onto the art scene more than thirty five years ago as a painter. Using texture, abstraction, paints, ebony pencil and mixed media, Delsarte takes the viewer to the depths of his own experiences and imagination.

Delsarte was born in Brooklyn NY, in 1944. He earned a BFA from Pratt institute in 1977. He has been honored as artist in residence at the Studio Museum in Harlem, Howard University, Metropolitan Museum of Art, NY, Bob Blackburn Printmaking Workshop, NY, Towson University in MD, The Experimental Printmaking Institute at Lafayette College, Arts Exchange in Atlanta, GA, Brandywine Printmaking Workshop in Washington, DC, and The Faculty Resource Network at New York University.
Larry Francis Lebby developed and honed his artistic skills at Allen University in Columbia, SC, and the University of South Carolina, where he earned a BA in 1973 and a Master of Fine Arts degree in 1976. In 1973, USC professors Drs. John and Grace Jordan McFadden, who were early collectors of his artworks, sponsored his first solo show. Since then his work has been displayed throughout the United States in places such as the White House, the Smithsonian Institute, the United Nations and the United States Senate. In 1989, his work was displayed at the Vatican in Rome.

Lebby's work is included in the private collections of numerous entertainers such as: Eddie Murphy, Gregory Peck, James Earl Jones, Roberta Flack and politicians Senator Strom Thurmond and the former mayor of Atlanta Andrew Young. His portraits of noted South Carolina educator and theologian Dr. Benjamin Mays and civil rights advocate Modjeska Simpkins hang in the South Carolina State House. Lebby's southern roots are evident in many of his works especially his paintings of the people, the architecture and the landscape of his native South Carolina.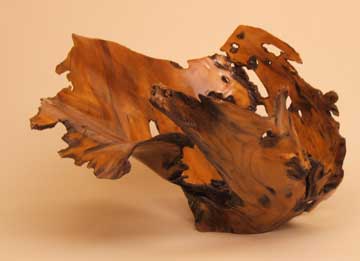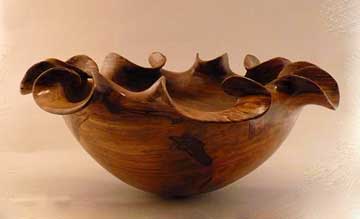 Charles Farrar
Charles Farrar is currently a resident of Concord, NC, and his passion for working with woods is demonstrated in the final product.
Farrar offered the following statement about his work, "My fascination with the many properties of wood began when I was a child growing up in Southern Virginia. I am happiest when creating from found woods that feature irregular grain patterns, knots, burls or voids, such that the finished work provokes a different commentary."

"I work using a custom built Nichols lathe and tools for the different stages of turning; bark removal, shaping, hollowing, etc. Ecological sensibility prevents my harvesting living trees solely for the purpose of turning vessels. However, once a blank of wood is selected and experience has helped me see inside it, I begin the process of unlocking the beauty within."

Farrar adds, "Some of my vessels are classical forms with finely finished surfaces. Others have hand carved, textured or pigmented surfaces. I'm often reminded of my ancestors when I embellish the surface of a piece. While Sub-Saharan Africans were master carvers, it was the Egyptians in North Africa who gave to the world the process of turning wood using a lathe as early as the time of the great pyramids."
For further information check our NC Institutional Gallery listings, or call the Center at 704/547-3700 or visit (www.ganttcenter.org).


[ | August 2010 | Feature Articles | Carolina Arts Unleashed | Gallery Listings | Home | ]
Carolina Arts is published monthly by Shoestring Publishing Company, a subsidiary of PSMG, Inc. Copyright© 2010 by PSMG, Inc., which published Charleston Arts from July 1987 - Dec. 1994 and South Carolina Arts from Jan. 1995 - Dec. 1996. It also publishes Carolina Arts Online, Copyright© 2010 by PSMG, Inc. All rights reserved by PSMG, Inc. or by the authors of articles. Reproduction or use without written permission is strictly prohibited. Carolina Arts is available throughout North & South Carolina.