Feature Articles


For more information about this article or gallery, please call the gallery phone number listed in the last line of the article, "For more info..."
August Issue 2010

Lark & Key Gallery (South End) in Charlotte, NC, Features Contemporary Figurative Works
Lark & Key (South End) in Charlotte, NC, will present the exhibit, Embodied: Contemporary figurative works by Susan Hall, Duy Huynh, Elizabeth D'Angelo & Paula Smith, on view from Aug. 6 through Sept 25, 2010.
The human figure has been a constant influence in the world of art. Embodied showcases interpretations of four contemporary artists exploring the physical and emotional nature of the human form and its relationship to the world it inhabits, real or imagined.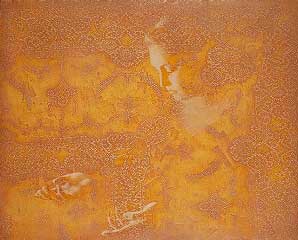 Susan Hall
Susan Hall paints timeless figures that are lit as if onstage, demanding attention yet softly obscured by a veil of lace. The pattern embedded in the painting interrupts the illusion of depth established by the figure. Her work examines the tension between the need for private reflection and the desire for acceptance and affirmation.

Duy Huynh paints ethereal characters, often in surreal, dreamlike settings. He explores motion along with emotion in order to portray not just the beauty of the human form, but also the triumph of the human spirit.
The works of Elizabeth D'Angelo often speak of a utopia of balance, health and wellness and a human struggle for these. Some pieces represent her utopia while others characterize the unmet need, the longing and struggle to reconnect with balance and center.
For Paula Smith, the metaphor 'woman as vessel' continuously inspires her. For several years she has dealt primarily with the female torso, either by itself or in combination with other archetypal forms. Her mixed media ceramic sculptures represent her individual perceptions and narratives of social attitudes within our society.
For further information check our NC Commercial Gallery listings, call the gallery at 704/334-4616 or visit (www.larkandkey.com).



[ | August 2010 | Feature Articles | Carolina Arts Unleashed | Gallery Listings | Home | ]
Carolina Arts is published monthly by Shoestring Publishing Company, a subsidiary of PSMG, Inc. Copyright© 2010 by PSMG, Inc., which published Charleston Arts from July 1987 - Dec. 1994 and South Carolina Arts from Jan. 1995 - Dec. 1996. It also publishes Carolina Arts Online, Copyright© 2010 by PSMG, Inc. All rights reserved by PSMG, Inc. or by the authors of articles. Reproduction or use without written permission is strictly prohibited. Carolina Arts is available throughout North & South Carolina.