Feature Articles


For more information about this article or gallery, please call the gallery phone number listed in the last line of the article, "For more info..."
August Issue 2010

Theatre Art Galleries in High Point, NC, Offers New Exhibits
Theatre Art Galleries in High Point, NC, will be presenting several new exhibitions including: Piedmont Outdoor Painting Society, featuring works by member artists in the Main Gallery; Julie Niskanen: Printmaker, on view in Gallery B; and Rick Smith, Photographer of Stillness and Silence, on view in the Hallway Gallery. These exhibits begin on Aug. 3 and will continue through Oct. 8, 2010.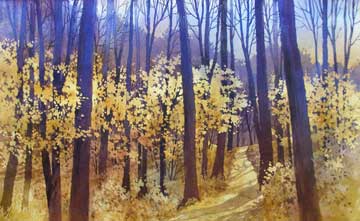 Alexis Lavine
The Piedmont Outdoor Painting Society (POPS) is a group of professional artists, all of whom are dedicated plein air, or outdoor, painters. They paint together every week, weather permitting, at locations in and around the Piedmont Triad area of North Carolina, and sometimes farther afield. Their members work in a variety of media including oil, pastel, and watercolor.
The organization loves having group exhibitions of their work and enjoys partnering with organizations such as the Piedmont Land Conservancy, preserving the beauty of the sites in their paintings and to donate a portion of their sales to a cause.
POPS began as an informal group of outdoor painters from Winston-Salem and Greensboro, NC. They enjoyed painting together so much, that they decided to form an official group and start to exhibit their work together. The group has been going strong for the past 10 years.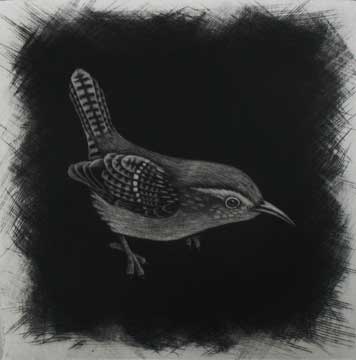 Julie Niskanen
Julie Niskanen offered the following statement about her work, "The natural forms that permeate our world too often become background patterns in our hectic lives. For the most part, people no longer feel the wonder of the complexities and intricacies seen in forms such as a single seedpod. All too often one walks by a scene or object without noticing it. What happens when we slow down to truly notice and examine what is around us? Examining these organic forms allows me to reflect on the human disregard for so many things, while also reflecting on and bringing forth these rhythms of nature that are often unnoticed in our lives. I focus on the beauty I find within these natural forms. I work to bring attention and give power to the subtle changes and cycles in nature, as meaning can be found in the smallest things."
"The printmaking processes I use give me an invaluable vocabulary of marks that feeds my thoughts and work," adds Niskanen. "Through using mezzotint and various etching techniques, I am able to achieve a wide range of tones and textures to complement the images and ideas."
Niskanen spent her first seven years in Greenville, SC, and family moves eventually took her to Newark, Delaware and Chicago. She received a Bachelor of Fine Arts from Iowa State University in 2005. During the summer of 2003 she lived and studied in Rome, Italy, and traveled around Europe. In 2008, Niskanen received a Master of Fine Arts in printmaking from the University of South Dakota, where she also managed the fine art gallery and taught drawing classes. She now lives in Raleigh, NC, where she works as a professional artist and teaches art courses at Sandhills Community College, Central Carolina Community College, and Wake Technical Community College. Additionally, Niskanen teaches printmaking workshops in Raleigh. She is also part of the Artspace Artists Association in Raleigh and the Washington Printmakers Gallery in Washington, DC.
Living in so many places and having experienced many different environments have had a significant influence on Niskanen's creative work. She uses images from nature to represent changes in both nature as well as her own life. Always stimulated by the contemporary art world, she attends conferences and workshops across the country and gives visiting artist workshops at various art centers and universities. Niskanen's award-winning work has been exhibited extensively in national and international exhibitions, and is in many private and public collections. During 2010, she will have mezzotints and etchings on exhibit in Irbit, Russia; Seattle, WA; Washington, DC; Ada, OH; and Raleigh.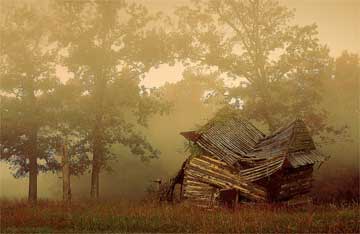 Rick Smith
After attending Brooks Institute of Photography in California, Rick Smith returned to his native Michigan and began what he calls, "my real education into the photography business." That was the experience of working for five years in one of the largest studios in the Detroit area.
In the early 70's, Smith and his family moved to North Carolina where he eventually opened and operated a commercial advertising photography studio for over 25 years. During that period he continued to explore new subjects and created many of his most memorable personal images.
Smith draws inspiration in the stillness and silence of his subject matter. Being especially drawn to the pastoral countryside he is fascinated by forms and textures in nature with the ability to see the complex unpretentiousness in everyday objects and visually transform the ordinary into the extraordinary.
Smith has won numerous national and international awards for his work including his most coveted, being selected for inclusion in an international exhibit at Cologne, Germany. He is also included in a permanent collection at the George Eastman House in Rochester, NY (One of only 100 images chosen from over 27,000 submissions).
Smith has lectured at RIT (Rochester Institute of Technology) and is a regular lecturer, workshop leader and contributor in the North Carolina, Randolph Community College photographic program.
Theatre Art Galleries is a non-profit organization located in downtown High Point. TAG provides quality visual art exhibits and educational experiences for children and adults, for enrichment of the total community.
For further information check our NC Institutional Gallery listings, call the Galleries at 336/887-2137 or visit (www.tagart.org).

[ | August 2010 | Feature Articles | Carolina Arts Unleashed | Gallery Listings | Home | ]
Carolina Arts is published monthly by Shoestring Publishing Company, a subsidiary of PSMG, Inc. Copyright© 2010 by PSMG, Inc., which published Charleston Arts from July 1987 - Dec. 1994 and South Carolina Arts from Jan. 1995 - Dec. 1996. It also publishes Carolina Arts Online, Copyright© 2010 by PSMG, Inc. All rights reserved by PSMG, Inc. or by the authors of articles. Reproduction or use without written permission is strictly prohibited. Carolina Arts is available throughout North & South Carolina.