Feature Articles


If you want more information about this article or gallery, call the gallery phone number listed in the last line of the article, "For more info..."
September Issue 2002
Furman University in Greenville, SC, to Exhibit Retrospective by Martha Simkins
During her lifetime, artist Martha Simkins (1866-1969) was considered to be one of America's leading portrait painters. But because she spent the majority of her career outside the artistic mainstream in Texas and lived in an era when few women were active in the professional arts world, Simkins never received the recognition she deserved. That could change, however, as the first retrospective of Simkins' work will go on display this year and next in exhibits across the South and Southwest. The exhibit, which features more than 50 of the artist's portraits, figural images, still lifes and landscapes, will have its initial showing at the Thompson Gallery in Furman University's Roe Art Building Sept. 16 - Oct. 26. Martha Simkins Rediscovered is open to the public without charge.
On Monday, Sept. 16, at 7pm in the Roe Art Building, University of Houston art professor Melina Kervandjian will present a public lecture about Simkins' work.

Following the show at Furman, the exhibition will travel to the Morris Museum of Art in Augusta, Ga. (Jan. 16-Apr. 20, 2003); the Marietta/Cobb Museum of Art in Marietta, Ga. (May 17-Aug. 3,2003); and the Irving Arts Center in Irving, TX (Sept. 24-Nov. 16, 2003).
It is appropriate that the exhibit will open at Furman. Simkins' grandfather donated the land in Edgefield, SC, for the Furman Academy and Theological Institution (which would later become Furman University) and members of the Simkins family still reside in Greenville. Bob Chance, chair of Furman's Art Department, describes the show as "very important - perhaps the finest Furman has ever hosted."
Born in Florida following the Civil War and raised in Texas, Simkins moved to New York City in 1893 to attend the Art Students League. There, she studied under such influential artists as William Merritt Chase and Kenyon Cox. She also later traveled to Europe and studied under Cecilia Beaux and John Singer Sargent.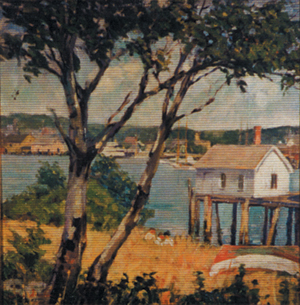 Cape Cod Picnic
She exhibited her paintings at leading national and international galleries, including the Corcoran Gallery of Art in Washington, D.C., the National Academy of Design and the Ainslie Galleries in New York, the Carnegie Institute in Pittsburgh, and the Paris Salon. She also became affiliated with leading arts organizations such as the Pen and Brush Club and the National Association of Women Painters and Sculptors.
In 1934, Simkins moved to Dallas to tend to family obligations and never returned to New York. She accepted portrait commissions, taught, and continued to exhibit her work on a regional level. She remained active as an artist almost until her death in 1969 at the age of 103. Support for the exhibition is provided in part by Mary and Jim Simkins, Nancy Dew Taylor, Lonnie and Jeanne Saunders Davis, Roger Saunders, the South Carolina Humanities Council, Greenville's Emrys Foundation and the Metropolitan Arts Council, which receives funding from the City of Greenville and the South Carolina Arts Commission with support from the National Endowment for the Arts.
To read more about Martha Simkins, (click here - link).
For more information check our SC Institutional Gallery listings or contact Furman's Department of Art at 864/294-2074.
[ | Sept02 | Feature Articles | Gallery Listings | Home | ]

Mailing Address: Carolina Arts, P.O. Drawer 427, Bonneau, SC 29431
Telephone, Answering Machine and FAX: 843/825-3408
E-Mail: info@carolinaarts.com
Subscriptions are available for $18 a year.
Carolina Arts is published monthly by Shoestring Publishing Company, a subsidiary of PSMG, Inc.
Copyright© 2002 by PSMG, Inc., which published Charleston Arts from July 1987 - Dec. 1994 and South Carolina Arts from Jan. 1995 - Dec. 1996. It also publishes Carolina Arts Online, Copyright© 2002 by PSMG, Inc. All rights reserved by PSMG, Inc. or by the authors of articles. Reproduction or use without written permission is strictly prohibited. Carolina Arts is available throughout North & South Carolina.