Feature Articles


For more information about this article or gallery, please call the gallery phone number listed in the last line of the article, "For more info..."

September Issue 2003
Accessibility 2003: From the Outside In Installation Art Exhibition in Sumter, SC
Nine artists from foreign countries and other parts of the USA have been selected by Guest Curator Jane Ingram Allen to create site-specific installations for the fifth annual installation art exhibit in downtown Sumter, SC. Accessibility 2003: From the Outside In takes place Sept.27 ­ Nov. 1, 2003, and opens with "The Magic of Motown" on Sept. 27 from 6-9pm. The event features music, dance and styles of the 60's, 70's and 80's and receptions at each site.
Curator Jane Ingram Allen of Troy, NY selected artists who will present unique installations reflecting a broad range of media, concepts and approaches. Allen's theme for the exhibition From the Outside In reflects a reaction to a trend in site-specific installation art that involves having outside artists coming into a community to work with local residents to make art for that community. Allen proposes to turn this idea around and invite outside artists to come to Sumter and partner with local volunteers who will act as guides and collaborators with the artist in making his installation. The selected artists, all unfamiliar with Sumter or the South, will approach Sumter as an outsider looking in and with local partners perhaps see things in a fresh way while discovering commonalties and enable Sumter residents to see themselves as outsider artists see them and artists.
The artists selected for the exhibition include: Tova Beck-Friedman, Mary Giehl, Kurt Gohde, Lori Goodman, Hyomyung Kang, Thelma Mathias, Kaoru Motomiya, Jennifer Pepper, Yumiko Yamazaki, and Jane Ingram Allen.
Tova Beck-Friedman is now living in New York City and is originally from Israel. Beck-Friedman will create an earthwork installation in a Sumter downtown public space. She plans to create her installation in the form of a reclining abstract figure made from soil mixed with recycled paper to encourage recycling and environmental awareness. Grass seeds will be planted on the earth figure and grow to cover the sculpture with grass so that people can rest and picnic on the sculpture. The artist will involve community volunteers in collecting the recycled paper, mixing the recycled paper and soil and assisting with the grass planting and artist will partner with someone interested in growing things and the environment. This installation will become a permanent public art installation in a Sumter downtown open space.
Mary Giehl of Syracuse, NY, will create an installation relating to a historical boating accident at Boykin Mill Pond, near Sumter, where 25 people drowned at the turn of the century when an excursion boat capsized. The installation will consist of three scaled-down flat boats made of wood and paper in a site-specific installation to commemorate these individuals and make people aware of an event in Sumter history. People who died in the accident will be represented with casts of the bottoms of shoes appearing on the rough wood of the boats. Poles used to maneuver the flat boats will also be used in the installation. The artist will work with local historians and people in the community to gather information about this event and collect castings from shoes of people in the community to use in the installation.
Kurt Gohde, now lives in Lexington, KY, teaches at Transylvania University, and is originally from the central rural area of New York State. Gohde will create an installation using a video projection of the interior of a Chinese restaurant with half of a real table coming out of the wall to appear as if it is also in the video. The table will be covered with fortune cookies. The video will be a continuous loop showing hands of a woman making cookies and inserting fortunes with layers of text scrolling over the screen showing fortunes found in the cookies. The text for inside the fortune cookies will be contributed by Sumter peoplethoughts that you maybe always wanted to say but didn't. Viewers of the exhibit will be invited to take a fortune cookie from the installation, read it and eat itthus consuming and contributing to the artwork.
Lori Goodman of Eureka, CA, has tentatively titled her installation Paper Grass. Her installation will fill a vacant lot with paper grass made from handmade paper, mostly black or dark tones in color. Each blade of grass will be about 6" to 18" high. This installation reflects on the universality of grass and how nature overcomes almost any obstacle to continue growtheven abandoned city lots. The artist hopes that this strange paper grass might spark interest in cleaning up vacant lots and make people more aware of nature and the environment.
Hyomyung Kang is from Seoul, South Korea. Kang will make an installation that is a comment on our modern tendency to send e-mail or phone instead of the personal handwritten letter or card. The installation will be designed as a site-specific installation by the artist using a framework of metal or wood. The installation will create a forest-like feeling with colorful postcards from Korea clipped to the structure containing messages written by people in Sumter. The postcards will be mailed at the end of the exhibition. The installation will be in Tuomey Hospital and in the Post Office. Post cards will be provided for viewers to write to someone that maybe they have been thinking of but neglecting to actually write. This exhibit will also be exhibited at a children's cancer clinic in South Korea.
Thelma Mathias, of Santa Fe, NM, and New York City, will create an installation called, Dream Space, that brings the two peoples of Sumter and Santa Fe together through portrait photographs and the transcription of dreams from people of both places. The B & W photos in the installation reflect the various racial and cultural groups that live in both towns, while the dreams can reveal how universal or similar they are, how dreams transcend culture, age and even gender. The dreams and photos will be randomly mounted on various sized cardboard pieces on both sides, then strung on nylon filament from floor to ceiling forming a mosaic curtain across the space. As the cards slowly rotate in the breeze, viewers can form their own narratives and questions about cultural and racial identity. She plans to exhibit the work at a site in Santa Fe following Accessibility 2003.
Kaoru Motomiya is from Tokyo, Japan. Currently an artist in residence at the International Studio Program and at Snug Harbor Cultural Center on Staten Island, NYC, she is proposing to make an installation Sumter full pot garden show using potted plants that participants in Sumter would bring in to loan for the exhibition. Motomiya will interview each participant about his or her plant and make a video to go with the installation. She plans to come to Sumter about two weeks before the show opens to make her installation and the video.
Jennifer Pepper now lives in central New York state, teaches at Cazenovia College, and is originally from Canada. Pepper will create an outdoor installation in the form of an artist-designed awning installed at a selected historical building. The awning will have painted or printed text on it and the text will be short evocative excerpts taken from Sumter historical documents. Pepper is especially interested in textiles and the history of the textile industry and its relationship to Sumter. She will partner with the local individuals with interest and knowledge of local history.
Yumiko Yamazaki of Osaka, Japan, will create Sky Project an installation with shiny reflective copper disks installed on the ground in an open grassy outdoor space. Yamazaki plans to involve people in Sumter to select the exact spot for each disk, and the artist will place it there, secured with stakes and anchors. The installation will invite viewer interaction, and people will see the sky and themselves in the reflective plates. Yamazaki hopes that people will become more aware of the changing sky and how it is the same yet different in many different times and places. The disks will reflect the sky, people stopping by, trees, animals, etc. The artist will document the viewer interactions with photographs printed on handmade Japanese paper. The disks will change over time getting cloudier as they oxidize during the course of the exhibition. At the end of the exhibition, Yamazaki will remove the disks and make handmade paper print images from each disk, transferring the earth and other debris retained on the Back of the Sky. These prints documenting the passage of time will be displayed in Sumter and Japan along with the photo documentation. She will do her Sky Project in Osaka before coming to Sumter and bring photo documentation and prints from that exhibition to display in Sumter along with her Sumter installation. Yamazaki will partner with a local printmaking artist to make the prints and photos for her installation.
Jane Ingram Allen, now of Troy, NY, is originally from Delta, AL. In addition to the artists above, Accessibility 2003 will also include a site-specific installation created during a three-week community artist-in-residency project. Allen will work with students in the local high school and at a local elementary school and is coordinating activities for her residency with Sumter High School art teacher, Heidi Adler. Allen and the students will create a collaborative multi-part installation with unique individual components using handmade paper and living plants that will change over time. She will use local plants such as iris leaves from Swan Lake Iris Gardens and day lily leaves, cotton, and corn to make the paper for her installation. Allen's installation will be called Making My Bed and will reflect her own Southern roots growing up in Alabama where all of her female relatives were expert quilt makers. The installation will be in the form of a large-scale earth bed covered with a handmade paper quilt (each square uniquely designed by a participant), and the 4 bedposts will be existing tree trunks. The handmade paper quilt will contain flower seeds and have bulbs planted underneath the quilt that will sprout, grow and bloom in the quilt pattern next spring while the paper dissolves into compost. Allen will also lead each student participant in making his own individual bed of twigs, vines and string covered with his own uniquely designed handmade paper quilt containing wildflower seeds. These individual small beds each about 9" x 12" will be installed in storefront windows along Main Street during Accessibility 2003. At the end of the exhibition the beds will be returned to the students so that they can plant the "bed" in their own yard next spring.
The Sumter County Cultural Commission, the City of Sumter and the Sumter Gallery of Art sponsor the exhibition. In 2001, the Accessibility show was listed in the "Top Ten" art event in the state of SC. Sumter, as it has been described in the press, is seen as a "hot-bed for contemporary art." The idea for these exhibitions originated with Booth Chilcutt, Cultural Director for the City of Sumter, Peggy Chilcutt, Sumter County Cultural Commission and Project Director for the Accessibility exhibitions, and Martha Greenway, Executive Director of the Sumter County Cultural Commission. Accessibility has grown considerably over the years, always challenging viewers with "new" art and making it accessible to ordinary citizens.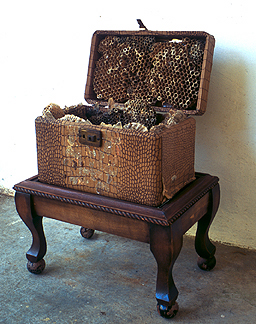 Janet Orselli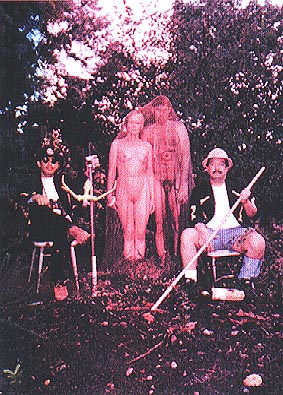 Robert J. Sanchez & Richard A. Lou
The Sumter Gallery of Art in Sumter, SC, will also exhibit installation art by Janet Orselli of Columbia, SC. A press conference and reception will be held on Sept. 25, 6-8pm at the Gallery to introduce all participating Accessibility artists. USC - Sumter, in participation with Accessibility 2003, will showcase installation artists Robert J. Sanchez from San Diego, CA, and Richard A. Lou from Milledgeville, GA. Their exhibit titled Los Anthropolocos will be on display in the University Gallery that is located in the Anderson Library. The exhibit runs from Sept. 26 through Nov. 26, 2003.
During the installation week Sept. 20-27, all of the artists will be in residence in Sumter, SC, and have temporary studio space at 106 N. Main Street. The public is invited to visit with the artists in the studio spaces, see the installation works in progress and get involved.

For more info check our SC Institutional Gallery listings, contact Booth Chilcutt at 803/436-2616 or Martha Greenway at 803/436-2260 or at (www.sumteraccessibility.org). The site is being designed and maintained by local volunteer and website designer, Jason Cannon.
[ | Sept03 | Feature Articles | Gallery Listings | Home | ]

Carolina Arts is published monthly by Shoestring Publishing Company, a subsidiary of PSMG, Inc.
Copyright© 2003 by PSMG, Inc., which published Charleston Arts from July 1987 - Dec. 1994 and South Carolina Arts from Jan. 1995 - Dec. 1996. It also publishes Carolina Arts Online, Copyright© 2003 by PSMG, Inc. All rights reserved by PSMG, Inc. or by the authors of articles. Reproduction or use without written permission is strictly prohibited. Carolina Arts is available throughout North & South Carolina.