Feature Articles


For more information about this article or gallery, please call the gallery phone number listed in the last line of the article, "For more info..."

September Issue 2003
Somerhill Gallery in Chapel Hill, NC, Features Works by Arless Day & Don Gialanella
Somerhill Gallery in Chapel Hill, NC, announces a two person exhibition by mixed media collage artist Arless Day and large scale steel sculpture artist Don Gialanella. The exhibit can be viewed through Sept. 26, 2003.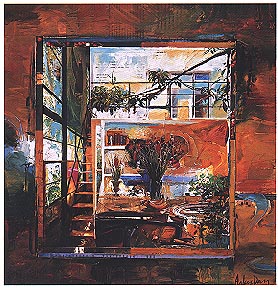 Arless Day
Arless Day's most recent collages are also his most ambitious works, both in scale and complexity, reflecting his evolving architectural vision as well as his increasing technical mastery of the painted collage format. Day's artwork reflects a deep connection to the South. He constructs environments from scores of images collected, cut, and torn from magazines, books and catalogues to produce a technicolor dream-world of joyful interiors and exotic locales. He applies the torn and cut pieces to the board with wax, burnishes it, adding gouache and abrasions with a sharp stylus, which as he explains, represents "my drawing part" of the work. This tradition of craftsmanship and architectural form links him to his family, his father a wood carver, his older brother and his wife, both designers.
Born in Baton Rouge, LA, Day is an artist who began as an editorial illustrator. When this became too confining, he evolved into a master of collage. Day says about his work, "I'm not giving the viewer a vision of how it really looks, only my interpretation of a place where it may exist!" He has studied the works of the great masters, the French Impressionists, the Post-impressionists of the 19th century, and more contemporary artists like David Hockney. Yet Day's collages are definitely his own.
Day has been a featured artist at numerous galleries and museums across the country. He has been represented at the Morris Museum of Art in Augusta, GA; and most recently has been accepted into the collection of the Ogden Museum of Southern Art in New Orleans, LA. Day's artwork can also be found in many private and public collections including Texaco Incorporated, Federal Reserve Bank, Mint Museum of Art and IBM Corporation.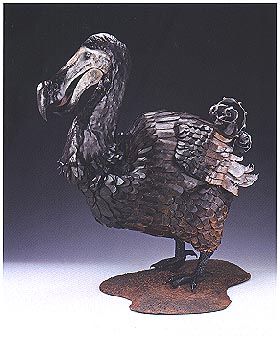 Don Gialanella
Don Gialanella has been a natural artist all his life. Employing a variation of the repoussé technique used by Turkish coppersmiths, he finds much success with his life-size steel animal sculptures. The process he developed starts by cutting huge steel plates with superheated plasma. The raw cut piece is then dimensionally transformed through bending and hammering in the same way a carver shapes his stone, one blow at a time. Relying on unorthodox painting and finishing methods, he places his sculptures in creeks or exposes them to rain and snow for intriguingly different rust and weathering effects.
As an art student at The Cooper Union under a full tuition he graduated Magna Cum Laude and was awarded the Lash Memorial Prize in 1979. After a ten year career as a Network Graphics Director with ABC, Gialanella received an Emmy for his work on Monday Night Football. He spent two years in Turkey where he taught at Bilkent University and worked as a creative Director at the Turkish Television Network.
Gialanella has exhibited at galleries and museums throughout the United States and has been the recipient of many awards including the UCCCA Sculpture award, The Audubon 59th annual Domenico Facci Award, The Audubon 58th annual Cleo Hartwig Sculpture Award among many others.
For more information check our NC Commercial Gallery listings, call the gallery at 919/968-8868 or email at (somerhill@mindspring.com) or view the exhibition online at (www.somerhill.com).

[ | Sept03 | Feature Articles | Gallery Listings | Home | ]

Carolina Arts is published monthly by Shoestring Publishing Company, a subsidiary of PSMG, Inc.
Copyright© 2003 by PSMG, Inc., which published Charleston Arts from July 1987 - Dec. 1994 and South Carolina Arts from Jan. 1995 - Dec. 1996. It also publishes Carolina Arts Online, Copyright© 2003 by PSMG, Inc. All rights reserved by PSMG, Inc. or by the authors of articles. Reproduction or use without written permission is strictly prohibited. Carolina Arts is available throughout North & South Carolina.