Feature Articles


For more information about this article or gallery, please call the gallery phone number listed in the last line of the article, "For more info..."
September Issue 2005
Joie Lassiter Gallery in Charlotte, NC, to Move Operations to SouthEnd Location
After eight years expanding the cultural consciousness in uptown Charlotte, NC, Joie Lassiter Gallery is relocating to the city's burgeoning art and design hot-spot ­ SouthEnd. This relocation will mark Joie Lassiter's third expansion. The new gallery space will be located in a historic 1930's building at the convergence of Summit, South Tryon and Camden streets. The 2400 sq. ft gallery has its original brick fronting, concrete floor and curved wooden roof that rises to an apex of 20 feet, graced with skylights that imbue the space with an airy, contemplative atmosphere.
Known for its superior aesthetic and dedication to the promotion of its' artists, Joie Lassiter Gallery seeks to bring its vision of contemporary art to a wider audience with a fresh approach for this new space. The new gallery will feature four separate exhibition spaces, showcasing critically recognized artists, both emerging and well established who are pushing the boundaries locally, nationally and internationally. The gallery, known for its strong stable of artists, will be adding to this roster other exceptional artists working in painting, sculpture, glass, new media and on paper.

With over 25 years as an art professional, Joie Lassiter is a strong supporter of Southeastern artists supporting them as they forge their careers and helping establish this region as an acknowledged force in the art world. In keeping with Lassiter's original mission, the gallery will endeavour to introduce and support remarkable artists both locally and nationally as well as represent and bring to Charlotte recognized and sought after established and emerging artists.
The new Joie Lassiter Gallery will open at 1440 South Tryon Street, Suite 104 on Sept. 10, 2005, from 2pm-9pm. The opening exhibitions include: Marek Ranis ­ Albedo I, featuring the first body of work from project "Albedo" which explores the fragility of the natural world, surveying, via satellite imagery, the effect of global warming on ice shelves, glaciers and icebergs. These large-scale paintings are both beautiful and thought provoking; Radcliffe Bailey ­ Works on Paper, featuring works by one of the most highly recognized Southeastern artists in America, evokes a kind of mystic urbanism in his work. Using rich expressive color and both visual and cursive allusions to southern African-American heritage, Bailey makes vital connections between art and life, people and their land, ancestors and their descendants; and John Nickerson ­ New Glass. This contemporary glass master's graceful cut and blown vessels are known to many, his new pieces incorporate metal elements forging a new interpretation of his signature style. The above shows will run through Oct. 6, 2005.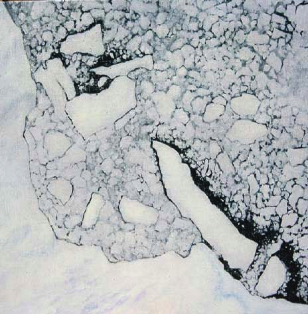 Marek Ranis
Marek Ranis, one of the foremost figures in the Charlotte art scene applies his social, conceptual and environmental concerns to a wide range of projects. Project Albedo is a body of work incorporating painting, photography, video and installation, which examines via satellite imagery, the effect of global warming on the earth's coldest regions. Albedo (Latin: white) is a measure between 1 and 0 of the earth's reflectivity, the higher the number the cooler the earth. Presently the earth has an albedo of 0.3, which is decreasing with alarming rapidity.
The landscapes that Ranis pays tribute to enable us to view this enormous and pressing issue on a more comprehensive human scale. A window onto a vanishing world and vital part of our Eco-system - rarely seen or even considered in our daily existence, but whose disappearance will change our lives forever. Albedo highlights the human impact upon the earth, and asks us to reevaluate our norms, beliefs, actions and inactions.
Albedo I documents pack ice - floes, bergs, shelves and glaciers in a series of paintings inspired by satellite images. Ranis captures the landscape's devastating beauty with both gestural strokes and areas of concentrated brushwork that enunciate the vastness of the icy terrain and specific sites of disintegration.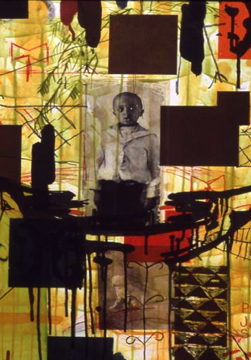 Radcliffe Bailey
Radcliffe Bailey's work is in numerous permanent collections such as the Corcoran Gallery of Art, Metropolitan Museum of Art and the Smithsonian Institute. The formal quality of his work suggests the conceptual characteristic of early Johns or Rauschenberg. But it is Bailey's evocation of a kind of mystic urbanism, his use of rich expressive color, as well as plentiful allusions to Southern African-American folk culture - also characteristic of the work of artists such as David Hammons, Betye Saar and Jean-Michel Basquiat - that provide both improvisational bravura and an extravaganza of eccentric symbolism.
Bailey often uses broad, seemingly still-liquid strokes of indigo to define and accentuate a network of brighter colors and painterly gestures. Very often antique photographs of African-Americans - seated formal family shots, ancient baseball games, dignified individual portraits - are collaged into the lyrically gridlocked painting surface amid other decoration such as African dolls and felt ribbons. The paintings are scarred and marked with dates, numbers, names of cities and places that allude to an historical undercurrent. Place names saturated with black historical lore - Louisiana, Angola, Mobile, Birmingham, Sierra Leone - are combined with briskly painted phrases and filigreed brushstrokes.
Bailey's work is known for the vital connections it makes: between art and life, people and the land, ancestors and their descendants. "Growing up, I spent a lot of time with my grandparents and great-grandparents," he says, "and I feel like that's lost in most families today. In my art, I try to restore some of the lost kinship between people." Bailey is inspired by - and often uses - old family photographs and heirlooms in his work.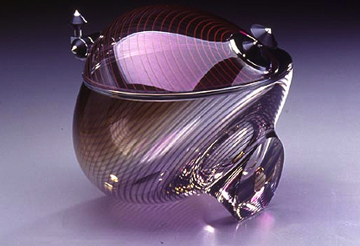 John Nickerson
John Nickerson's career has taken him through positions as a professor at several universities to Designer in Residence at Blenko Glass Company. The last two decades Nickerson has been working from his studio exhibiting his work internationally. His works are in prestigious museum collections - Corning Museum of Glass, Delaware Art Museum, Denver Art Museum, Muskegon Museum of Art and Musee des Arts Decoratifs, Lausanne, Switzerland to name a few.
Nickerson was one of the earlier American glass blowers to be influenced by the Scandinavian art form. Unlike many recent glass blowers, he still strictly adheres to their methodology of high quality workmanship created by the artist's hand alone. Blowing, cutting, faceting, grinding and polishing without technical or technological shortcuts, this artist continues classic and time-honored glass-making traditions which are almost lost due to the time it takes to see a piece through to completion.
Combining practical utility with sheer beauty, Nickerson's work is known for its pure color, clean modern lines and his alteration of the blown form. For many years Nickerson worked using strong transparent colors which play with or against each other. Now utilizing materials from Australia he experiments with translucent and opaque colors. Light is a strong presence in his work as are color and a refined design language that combines patterns and spaces. Nickerson brings a passion to his glass forms whether sculptural or blown, forging a tangible connection to the earth and its elements.
For further information check our NC Commercial Gallery listings or call Joie Lassiter or Kate Baillon-Case at 704/373-1464.

[ | Sept05 | Feature Articles | Gallery Listings | Home | ]
Carolina Arts is published monthly by Shoestring Publishing Company, a subsidiary of PSMG, Inc.
Copyright© 2005 by PSMG, Inc., which published Charleston Arts from July 1987 - Dec. 1994 and South Carolina Arts from Jan. 1995 - Dec. 1996. It also publishes Carolina Arts Online, Copyright© 2005 by PSMG, Inc. All rights reserved by PSMG, Inc. or by the authors of articles. Reproduction or use without written permission is strictly prohibited. Carolina Arts is available throughout North & South Carolina.