Feature Articles


For more information about this article or gallery, please call the gallery phone number listed in the last line of the article, "For more info..."
September Issue 2008

Pickens County Museum of Art & History in Pickens, SC, Presents New Exhibitions
The Pickens County Museum of Art & History in Pickens, SC, will be presenting three new exhibitions from Sept. 13 through Nov. 13, 2008, including: Faraway Pianos and Tin Parades: The work of Diane Kilgore Condon, Amanda Sanders Mensing: Reflections and The Art & Poetry of Robert Spencer.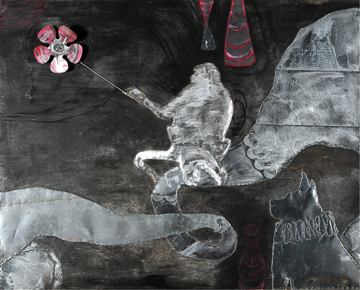 Diane Kilgore Condon
A native of Wassau, WI, Diane Kilgore Condon, has called Greenville, SC, home since the completion of her Fine Arts Degree from Bob Jones University in 1988. Having exhibited widely throughout South Carolina, the painter and sculptor is also the owner and director of the ArtBomb, a non-profit studio complex for artists in Greenville.
When asked about the directions she is headed with her work in Faraway Pianos and Tin Parades, the artist responded, "Painting has lately become the singular response for everything. I have some random problem - go to the studio and work it out. As I've gotten a little older the weird vectors I'm encountering in life seem to have one solution. Get next to some paint. Get to the studio. Then whatever happens seems to be some sort of response."
Kilgore Condon continued, "I am the daughter of a preacher. I am the granddaughter of an artist. I have lived everywhere, watched everything in front of me in every possible backwater with some amazement, large introspection and some occasional anxiety. My whole adult life has been spent and squandered in the South. I'm pretty sure there are some reasons in there somewhere as to why I paint, but I'd rather just surprise myself by doing it and seeing what happens."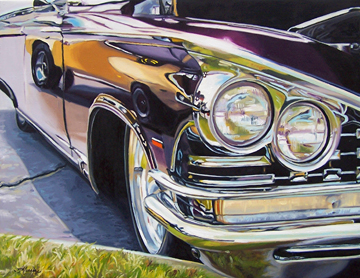 Amanda Sanders Mensing
Amanda Sanders Mensing earned her BFA from Anderson (College) University with a concentration in Drawing and Painting. Currently living Seneca, SC, the artist, a member of Oil Painters of America, has won numerous awards in national juries. Her work, often depicting photo-realistic images of antique, classic and 'muscle' cars, can also be seen at Portfolio Gallery in Columbia, SC, as well as the Artists Loft in Seneca.
About her work Mensing says, "I make oil paintings of reflective surfaces; cars, water, metal objects, etc. I am drawn to the contorted shapes, the 'snapshot in time' effect, and the fun of creating the 'shine' out of non-reflective materials. I have always enjoyed cars due to the many wild shapes and colors found in them, particularly the older models. I am also a history and antiques lover, which adds to the enjoyment of the older cars. More recently I have also spent time painting water surfaces, which have some of the same reflective qualities. In most paintings, I try to include something reflective."
Living in Clemson, SC, Robert Spencer received his BA from South Carolina State University, and his MFA from Clemson University. Spencer has worked as an Art Educator for 25 years; the past 19 at Seneca Middle School. His work, often including poetry inspired by, or inspirational of, his subject has been included in numerous state, regional and national exhibitions, including Works from the SC State Art Collection: The African American Voice and the Columbia Museum of Art's Conflict and Transcendence: African-American Art in South Carolina.
When asked to describe his work, Spencer said, "The objective of my work, in part, is to visually engage the viewer in order to establish a dialogue about our emotional and spiritual struggles and commonalities. It is my sincere hope that this dialogue will allow the viewer to a better understanding of their condition and the human condition."
The Pickens County Museum of Art & History is funded in part by Pickens County, members and friends of the museum and a grant from the South Carolina Arts Commission, which receives support from the National Endowment for the Arts.
For further information check our SC Institutional Gallery listings, call the Museum at 864/898-5963 or visit (www.co.pickens.sc.us/culturalcommission).



[ | September'08 | Feature Articles | Gallery Listings | Home | ]
Carolina Arts is published monthly by Shoestring Publishing Company, a subsidiary of PSMG, Inc. Copyright© 2008 by PSMG, Inc., which published Charleston Arts from July 1987 - Dec. 1994 and South Carolina Arts from Jan. 1995 - Dec. 1996. It also publishes Carolina Arts Online, Copyright© 2008 by PSMG, Inc. All rights reserved by PSMG, Inc. or by the authors of articles. Reproduction or use without written permission is strictly prohibited. Carolina Arts is available throughout North & South Carolina.