Feature Articles


For more information about this article or gallery, please call the gallery phone number listed in the last line of the article, "For more info..."
September Issue 2010

Artists' Guild of Spartanburg in Spartanburg, SC, Features Works by David Datwyler and Carol Funke
The Artists' Guild of Spartanburg in Spartanburg, SC, will present the exhibit, From Wood to Paper, featuring a collection of woodturnings by David Datwyler and two- and three-dimensional paper creations by Carol Funke, on view in the Guild Gallery at the Chapman Cultural Center from Sept. 1 - 27, 2010.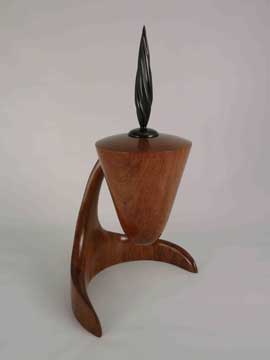 David Datwyler
Despite the difference in their final creations - Datwyler turns objects from various unusual woods while Funke creates her unique designs on handcrafted papers - both artists share an instinctive love of their chosen media.
"Wood is a liquid medium," says Datwyler. "Natural bark inclusions, the direction of the grain and knots, rot, fungi, cracks, and insect damage are all factors in the final form of a piece." Similarly, Funke embraces the unpredictable in her work. "Each time I finish a piece of handmade paper artwork I am still surprised at the outcome." The exhibition highlights these surprising continuities between works by two quite different artists.

Whereas Datwyler carves his vases, teapots and other objects from a single block of exotic wood such as Australian burls, Funke mixes a variety of raw materials into her paper, from ribbons to pieces of her grandmother's handmade knit doilies and placemats. "When I find something unique or interesting," Funke explains, "I have to add it to my collection of 'things' that someday I may add to the pulp when I am designing a handmade paper piece of artwork."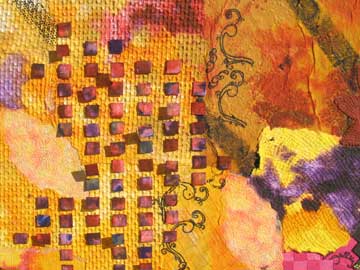 Carol Funke
Each now settled in the Spartanburg area, the artists have lived and exhibited all over the country. Funke has trained and worked in Hong Kong and Europe, along with over a dozen states, collecting numerous honors along the way. She has earned several national and statewide prizes, such as the Baber, Helen Frater, and Strathmore Awards, as well as The Artist's Magazine Honors.
Datwyler, a native of Utah, has been invited to a number of exhibitions and demonstrations, and is a member of the Southern Highland Craft Guild and Carolina Mountain Woodturners. Along with their impressive art credentials, both artists pursue parallel interests and careers. Datwyler is a certified registered nurse anesthetist, while Funke recently published her third book, Life on a Seesaw.
For further information check our SC Institutional Gallery listings or contact Laura Pinkley at 864/764-9568.


[ | September 2010 | Feature Articles | Carolina Arts Unleashed | Gallery Listings | Home | ]
Carolina Arts is published monthly by Shoestring Publishing Company, a subsidiary of PSMG, Inc. Copyright© 2010 by PSMG, Inc., which published Charleston Arts from July 1987 - Dec. 1994 and South Carolina Arts from Jan. 1995 - Dec. 1996. It also publishes Carolina Arts Online, Copyright© 2010 by PSMG, Inc. All rights reserved by PSMG, Inc. or by the authors of articles. Reproduction or use without written permission is strictly prohibited. Carolina Arts is available throughout North & South Carolina.