Feature Articles


For more information about this article or gallery, please call the gallery phone number listed in the last line of the article, "For more info..."
September Issue 2010

Artspace in Raleigh, NC, Offers New Exhibits
Artspace in Raleigh, NC, will offers several new exhibits including: Mapping Memory, featuring work by Darren Goins, Mario Marzan, Renee Van der Stelt, and Rosemary Winn, on view in Gallery 2, from Sept. 18 through Oct. 30, 2010; Come with me (We'll win), featuring works by Pete Sack, Past Regional Emerging Artist-in-Residence, on view in the Lobby, from Sept. 3 - 25, 2010; Evidence, featuring works by Marguerite Jay Gignoux, on view in the Upfront Gallery, from Sept. 3 - 25, 2010; Garrett Scales, Regional Emerging Artist-in-Residence, working in Studio 108, from July 2010 to Jan. 2011; and Perpetual Perception, featuring works by David Garratt, on view in Gallery One, from Sept. 11 through Nov. 20, 2010.

Mapping Memory features the work of Darren Goins, Mario Marzan, Renee Van der Stelt, and Rosemary Winn, and explores the use of mapping as a way of assessing, depicting, and charting the world around us. Employing a diverse array of media and techniques including constructed photographs, sculptural/video installation, printmaking, digital images, collage, and cut paper, each artist visualizes or "maps" memory in a unique way.

Darren Goins currently is a visual artist living and working in New York City. Goins' received a BFA in Photography and Printmaking from the University of North Carolina at Charlotte. He has exhibited his work in several national exhibitions and has been published in The Journal of Arts and Design and New American Paintings. He was awarded Best in Show at the Bradley International in Peoria, IL and at the 4th Annual National Printmaking and Drawing Exhibition in FL. Recently, his works have been exhibited at Davidson College, Davidson, NC, SECCA (Southeastern Center for Contemporary Art), Winston Salem, NC, and the McColl Center for Visual Art, Charlotte, NC, where he was an Artist-in-Residence.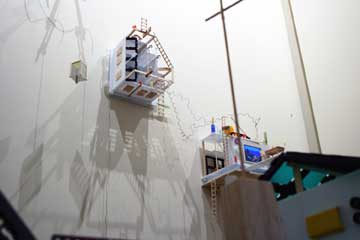 Mario Marzan
Mario Marzan was born in San Juan, Puerto Rico and is currently an Assistant Professor of Art at The University of North Carolina at Chapel Hill. He received his MFA at Carnegie Mellon and BFA from Bowling Green State University. Marzan's work has been widely exhibited in numerous solo and group exhibitions including at Rebus Works and Flanders Art Gallery, Raleigh, NC; the Durham Arts Council and Golden Belt Arts, Durham, NC; the Ackland Art Museum, Chapel Hill, NC; the Baton Rouge Center for Contemporary Art, Baton Rouge, LA; the Seattle Center on Contemporary Art, Seattle, WA; Space Gallery, Pittsburgh, PA; the Weatherspoon Art Museum, Greensboro, NC; and Galeria Rhoma, Cidra, Puerto Rico.

Rosemary Winn received her BFA in photography from UNC Chapel Hill and has exhibited her work throughout NC as well as recently in Bry-sur-Marne, France as part of the International Contemporary Daguerreotypes exhibition. Currently she is working on a photography project funded by the Emerging Artist's Grant from the Durham Arts Council. She resides in NC with her hound dog, Daisy Mae.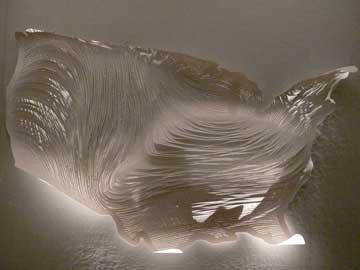 Renee Van der Stelt
Renee Van der Stelt was born in Grand Rapids, MI and grew up in Ontario and Iowa. She earned an MA in Art History in 1990 and an MFA in drawing from the University of Iowa in 1993. Van der Stelt lives in MD and exhibits nationally in solo and group exhibitions including recently at Colburn Gallery, Burlington, VT; Creative Alliance, Baltimore, MD; Target Gallery, Alexandria, VA; the Roswell Museum and Art Center, Roswell, NM; John Michael Kohler Art Center, Sheboygan, WI; Maryland Institute College of Art, Baltimore, MD; Arlington Art Center, VA; Baltimore Museum of Art, MD; and the Corcoran Gallery of Art, Wahsington, DC. She has received grants from the Pollock-Krasner Foundation, the City of Baltimore, and the state of Maryland. She was an artist-in-residence at the MacDowell Colony in 2008, and spent a year in-residence at the Roswell Artist-in-Residence Program from 2008-2009.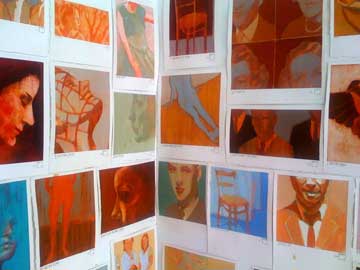 Pete Sack
Pete Sack, Artspace's January ­ July 2010 Regional Emerging Artist-in-Residence, will present an exhibition of paintings, some of which were created during his Artspace residency. Sack combines watercolor and oil, creating new narratives from existing photographs, often drawing on yearbook imagery, magazines, and old baseball photos.
Sack earned his Bachelors of Art in Painting in 1998 from East Carolina University, Greenville, NC. His work has been exhibited throughout Raleigh, including at Glance Gallery, Litmus Gallery, the Morning Times, and most recently at the Carborro Art Center. Sack is represented by The Mahler Gallery, Raleigh, NC.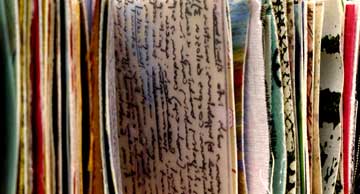 Marguerite Gignoux
Marguerite Gignoux's exhibition, Evidence, presents a series of textile collages that investigate the theme of mapping memory. To create these works the artist used repurposed fabrics, papers, photographs and text, employing both machine- and hand-stitching. The centerpiece of the exhibition is an elongated wall-mounted book that explores the language of grief. Gignoux's mixed media works are inspired by stories, poems, and memory that speak of personal loss, growth, and wonder.
Gignoux is a textile artist based in Carrboro, NC. She creates vibrant mixed media works, art quilts and hand made books for a variety schools, museums and health care centers through out North Carolina. Clients include: Duke Medical Center, Greensboro Hospice, UNC and Charlotte Hospitals, Green Hill Center for NC Art, and Fidelity Investments. Gignoux enjoys teaching art quilting to all ages and has led dynamic collaborative projects with Elon University, NC Girl Scouts, Meredith College, Durham Academy, and at Penland School of Craft. She received a BA in English from Kenyon College and a Masters of Industrial Design in Fibers from NCSU, College of Design.
Please help us welcome Artspace's new Regional Emerging Artist-in-Residence, Garrett Scales. Since 2003 Scales has been creating works of art using hand cut stencils and spray paint. Initially, an early fascination with icons from the hip hop world to classic stars of the silver screen inspired Scales' work. He has now shifted his focus to the inner workings of the body, incorporating this unique architecture into the faces and bodies of women. While in-residence from July 2010 through January 2011, Scales will continue to pursue these ideas, as well as focus on a series about Lady Gaga for an exhibition at the Block Gallery in Raleigh, exploring society's fascination with celebrities.
Scales is a self-taught artist whose works have been exhibited in Raleigh at Artspace, Visual Art Exchange, Alter Ego Salon, and SparkCON's GraffitiSPARK event, and in Greensboro at the Green Hill Center for NC Art. He really likes root beer floats. This residency sponsored in part by Mary Duke Biddle Foundation.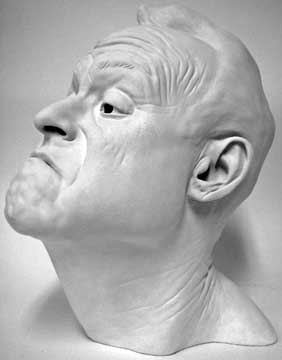 David Garratt
David Garratt's first foray with fired clay heads was in the 9th grade, when he made a bust of Caesar for his Latin class. Today Garratt sculpts clay heads, primarily self-portraits. The realistic nature of Garratt's work often leads viewers to believe that his works are made from plaster-cast molds, however, each work is hand-sculpted. The artist does not make preliminary sketches or drawings; he simply relies on his own observation from life. Garratt is attentive to his own expressions, for example of joy or amazement, and through his work investigates how to convey such emotions through facial expressions and thus, through his sculpted self-portraits.

Primarily self-taught, Garratt work has been exhibited in numerous group and solo exhibitions including at The Clay Studio, Philadelphia, PA; the Outwin Boochever Portrait competition, National Gallery of Art, Washington, DC (semi-finalist); and at the Incheon World Ceramic Biennale, Incheon, Korea (honorable mention). He has been awarded a Pennsylvania in the Arts grant, an HK Mellon/Pittsburgh Foundation grant (both 2001) and has twice been a finalist for the prestigious Adolph Gottlieb Foundation grant (2008, 2010). The Cultural Magistrate of Salzburg, Austria, awarded Garratt a residency at Kunstlerhaus (2007). He and his wife, Barbara Bernstein, are currently the Resident Artists of the Virginia Center for the Creative Arts, Amherst, VA.
For further information check our NC Institutional Gallery listings, call the center at 919/821-2787 or visit (www.artspacenc.org).
[ | September 2010 | Feature Articles | Carolina Arts Unleashed | Gallery Listings | Home | ]
Carolina Arts is published monthly by Shoestring Publishing Company, a subsidiary of PSMG, Inc. Copyright© 2010 by PSMG, Inc., which published Charleston Arts from July 1987 - Dec. 1994 and South Carolina Arts from Jan. 1995 - Dec. 1996. It also publishes Carolina Arts Online, Copyright© 2010 by PSMG, Inc. All rights reserved by PSMG, Inc. or by the authors of articles. Reproduction or use without written permission is strictly prohibited. Carolina Arts is available throughout North & South Carolina.