Feature Articles


For more information about this article or gallery, please call the gallery phone number listed in the last line of the article, "For more info..."
September Issue 2010

Ciel Gallery in Charlotte, NC, Features Contemporary Mosaic Exhibit
Ciel Gallery in Charlotte, NC, will offer a collection of fine art mosaics from across the globe, including work from several internationally-known artists. Landscapes, portraits, abstracts, and more than a little whimsy will grace the walls from Sept. 3 through Oct. 15, 2010, in this third annual installment of Contemporary Mosaic Arts, juried by JeanAnn Dabb, Associate Professor of Art History at University of Mary Washington, VA.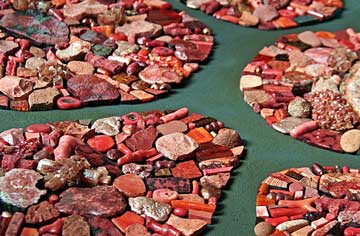 Sonia King
Says Dabb, "The works selected for this exhibition convey a mastery of techniques and sensitivity for the chosen materials, and the best present unexpected combinations or effects that serve to reverse my preconceived notions of mosaic art."
Jo Braun
Best of Show was awarded to Seattle artist Jo Braun for her work: Concrete Wall, composed of salvaged porcelain, glass and pigment on a hand-formed cement base. "This pieces explores the war between authoritarian forces of urban clean-up and rebel guerilla taggers. Pattern emerges, even from conflict."
With a PhD in Anthropology, the grit of human evolution is a subject that pulls at Braun continually. "I create works from the flotsam and detritus of the twenty-first century building industry. My work emphasizes salvaged or recycled stone, porcelain, and glass, much of it garnered from builders and manufacturers who purport to be 'Green.' I hand cut these gleanings with Roman-era technology, and recombine the pieces based on ancient Byzantine poetic grammar. Many still refer to this art form as 'mosaic,' and I do, too, sometimes...until that category becomes too limiting. Then I say I create art from hard garbage."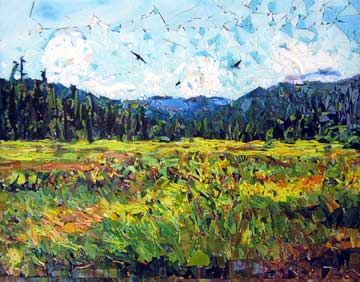 John Sollinger
Art from remnants appeals to John Sollinger as well, winner of Mosaic Arts International 2010 and runner-up for Contemporary Mosaic Art, who creates light-strewn landscapes with a strong impressionist bent from shards of stained glass. Deliberately defying the mosaic "rules" of line and flow, Sollinger shoves his shards every which way but "right", creating an ultra-contemporary style "without the benefit and burden of knowing the ways of mosaicists before me. I learned to see through the lens of biology, and now I'm driven to express the patterns and wonder of wild places."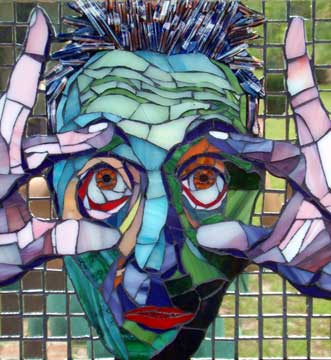 Gila Rayberg
Runner-up Gila Rayberg, a New Orleans, LA, saxophone player now living in Pensacola, FL, brings her jazz roots to Morning After. Rendered in stained glass, this buzzing mosaic breaks with tradition through the use of a mirrored background. Hence both subject and viewer are reflected in the glass after a tough night.
For further information check our NC Commercial Gallery listings, call the gallery at 704/577-1254 or visit (www.cielcharlotte.com).


[ | September 2010 | Feature Articles | Carolina Arts Unleashed | Gallery Listings | Home | ]
Carolina Arts is published monthly by Shoestring Publishing Company, a subsidiary of PSMG, Inc. Copyright© 2010 by PSMG, Inc., which published Charleston Arts from July 1987 - Dec. 1994 and South Carolina Arts from Jan. 1995 - Dec. 1996. It also publishes Carolina Arts Online, Copyright© 2010 by PSMG, Inc. All rights reserved by PSMG, Inc. or by the authors of articles. Reproduction or use without written permission is strictly prohibited. Carolina Arts is available throughout North & South Carolina.