Feature Articles


For more information about this article or gallery, please call the gallery phone number listed in the last line of the article, "For more info..."
September Issue 2010

Gibbes Museum of Art in Charleston, SC, Offers Two New Exhibitions
The Gibbes Museum of Art in Charleston, SC, will offer two new exhibits, Face Lift and Stacy Lynn Waddell: The Evidence of Things Unseen, both on view from Sept. 3 through Dec. 5, 2010.
Face Lift, organized by the Gibbes and on view in the Main Gallery, offers a fresh look at trends in American portraiture from the 18th century to today. The innovative works of emerging artist Stacy Lynn Waddell will be offered in the Rotunda Gallery. The exhibit was co-organized by the Gibbes Museum of Art and the Weatherspoon Art Museum at the University of North Carolina at Greensboro.
The power of portraiture is revealed in this exhibition sequel that presents thought-provoking juxtapositions of outstanding portraits from the Gibbes' nationally recognized contemporary and historic collection of colonial, federal, and antebellum American portraits, enhanced by objects from private collections. Featuring both whimsical and more traditional portrait pairings, this exhibition will challenge viewers to contemplate the power of portraiture through comparisons of iconography, pose, attire, props, medium, subject, and style. Oils, works on paper, photographs, and sculpture from divergent artists including Edwin Harleston, Benjamin Long, Thomas Sully, Leo Twiggs, William Aiken Walker, and Mary Whyte will be showcased.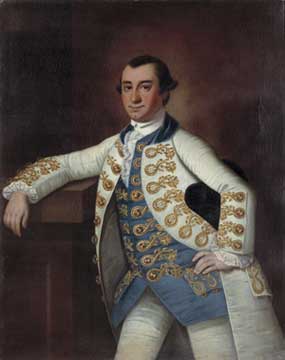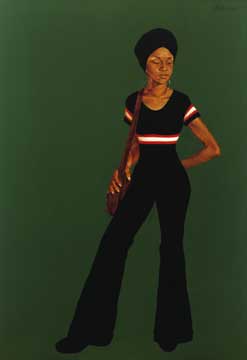 Barkley Hendricks
Jeremiah Theus
Face Lift highlights both the changes and constants in portraiture over the last three hundred years. From Egyptian art to American Pop, portraiture is considered by most art historians as the oldest and most popular form of artistic expression. The desire to capture one's likeness or the likeness of others in order to project certain identities, values, lifestyles, and interests remains a compelling art form. As technology continues to make the capture and distribution of one's own image readily available to us, we as a society continue to explore our own identities through the power of portraits.
"The original Face Lift exhibition in 2004 was such a success that we were inspired to revisit the concept of portrait juxtapositions to showcase our impressive collection. By physically pairing these remarkable portraits together, we are enticing visitors to ask questions, to compare the artists' works, and to contemplate how they view themselves and others," notes Sara Arnold, Gibbes Curator of Collections.
Face Lift is sponsored by BlueCross BlueShield of South Carolina, Gibbes, etc., and the Little Black Book for Every Busy Woman.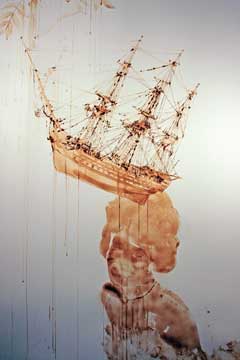 Stacy Lynn Waddell
The Evidence of Things Unseen features recent works by emerging artist Stacy Lynn Waddell in her first solo museum exhibition. Waddell's innovative technique involves burning, singeing, and branding paper and fabric to create works that explore differing perceptions of American history and culture. This exhibition includes recent paintings, works on paper, installations, and projections.
Waddell was born in Washington, DC, and received her MFA from The University of North Carolina at Chapel Hill in 2007. Her work has been recognized and exhibited nationally including exhibitions at The Southeastern Center for Contemporary Art in Winston Salem, NC, the Weatherspoon Art Museum, Project Row Houses in Houston, and The Studio Museum in Harlem. Waddell was named a finalist for The Factor Prize for Southern Art in 2008. She currently resides in Chapel Hill, NC, where she is a Visiting Scholar in the Department of Art and Art History at The University of North Carolina at Chapel Hill. The Evidence of Things Unseen will travel in January 2011 to the Weatherspoon Art Museum at The University of North Carolina in Greensboro.
"Stacy Lynn Waddell's work is exciting because it draws upon the past, but is undoubtedly contemporary in both subject and technique. Her work is visually compelling and also a bit haunting ­ a combination that makes for a very interesting exhibition," states Pam Wall, Gibbes Curator of Exhibitions.
Stacy Lynn Waddell: The Evidence of Things Unseen is sponsored by the Jane Smith Turner Foundation, AT&T Real Yellow Pages, and Charleston City Paper.
Established as the Carolina Art Association in 1858, the Gibbes Museum of Art opened its doors to the public in 1905. Located in Charleston's historic district, the Gibbes houses a premier collection of over 10,000 works, principally American with a Charleston or Southern connection, and presents special exhibitions throughout the year. In addition, the museum offers an extensive complement of public programming and educational outreach initiatives that serve the community by stimulating creative expression and improving the region's superb quality of life.
For further info check our SC Institutional Gallery listings, call the Museum at 843/722-2706 or visit (www.gibbesmuseum.org).


[ | September 2010 | Feature Articles | Carolina Arts Unleashed | Gallery Listings | Home | ]
Carolina Arts is published monthly by Shoestring Publishing Company, a subsidiary of PSMG, Inc. Copyright© 2010 by PSMG, Inc., which published Charleston Arts from July 1987 - Dec. 1994 and South Carolina Arts from Jan. 1995 - Dec. 1996. It also publishes Carolina Arts Online, Copyright© 2010 by PSMG, Inc. All rights reserved by PSMG, Inc. or by the authors of articles. Reproduction or use without written permission is strictly prohibited. Carolina Arts is available throughout North & South Carolina.