Feature Articles


For more information about this article or gallery, please call the gallery phone number listed in the last line of the article, "For more info..."
September Issue 2010

Redux Contemporary Art Center in Charleston, SC, Offers Works by Carson Fox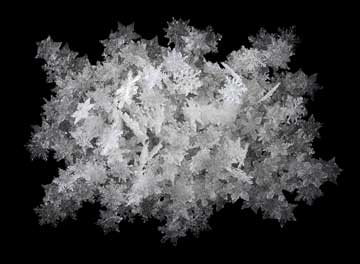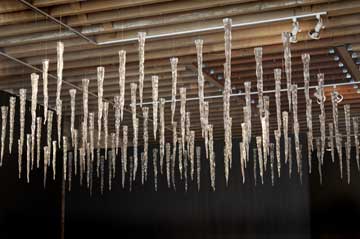 The Redux Contemporary Art Center in Charleston, SC, will present the exhibit, Ice Storm, featuring new work by Carson Fox, on view from Sept. 17 through Oct. 30, 2010.

Working across media, Fox produces prints, installations, and sculptures. In Redux's show, the gallery will be transformed into a winter wonderland. Fox has created cast resin sculptures of snowflakes, icicles and snowdrifts. This body of work is a meditation upon themes of an alternate nature, one that is created in the mind as a reassurance against the inevitability of death. In this controllable world, Fox can prevent icicles from melting, create larger than life snowflakes in preposterous configurations, and freeze flowers as they bloom. In the fantasy of artificiality, the fleeting moment is held in stasis and death is denied.
Typically, Fox makes art out of materials for which she feels a heartfelt attraction, privileging goods and techniques that answer the needs of the work. This has resulted in sculpture and installations produced in a range of materials including; silk flowers, artificial hair, wire, or cast resin.

One installation is comprised of over 120 suspended clear, cast resin icicles, whose sharp tips dangle precariously above the viewer's head. The work attempts to mix retinal delight with a sense of dread. "The image of the icicle was taken from a vivid dream I had of my mother shortly after her death," says Fox, "We met together outside of my family house, where the landscape was covered with icicles. I grew anxious as I realized the melting ice symbolized the limit of our time together, and soon both she, and the icicles were gone."
Another major body of work is comprised of faceted clouds of snowflakes. Each snowflake was cast individually and then assembled into complex formations to create both freestanding snowdrifts and creeping formations. The compositions suggest an exaggerated fantasy of nature where the viewer can behold the individual beauty of each flake in sharp focus and keep it there without fear of it melting and slipping away.
The installation Silver Field is created from thousands of silver and clear cast resin flowers, which spread organically across the walls. Flower forms have dominated much of Fox's sculpture over the past few years because of their relationship to memorials. Here, she uses the flowers to honor her mother's memory, and to commemorate others she has lost over the past ten years.

Fox was born in Oxford, MS, the small Southern hometown of William Faulkner. Named for novelist Carson McCullers, Carson's work is produced from a heritage of American Southern gothic tradition that relies heavily on the imprint that individual experience has on the artist.
Fox received her MFA from Mason Gross School of the Arts at Rutgers University and her BFA from University of Pennsylvania and the Pennsylvania Academy of the Fine Arts. Her work can be found in the permanent collections of The Museum of Arts and Design, The Royal Museum of Belgium, the Noyes Museum of Art, the Newark Public Library, the Jersey City Museum, the Morris Museum of Art, the Jane Voorhees Zimmerli Museum, the New Jersey State Museum, and the Pennsylvania Academy of the Fine Arts Museum. Fox has participated in solo and group exhibitions at the Boulder Museum of Contemporary Art, Boulder, CO, Claire Oliver Gallery, NY, O. K. Harris Gallery, NY, the National Museum of Wales, Cardiff, Wales, the Brunswiker Pavilion Kiel, Kiel, Germany, the Delaware Center for Contemporary Art, Wilmington, DE, and the Association Mouvment Art Contemporain, Chamalieres, France. Fox has received grants from the New Jersey Council on the Arts, the Barbara Deming Memorial Fund, and the Mid Atlantic Art Foundation, a Willem Emil Cresson Award, and a New Jersey Print and Paper Fellowship at the Rutgers Center for Innovative Print and Paper. Fox lives and works in Brooklyn, NY.
Redux Contemporary Art Center is a nonprofit arts organization committed to the fostering of creativity and the cultivation of contemporary art through diverse exhibitions, subsidized studio space for artists, expansive educational programming, and a multidisciplinary approach to the dialogue between artists and audience. Housed within a 6,000 square foot warehouse are two galleries, fifteen private artist studios, print shop, darkroom, woodshop, classroom, and film-screening area. Redux is committed to showing artwork by national and international artists, supporting local artists, and enriching the Charleston community by offering adult and youth education programs. As the only arts organization in Charleston providing these much needed opportunities, Redux maintains an ambitious schedule of exhibition, outreach, and studio programs to accomplish our goals.
For further information check our SC Institutional Gallery listings, call the Center at 843/722-0697 or visit (www.reduxstudios.org).


[ | September 2010 | Feature Articles | Carolina Arts Unleashed | Gallery Listings | Home | ]
Carolina Arts is published monthly by Shoestring Publishing Company, a subsidiary of PSMG, Inc. Copyright© 2010 by PSMG, Inc., which published Charleston Arts from July 1987 - Dec. 1994 and South Carolina Arts from Jan. 1995 - Dec. 1996. It also publishes Carolina Arts Online, Copyright© 2010 by PSMG, Inc. All rights reserved by PSMG, Inc. or by the authors of articles. Reproduction or use without written permission is strictly prohibited. Carolina Arts is available throughout North & South Carolina.