Feature Articles


For more information about this article or gallery, please call the gallery phone number listed in the last line of the article, "For more info..."
September Issue 2010

Sumter County Gallery of Art in Sumter, SC, Features Works by Leo Twiggs and Tyrone Geter
Sumter County Gallery of Art in Sumter, SC, will present two new exhibits including: Leo Twiggs: Explorations and Improvisations and Tyrone Geter: Purgatory Ain't Nothin But The Blues, both on view from Sept. 2 through Oct. 29, 2010.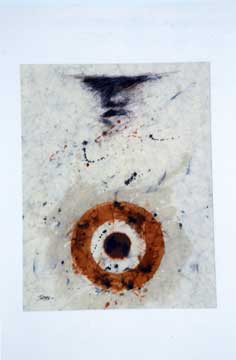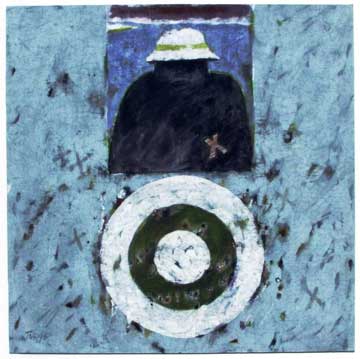 Leo Twiggs
The Sumter County Gallery of Art is excited and honored to present new work by Leo Twiggs including a large-scale 3-D installation, and new works from two of his most recent series. Twiggs has a tendency to work in series. The works submitted here are beginnings and endings of a couple of them. Targeted Man, which comprises much of the Sumter show, explores the times in which we live. Terrorism has changed how we view each other and blurred the line between the hunter and the hunted.
Twiggs was born in St. Stephen, SC. He received his BA, Summa Cum Laude, from Claflin University, later studied at the Arts Institute of Chicago and earned his MA from New York University. Twiggs was the first African American to receive a Doctorate in Art Education from the University of Georgia.
As Professor of Art at South Carolina State University, he developed the I.P. Stanback Museum and established the University's first Art Department. He was Director of the Museum and Chair of the Art Department until he retired in 1998. Twiggs was named Professor Emeritus in 2000.
Twiggs creates art using the ancient process of Batik. His paintings are the result of several years of experimentation and development of a unique and innovative technique using a traditional medium. Though the process is old, Twiggs' subject matter is contemporary and challenging, ranging from historical-political themes, including his infamous Confederate flags, to the spiritual.
Twiggs states, "After almost 40 years of experimenting, developing and using wax and dyes as a painting medium, I still find the process fascinating. I feel that I have come to the place in my career where I am not just experimenting with a medium I developed, but an instrument that has become a part of my thought processes. The medium is as much a part of my message as the message itself. It is an exciting place to be in my life as an artist."
Twiggs has had over 75 one-man shows and his work has received national and international recognition, with exhibits at the Studio Museum and the American Crafts Museum in New York, the Mint Museum in Charlotte, Cornell University and in US Embassies in Rome, Dakar and Togoland, and Sierra Leone. In 2001, the Georgia Museum of Art organized a major retrospective of his work, which toured the Southeast.
Twiggs has won numerous awards and national recognition. His work has been widely published in art textbooks and featured in several television documentaries. Notably, he was the first visual artist to receive the Verner Award (Governor's Trophy) for outstanding contributions to the arts in South Carolina. In 2001 and 2008, he was selected to design an ornament for the White House Christmas tree. Twiggs received the Medal of Honor in the Arts from Winthrop University in 2004 and the Leadership Award from the Governors School Foundation in 2007.
Presently, Twiggs is Distinguished Artist-in Residence at Claflin University in Orangeburg, SC.
Twiggs offers the following artist's statement: "Every artist must create out of his own being, out of his own encounter with the world. I was born in the South, and the things I remember, the scents the atmosphere, all act to shape the imagery I use in my paintings. Often people ask why I chose batik rather than more traditional techniques. I saw the web-like patterns and mottled surface as expressive of an aging process, the struggle to survive- not just the world but time itself. All of my works have deep roots in my experiences growing up in the South but my intent, as always, is to explore the human condition. It is this exploration, I believe, that makes art endearing and enduring."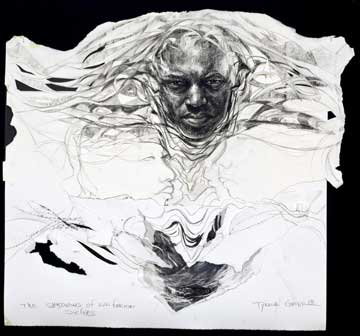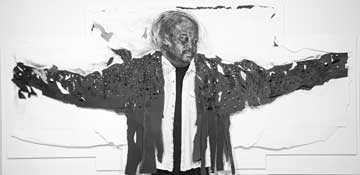 Tyrone Geter
Sumter County Gallery of Art is also excited to present a 'capstone' exhibition of Tyrone Geter's allegorical, Purgatory Ain't Nothin' But The Blues. This series of numerous large-scale assemblages, drawings, paintings and mixed media pieces are rarely displayed as a whole due to space constraints.
Geter observes about the body of work in the exhibition, "Purgatory Ain't Nothin' But The Blues encompasses the need and desire of the human spirit to strive for perfection amidst a fast paced world of entanglement, discourse, globalization and contradictions of today's society."
"The use of paints, charcoal, wood, twigs, clay, metal, plastic, cloth and torn paper enabled me to also combine two dimensional with three dimensional, realism with abstractions to harmoniously engage the viewer in a visual dialogue. Hopefully, anyone who has had a personal dialogue with the blues, felt its overbearing weight and the cold, harsh embrace of its touch will be able to follow the parallel path to Purgatory. It is my hope that after the "Purgatory walk" in the gallery, the viewers will leave with the belief that there is always light at the end of the tunnel, and that inner peace begins with self, even in the midst of chaos."
Geter was born in Anniston, AL. He received Masters of Fine Art from Ohio University, Athens, OH, majoring in painting. He taught at Ahmadu Bello University, Zaria, Nigeria, and at the University of Akron's School of Art. Geter is currently Associate Professor of Art, and Director of the Ponder Fine Arts Gallery at Benedict College, Columbia, SC.
Geter has been in many solo and group exhibitions including, Purgatory Ain't Nothin' But The Blues, University of Akron, Akron, OH, 2009; State Art Collection: The African American Voice, Clemson Univ. Arts Center, 2008; Thresholds: Art and Spiritual Life traveling exhibition sponsored by South Carolina Arts Commission, 2003; Piccolo Spoleto Festival, Charleston, SC, 2002; Elder Art Gallery, Charlotte, NC, 2002; South Carolina Triennial 2001, South Carolina State Museum, Columbia, SC; Moja Arts Festival, Charleston, SC; Taft Museum, Cincinnati, OH; Hampton Institute Museum, Hampton, VA; and Atrium Gallery, NY; Isobel Neal Gallery, Chicago, IL.
Geter has also been recognized internationally having his artwork exhibited in the United Kingdom, Nigeria, Senegal, Japan, and China.
Selected Awards Include: Mural commission for the new Freedom Center in Cincinnati OH; 2001 Individual Artist award, Tanne Foundation, First Place Moja Festival, Charleston, SC, 2001; Moja Festival, Charleston, SC, 2000 First Place and Best of Show; Akron Art Museum; Individual Artist Grant, Ohio Arts Council, Columbus, OH; The Butler Institute of American Art, Youngstown, OH, First Place in painting; The Robert Duncanson Award at the Taft Museum, Cincinnati OH; Artist Fellowship Grant, Foundation for the Arts and Humanities, Boston, MA; American Book Sellers Pick of the List - 1996 Illustrated Book.
Geter has illustrated 10 children's books. His most recent is A Change of Plans.
Geter offers the following artist statement: "My mother once told me 'sometimes she felt like she didn't have no life'. That statement made with so much honesty, conviction, and passion yet free of even a hint of self-pity has throughout my career been one of the guiding principles of not only how I live my life, and relate to other people, but has also profoundly influenced the philosophy of my art. In the early 1900s when she grew up, life was 'the' struggle. Survival was day-to-day and filled with the perils of discrimination, poverty, illiteracy and a host of other dangers inherited from a lifetime of being poor, black and under educated. She survived and passed her legacy of love, compassion, hope and a sense of 'doing the right thing' on to her children."
"My work finds its foundation in that legacy," adds Geter. "It refers to the trials of youth and the struggle of the aged. It seeks to speak to and for those with no voice. My work is compassion, hope, justice, and perseverance, things I learned from my mother."
For further information check our SC Institutional Gallery listings, call the gallery at 803/775-0543 or visit (www.sumtergallery.org).


[ | September 2010 | Feature Articles | Carolina Arts Unleashed | Gallery Listings | Home | ]
Carolina Arts is published monthly by Shoestring Publishing Company, a subsidiary of PSMG, Inc. Copyright© 2010 by PSMG, Inc., which published Charleston Arts from July 1987 - Dec. 1994 and South Carolina Arts from Jan. 1995 - Dec. 1996. It also publishes Carolina Arts Online, Copyright© 2010 by PSMG, Inc. All rights reserved by PSMG, Inc. or by the authors of articles. Reproduction or use without written permission is strictly prohibited. Carolina Arts is available throughout North & South Carolina.